June 16, 2015
6 Reasons Cabin Weddings in Pigeon Forge TN Are So Unforgettable
We're huge fans of weddings. Think about it – weddings are like a vacation, family reunion and party all rolled into one amazing event. Or, at least, that's what we think they should be. That's why we strive to make sure your wedding – and all the festivities leading up to and after it – is fun, stress-free and unforgettable. And whether you're looking forward to a large, traditional wedding with intricate details or planning a small, intimate ceremony, there's no better way accomplish that goal than having your wedding in one of our cabins in Pigeon Forge. From our beautiful, spacious cabin venues and stress-free guarantee to gorgeous mountain vistas and unbeatable location, cabin weddings in Pigeon Forge TN are simply the best.
1. Gorgeous Venue and Scenery
When you say your "I dos" at one of our cabins in Pigeon Forge, you'll have some of the best views in the country as the backdrop for memories and photos that you will cherish forever. Regardless of the season you're planning your wedding for, you won't find another location that is capable of being as gorgeous as the Pigeon Forge area is all year long. So, whether you're hoping for a ceremony surrounded by beautiful fall leaves or you've been dreaming of a spring wedding with lush greenery all around, you can be certain that the mountainous Pigeon Forge backdrop will be nothing short of stunning.
By choosing one of our Pigeon Forge wedding venues , you add a fun factor that few other locations can rival. With exciting attractions, great shopping, award-winning shows and delectable Southern cuisine no more than a quick drive away from all of our Pigeon Forge wedding cabins, your guests are guaranteed to having an amazing not only during your wedding, but also during the days before and after the big event.
3. Convenience That Can't Be Beat
With more that 60 percent of the country living less than a day's travel away of Pigeon Forge, you've chosen one of the most convenient wedding destinations in the United States. This saves you and your guests significant travel costs and a lot of hassle by allowing many guests to skip plane rides, luggage costs and tiresome cross-country treks in the car. You'll have the wedding of your dreams in an amazing location, and your family will be thanking you.
4. Spacious Wedding Venues
Because we have cabins of every shape and size, there's no need to stress over who's getting an invitation because of guest list limits. In addition to allowing a range of guest accommodations, our cabins are designed with families in mind, so areas for sitting together and room to move around are plentiful.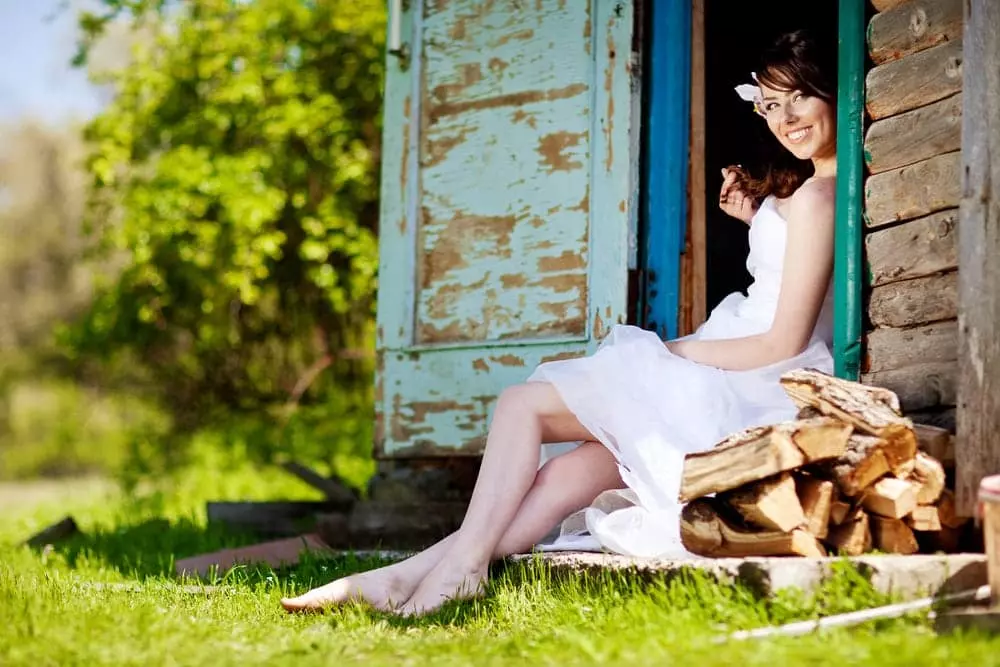 Our rentals sleep anywhere from 2 to 74 guests and offer spacious and open floor plans for indoor ceremonies and large sweeping decks for couples looking to be wed in the crisp mountain air. For smaller weddings, many of our 4 bedroom cabins in Pigeon Forge are perfect for intimate ceremonies with close family and friends.
As for larger ceremonies, we have plenty of large cabins in Pigeon Forge that will accommodate your lengthy guest list. Our largest cabins – Big Moose Lodge and Big Elk Lodge – sleep up to 74 people! So, instead of trying to limit your guest list to get into a certain venue, all you're tasked with is counting RSVPs and deciding which one of our cabins you'd like to spend your wedding day in.
5. Quick Honeymoon Getaway
When you have a cabin wedding in Pigeon Forge TN, you'll find yourself in one of the most popular honeymoon destinations in the country. After all the excitement, planning and care surrounding the days leading up to your big day, a Pigeon Forge honeymoon is perfect for celebrating your recent vows, and it's definitely the quickest and easiest post-wedding getaway you can make. With plenty of fun and relaxing things to do and see in the area and several romantic Pigeon Forge honeymoon cabins that are ideal for newlyweds, there's no need to waste precious time of your first few days as husband and wife traveling to and from a far away destination. You can spend as much time as you wish with family and friends after your ceremony, and then step away to a blissful honeymoon getaway that's only a few minutes away.
You can read more about planning a fun, post-wedding getaway in the Pigeon Forge area here.
One of the top reasons cabin weddings in Pigeon Forge TN are the best weddings The area offers phenomenal vendors – florists, bakeries, salons, alteration specialists, dry cleaners, rental stores and anything else you can imagine – so the special details of your wedding can be managed locally instead of bringing everything you need along.
For out-of-town guests who have packed schedules, our Pigeon Forge wedding services can help share the workload of wedding planning or take over the process completely. There's also plenty of lodging for your guests that can be just a few steps away from your wedding cabin. Even smaller details like obtaining your marriage license is easier and even cheaper, with Pigeon Forge marriage licenses costing only $38.50. If you and your fiancé are non-Tennessee residents, you can even apply and pay for your marriage license online . In-state couples are even eligible for a $60 discount if they participate in a 4-hour counseling class.
Cabin weddings in Pigeon Forge TN are easy to plan without sacrificing your budget, location or any other aspect of your big day. They're stress-free, and that's something you, your wedding party and all of your guests will notice the minute you arrive, allowing everyone – especially you and your new spouse – to have an amazing time.
For more details about our cabin weddings in Pigeon Forge TN and our other gorgeous wedding venues, read 4 ways our Pigeon Forge wedding venues will "wow" you.