July 19, 2023
Top 6 Ways You Can Save Money at Our Pigeon Forge Cabin Rentals
Looking for ways to save money on your next trip? You'll be glad to know there are several ways you can stick to your budget when you book one of our Pigeon Forge cabin rentals! From cooking in the kitchen to taking advantage of our deals, you'll find plenty of ways to keep money in your pocket for other things! Check out these top 6 ways you can save money at our Pigeon Forge cabin rentals:
1. Cook in the Kitchen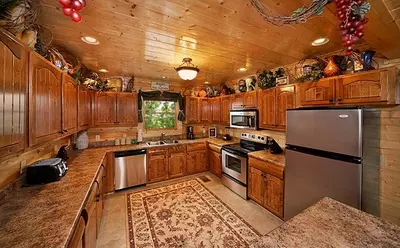 An easy way to save money is to cook instead of going out to eat. While you'll probably want to try some of the incredible restaurants in the area, cooking at least one or two meals in the cabin will save you quite a bit of money! The kitchens have everything you could need, from cutlery to cooking utensils. There are several grocery stores in the area you can stop by and pick up ingredients and any other supplies you might need. Some of them are Kroger, Food City, and Publix.
2. Find Deals and Specials
Another way to save money at our Pigeon Forge cabin rentals is to find deals and specials. There are all kinds of deals that run throughout the year so you can stick to your budget. We know how important it is to save money. Some of the specials you might see include staying so many nights and then getting the next consecutive night free. Other deals will save a percentage off of your entire stay. There is a great deal for everyone, so be sure to check out our specials before you book your stay!
3. Split Cabin Cost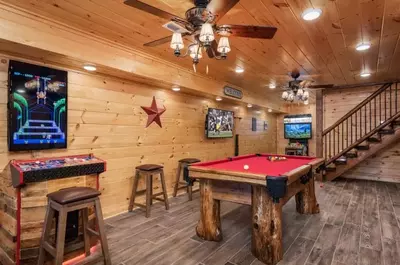 Are you planning on going on a trip with family or friends? A great tip for saving money is for everyone to stay in the same cabin together. When you all book a single cabin, you will pay one price for your stay. The more people you have stay together, the more ways you can split the cost. If you do this, plus pair it with one of our specials, you'll definitely keep more money in your pocket!
4. Use the Freedom Fun Pass
When guests book one of our cabins, they will receive access to our Freedom Fun Pass. This is a great way to enjoy local attractions without having to spend a ton of extra money. For each day of your stay, you will receive a single adult general admission ticket. Offers are noncumulative and unused admissions expire daily. Go rafting with Big Creek Expeditions. Play a round of mini golf at Crave Golf Club. Enjoy edu-tainment at WonderWorks. There are so many great things to do on this list, and you'll want to try them all!
5. Enjoy Cabin Amenities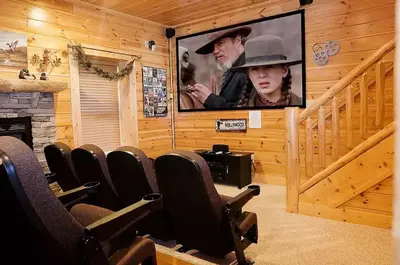 Our Pigeon Forge cabin rentals all have amazing amenities you'll enjoy. Some of them have so many, you wouldn't ever have to leave the cabin to have a great vacation! There are game rooms with pool tables, arcade games, foosball tables, and so much more. Kids and adults will have a great time playing games together and making memories. Relax in the hot tub after a long day. Enjoy the view of the Smoky Mountains from the cabin deck. Take a dip in the community pool or indoor pool in your cabin. Book a cabin that has a home theater where you can watch movies every night. There are so many things that will keep you entertained at our cabins, and they don't cost anything extra to use!
6. Find Free Things to Do
Another great way to save money is to find free things to do in the area. You're right next door to the Great Smoky Mountains National Park, which is the best free thing to do! There's no entrance fee to enter the park, so you can enjoy a peaceful scenic drive and take in mountain and wildlife views. If you plan to park and explore, be sure to purchase a parking pass for $5. Another fun thing to do that doesn't cost anything is to go wine tasting. There's the Gatlinburg Wine Trail and the Rocky Top Wine Trail. Other free things to do include walking around downtown Gatlinburg, visiting The Island, or going to a public park.
These are just some of the many ways you can save money on your next trip to the Smokies. Ready to start planning your trip? Look through our Pigeon Forge cabin rentals and book one today!