September 03, 2012
Where are the Smoky Mountains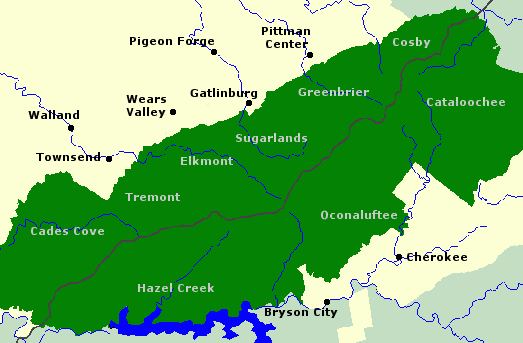 If you have to ask where are the Smoky Mountains, you have definitely been missing out. The Smoky Mountains are bursting with scenic views and protected natural trails like no other in the world. This is an area where people have a unique friendly mountain charm and are always ready to welcome visitors. Although the Great Smoky Mountains are located in both Tennessee and North Carolina, the area around Gatlinburg and Pigeon Forge on the Tennessee side is the best place to experience the famous mountain ranges majestic beauty with the lodging, shopping and attractions just minutes from the entrance to the Great Smoky Mountain National Park.
One of the most popular attractions for area visitors is the Great Smoky National Park. Driving through the mountains of the park can provide perfect panoramic views of gorgeous mountain landscapes and historic structures as well as an enjoyable way to get to other activities offered in the park such as hiking, bicycling, camping, fishing, horseback riding, and wildlife viewing areas.
Visitors flock to embark on any of the myriad of whitewater rafting trips easily accessible from Pigeon Forge and Gatlinburg. The Upper Pigeon and Nantahala River trips are great beginner and family-friendly float trips that provide more laid-back river rafting. The Lower Pigeon and Ocoee Rivers provide heart-pounding adventure through churning whitewater and are an ideal fit for adventure seekers. A great unwind after an outdoor adventure is on the deck of one of the local rental cabins perched in the mountains. A wide array of cabins for rent with a range of amenities and price brackets are available in the Pigeon Forge and Gatlinburg area.
There are also many attractions located within Gatlinburg and Pigeon Forge sure to please the pickiest traveler. A hidden secret of Gatlinburg is that there numerous breweries, wineries, and distilleries are available to sample everything from legalize moonshine to fine wine for the adults. Shops in downtown Gatlinburg sell local arts and crafts as well as provide demonstrations. Wintertime in Gatlinburg is a one-of-a-kind experience. The city has world class snow sledding and host skiing but the biggest event is the Winterfest. Wintertime activities include outdoor light displays, special concerts, and parades.
Pigeon Forge boasts renowned attractions such as Dollywood, the Titanic Museum Attraction, and Wonderworks. Other area activities that draw visitors is miniature golfing, zip lining, indoor skydiving, and go karts. Close to Pigeon Forge is Cades Cove, a wildlife refuge nestled in the Great Smokey Mountains. Trips to the Great Smoky Mountains offer adventures for the whole family.