November 03, 2023
7 Best Places to Eat Lunch in Gatlinburg, TN
When you're looking for places to eat lunch while on vacation, you don't want to eat at the same chain restaurants you have back home. As part of the vacation experience, you should try local lunch spots to find new favorites. Whether you're looking for a quick bite or a relaxing meal, there are so many great lunch options to choose from. Here are some of the best places to eat lunch in Gatlinburg during your vacation.
1. Three Jimmy's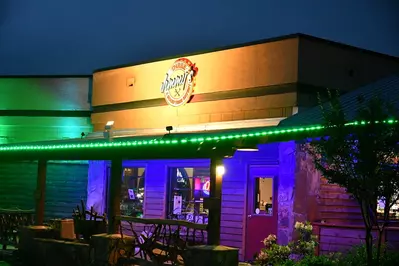 One of the locals' favorite places for lunch in Gatlinburg is Three Jimmy's. This restaurant creates scratch-made recipes using fresh, local ingredients whenever possible. Three Jimmy's is most known for their award-winning chicken wings, which are smoked, fried, and tossed in your choice of seven wing sauces. Other notable items on the menu include barbecue platters, burgers, and world-class artisan pizzas. If you want to sit down and enjoy a relaxing lunch away from the crowds of downtown Gatlinburg, Three Jimmy's offers a great atmosphere and great food!
2. J.O.E. and Pop's Sub Shoppe
Are you looking for a simple yet delicious lunch in Gatlinburg? J.O.E. and Pop's Sub Shoppe serves freshly made subs, sandwiches, wings, and hot dogs to satisfy your lunch cravings. Enjoy a classic sandwich like a Reuben, Italian Sub, Philly Cheesesteak, or Club Sub. Or, create your own from a selection of meats and cheeses. If you're looking for something heartier, you can choose from a selection of chicken wing flavors or a loaded hot dog. This sandwich shop also offers Box Meals To Go that you can take on a family picnic in the national park or bring back to your cabin for your group to feast on.
3. Tennessee Jed's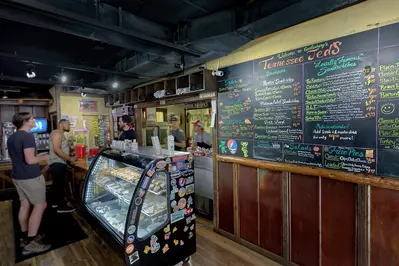 Tennessee Jed's is a craft sandwich shop that's known for serving fresh meats that are slow cooked overnight and roasted each day. You won't find any deli meats in any of their sandwiches. This is a fast casual restaurant that's perfect for a quick lunch in Gatlinburg between items on your vacation to-do list. You can order tasty sandwiches, hot dogs, meat platters, salads, and frito pies at this local restaurant. Choose a Classic BBQ sandwich, BLT, or Hot Ham and Swiss. Or, try something more unique like the Spicy Tofu sandwich or Loaded Frito Pie. Make sure you save room for Peanut Butter Pie for dessert!
4. Tom & Earl's Back Alley Grill
If you want to enjoy lunch in Gatlinburg in a laid-back atmosphere, eat at Tom & Earl's Back Alley Grill. This American sit-down restaurant serves all sorts of delicious meals. Start your meal off right with an appetizer like Rocky Top Nachos or Chili Cheese Fries. For your main course, you can't go wrong with the Kickin' Chicken Wrap, Hillbilly Philly sandwich, or Burning Bear Burger. There are so many great wraps, sandwiches, burgers, and salads to choose from at this local gem.
5. No Way Jose's Cantina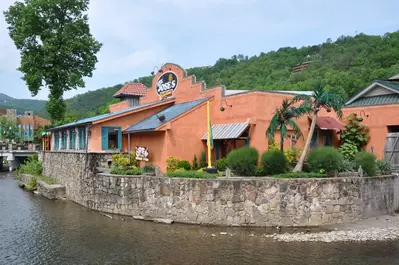 Are you craving Mexican food for lunch? A great choice for fresh and authentic Mexican food is No Way Jose's Cantina. You can easily find this downtown Gatlinburg restaurant just across the street from Ripley's Aquarium of the Smokies. There are lots of tasty items on the menu, including a variety of enchiladas, fajitas, burritos, chimichangas, tacos, and more. For a twist on a classic, try the Chicken and Sour Cream Enchiladas or Sizzling Fajita Salad. Save room for dessert so you can enjoy the sweet Caramel Flan!
6. Wild Plum Tea Room
The Wild Plum Tea Room is known as one of the best places to go for lunch in Gatlinburg. This quaint restaurant is tucked away just outside of downtown Gatlinburg in the Great Smoky Arts & Crafts Community. This restaurant prepares their daily menu using family recipes. The menu changes often to keep up with what is in season and freshly available. The Wild Plum Tea Room is known for their chicken salad, sandwiches, soups, and Wild Plum muffins. Don't forget to order a cup of the famous Wild Plum Tea! This restaurant is only open for limited hours a few days each week, so you'll need to make a reservation in advance.
7. Smith & Son Corner Kitchen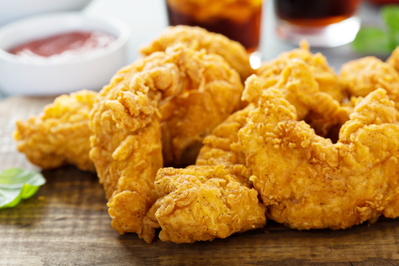 If you're in the mood for comfort food, make sure you stop by Smith & Son Corner Kitchen for lunch in Gatlinburg. You can't go wrong with their classic Chicken Fried Tender Basket or Country Fried Chicken Dinner. Or, choose from a variety of burgers and sandwiches. If you want to try something new, order a gourmet hot dog like the Fajita Dog or Southern Slaw Dog. There are also a number of delicious pastas and salads on the menu that are sure to make for a tasty lunch!
More Lunch Options in the Smoky Mountains
These are some of the best places to grab lunch in Gatlinburg. If you find yourself in nearby Pigeon Forge around lunchtime, make sure you check out these best places to eat in Pigeon Forge for lunch! Whether you choose to grab a bite to eat in Gatlinburg or Pigeon Forge, you're sure to be satisfied!