November 12, 2021
Top 7 Places to Get Delicious Ice Cream in Gatlinburg
After walking around downtown Gatlinburg, you may find yourself in the mood for something sweet! As you explore the city, you might find fudge, candies, and pastries, but there's nothing quite like a huge scoop of ice cream to satisfy your sweet tooth! If you're trying to find your favorite flavor or you want to discover something new, you'll be glad to know there are quite a few shops that serve ice cream in the area! Check out these top 7 places to get delicious ice cream in Gatlinburg:
1. Mad Dog's Creamery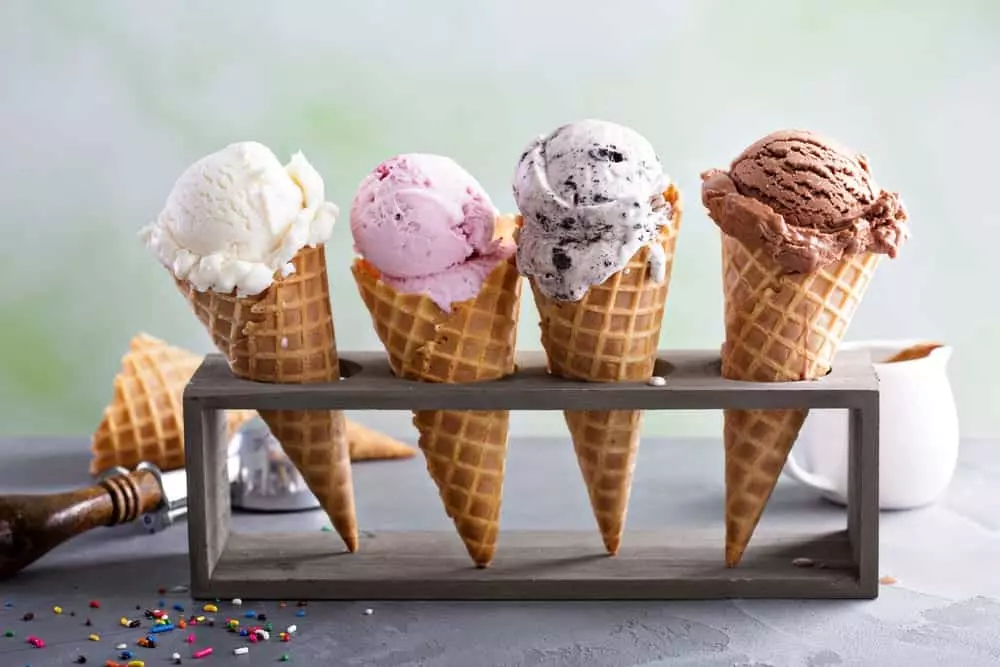 A great local place to go that serves ice cream is Mad Dog's Creamery . They have hand dipped premium ice cream in a variety of flavors. You can get the classics, including vanilla, chocolate, and strawberry, or you can try something new, like Super Cow, Blueberry Pie, or Columbian Cafe. You'll be able to choose how you want to enjoy your sweet treat, so you can get the flavor you want in a cup, a cone, a milkshake, a sundae, or a banana split! Not only will you find ice cream at Mad Dog's, you'll also find an assortment of yeast and cake donuts in mouth-watering flavors!
2. The Village Cafe & Creamery
Another local place to get ice cream in Gatlinburg is The Village Cafe & Creamery . Tucked away in The Village Shops, this sweets shop offers a variety of flavors that change out every week. Try something new, like southern blackberry cobbler or banana pudding. All of the ice cream is locally made, and you can choose to eat it from a cup, in a cone, as a milkshake, or another way you want! The Village Cafe & Creamery also serves coffee, and you will find it any way you like. You can even combine your love of ice cream and coffee and get an affogato!
3. Kilwin's Chocolates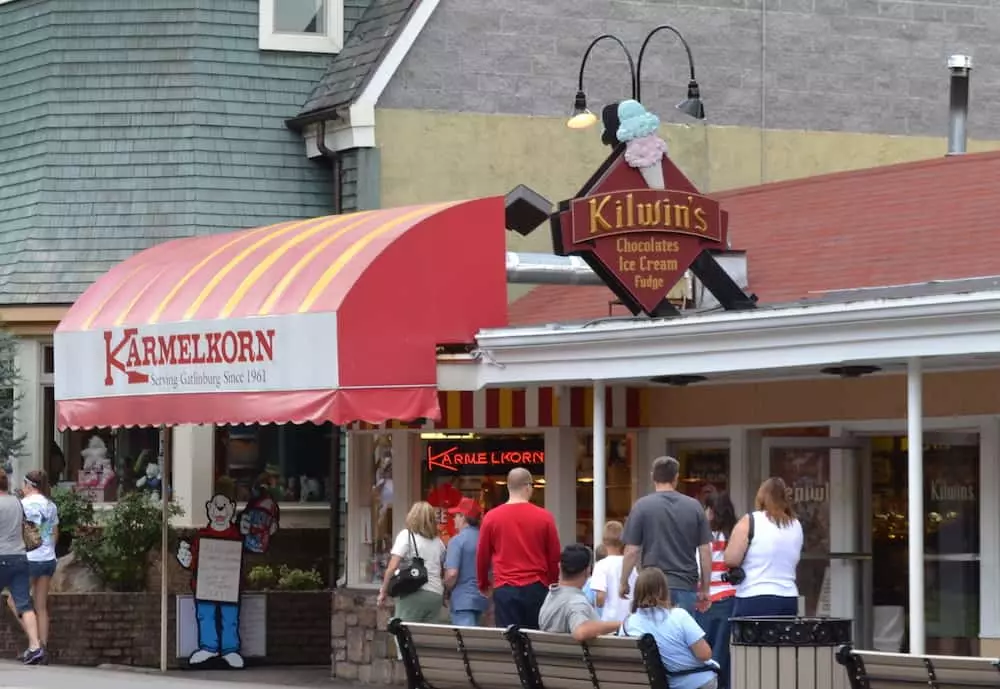 If you find yourself on the Strip and you want something sweet, Kilwin's Chocolates has incredible ice cream you should try! This chocolate shop has been using the same ice cream recipe since 1985, and you won't find a creamier or richer ice cream than theirs! They have all kinds of premium and unique flavors, from a classic vanilla to banana fudge pie! Get your scoop in a cup, in a cone, or in a waffle bowl! Kilwin's has all kinds of other sweets you'll want to try, including fudge, caramel apples, truffles, and so much more!
4. Mayfield Dairy Bar
Mayfield Dairy Bar is a popular place to get ice cream in Gatlinburg. Located right on the Strip, this ice cream shop is easy to find! You'll be able to look through the flavors and choose one that sounds delicious for dessert. Of course, they have the classic flavors, or you can try something different. At Mayfield Dairy Bar, you can have your ice cream in a cup or cone, or you can get a special treat, like a banana split or a sundae with your choice of flavors!
5. Ben & Jerry's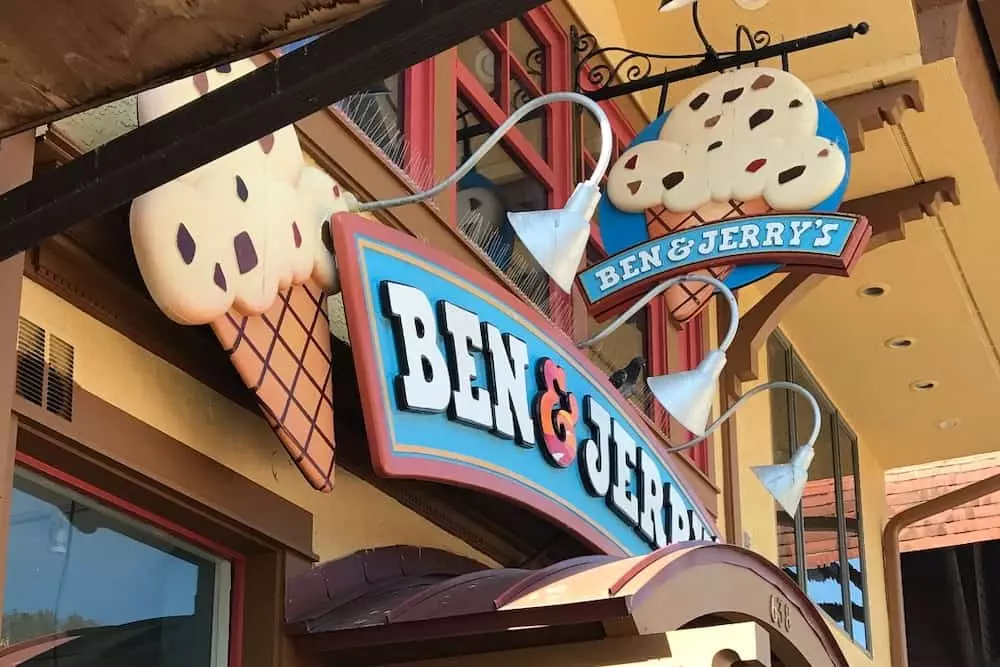 You can't go wrong getting ice cream from Ben & Jerry's in Gatlinburg! This premium ice cream shop has traditional ice cream, vegan ice cream, and sorbet. Get one of their classic flavors, like Cherry Garcia, Chunky Monkey, or Salted Caramel Blondie. You can get your scoop in a cup or a cone, or have it blended into a milkshake or made into a sundae. Everyone will find an incredible flavor they will love at Ben & Jerry's!
6. The Crazy Mason Milkshake Bar
A unique place to enjoy ice cream in Gatlinburg is The Crazy Mason Milkshake Bar . This creamery isn't quite like any other ice cream parlor in the area! All of their signature milkshakes are bursting with flavor and extras! Every milkshake is served in a mason jar that has been coated in frosting and rolled in nuts, sprinkles, or another type of topping. On top of the milkshake, you'll find a sweet treat that matches with the flavor of your milkshake, and it could be a cookie, a donut, or even a slice of cheesecake! You'll find flavors like Build Me Up Buttercup, S'mores the Merrier, and Split Happens on the menu at The Crazy Mason.
7. Chocolate Monkey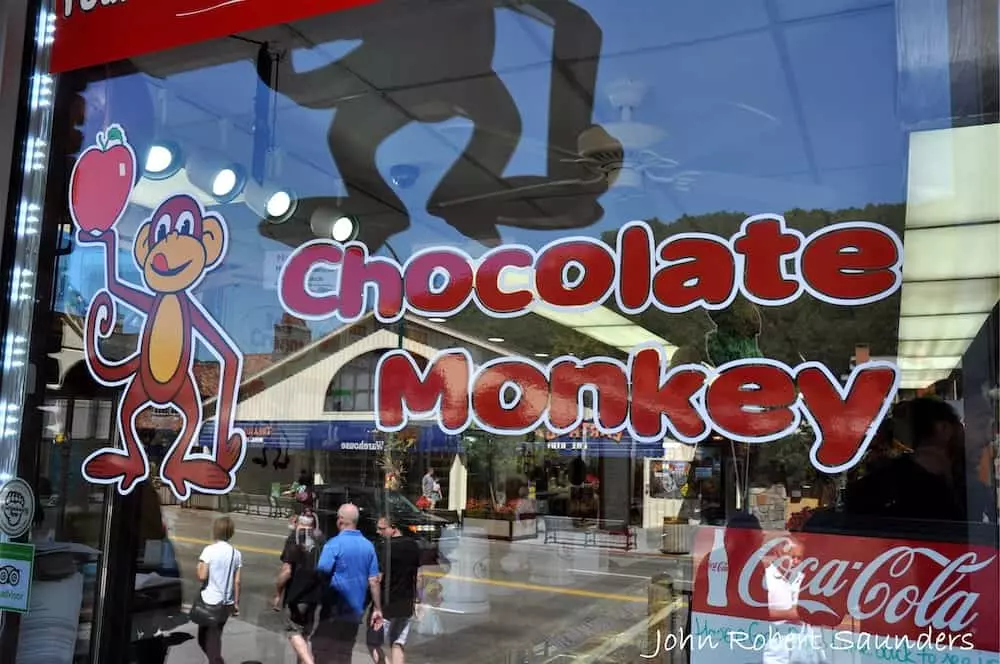 Chocolate Monkey is a great place to go when you want ice cream! Of course, they have all of the traditional flavors everyone loves, from vanilla to strawberry. You can always try something new, like Cotton Candy Twist or Anniversary Cake! Get your sweet treat in a waffle cone or in a cup and topped with your favorite nuts, candies, and sprinkles! Chocolate Monkey also has fudge, caramel apples, clusters, and so much more!
No matter what part of Gatlinburg you're in, you'll find somewhere to grab a tasty treat! These places to get ice cream in Gatlinburg are the perfect way to slow down and enjoy something sweet! Trying to figure out what else you will do while you're in the Smoky Mountains? Look through our Freedom Fun Pass to see which attractions you'll get free tickets to when you stay with us!