May 07, 2021
6 Best Places to Eat in Pigeon Forge for Lunch
After a morning of shopping, visiting Smokies attractions, or hiking in the Great Smoky Mountains National Park, you're going to work up an appetite! You're in luck because Pigeon Forge has a huge variety of lunch spots to choose from where you'll get an awesome meal, every time. Here are the 6 best places to eat in Pigeon Forge for lunch:
1. The Local Goat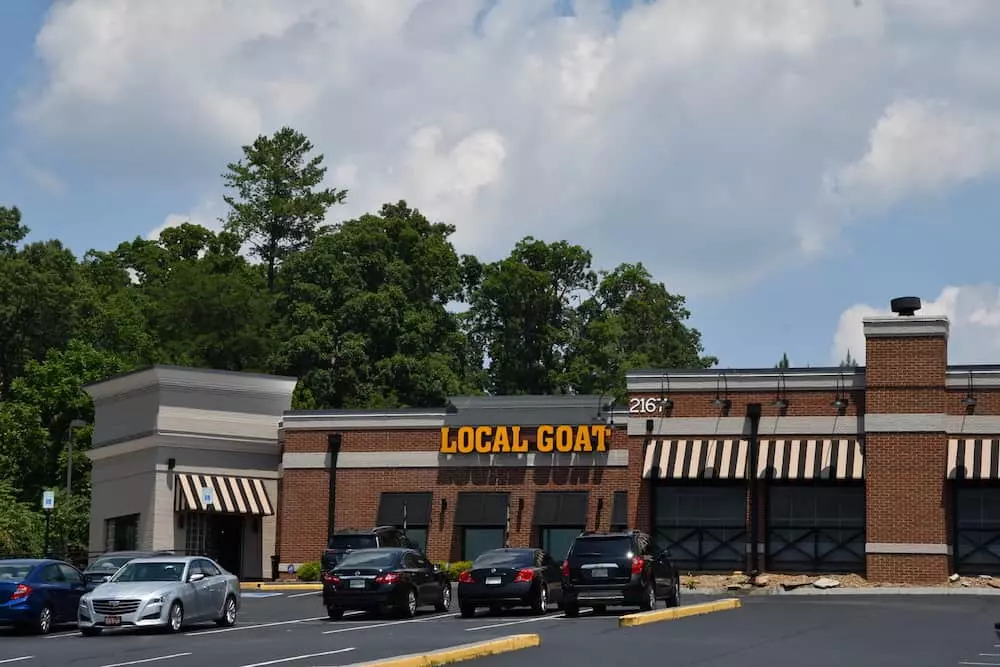 After exploring the Titanic Museum Attraction or sampling some delicious wines from Mountain Valley Vineyards, head right across the street and grab a bite to eat at The Local Goat . The Local Goat is a New American restaurant that serves up perfect burgers, wings, fall-off-the-bone ribs, and more. Pick from your choice of domestic and imported beers, both on tap or bottled and canned. If you're feeling something a little sweeter, explore their extensive wine and cocktail menu to find the perfect mid-day drink. Speaking of sweets, make sure you save room for dessert so you can try their Chocolate Peanut Butter Pie or NY Cheesecake with Strawberry Coulis.
2. The Old Mill Pottery House Cafe
The Old Mill has so much to offer visitors! From shopping to free alcohol tastings, you could spend a whole morning exploring the Old Mill. After you've purchased all your goodies and sampled East Tennessee's best wines, stop into The Old Mill Pottery House Cafe for lunch. They feature daily lunch specials that never disappoint and leave guests coming back for more! Try their Lunch Shrimp and Grits, Grilled Triple Cheese Sandwich and Soup, or Lunch Grilled Salmon. Combining contemporary southern flavors with old school methods, The Old Mill Pottery House Cafe is a can't-miss on your next trip to Pigeon Forge.
3. Mel's Classic Diner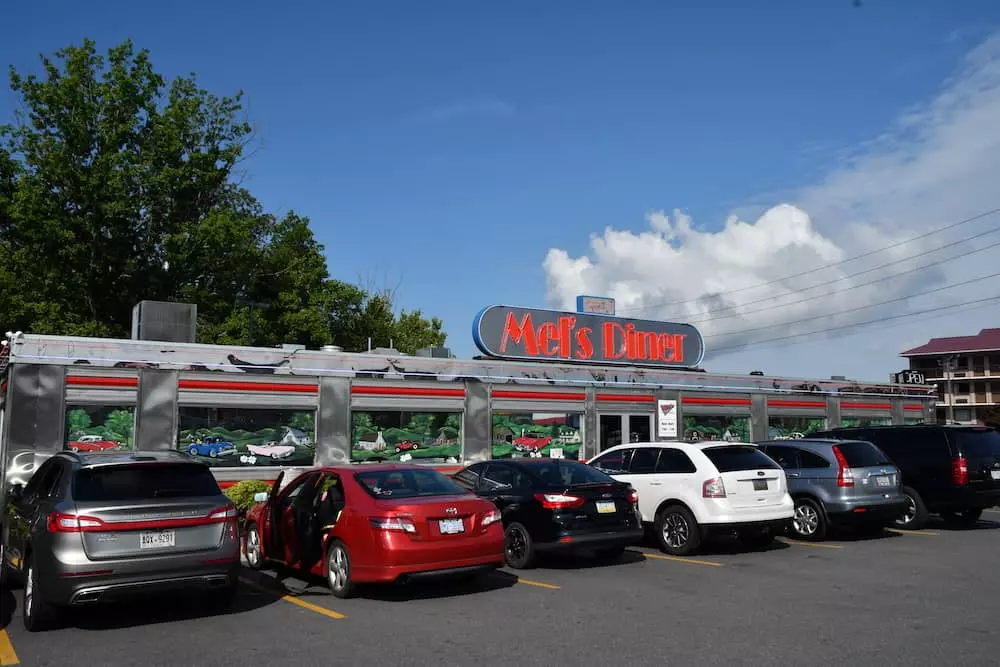 When you slide into one of the booths at Mel's Classic Diner , you're immediately transported back to the 1950s, filled with vintage cars, rock and roll, and classic American diner food. Split a strawberry milkshake with your sweetheart or enjoy some of Betty Jo's Home Cooked meals like April's Chicken and Dumplings and Miss Dee's Hand-Breaded Catfish. Mel's Classic Diner is one of the most highly rated, budget-friendly restaurants in Pigeon Forge and is a great place to grab a bite to eat for lunch. Located conveniently on Wears Valley Road, you'll have easy access to everything you want to do in the Smokies from Mel's.
4. Blue Moose Burgers and Wings
Blue Moose Burgers and Wings is the only family sports grill in Pigeon Forge and has been a fan-favorite among locals and visitors alike for years! Watch the big game on one of the 20 flat panel TVs while chowing down on angus burgers, hotdogs, salads, and more. Choose from over 16 different flavors of wings, including milder Sweet Thai Garlic and Caribbean Jerk, all the way to the smoking hot Atomic and Mango Habanero. You can also choose from dry rubs like the Cajun or the Forge Hot and Dry. With so many options, it's no wonder Blue Moose Burgers and Wings is considered one of the best places to eat in Pigeon Forge for lunch!
5. Puckett's Grocery and Restaurant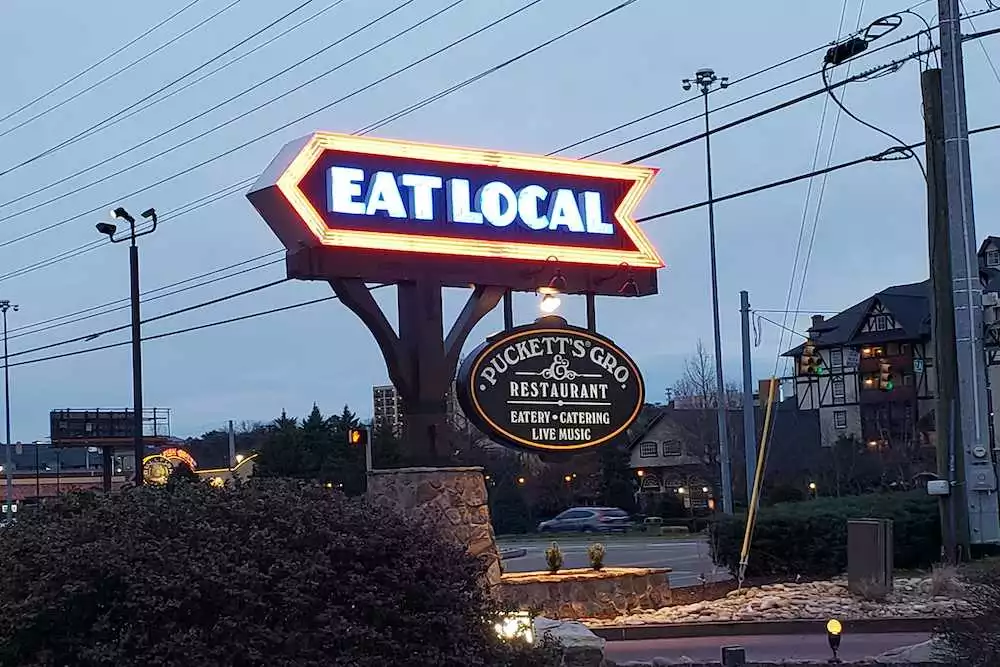 When you dine at Puckett's Grocery and Restaurant , you're in for authentic Southern comfort foods, with the Southern hospitality to match! This unique restaurant is perfect for lunch, and we guarantee you won't leave hungry. Order their Meat and 3 Specials, where you select a meat of your choosing and three mouth-watering sides, including Skillet Mac n' Cheese, Collard Greens, Smashed Sweet Potatoes, Cowboy Caviar, and more! If you're looking for something a little different, try their Redneck Burrito or Music City Hot Chicken Sandwich. Their mix of modern and traditional Southern classics earns Puckett's the title of one of the best places to eat in Pigeon Forge for lunch.
6. Paula Deen's Family Kitchen
If you've got a big group coming to lunch, we recommend you give Paula Deen's Family Kitchen a try! Paula Deen's serves up endless portions of Southern dishes in a unique family-style setting. On their lunch menu, choose from The Albany, which includes 2 Down Home dishes and 4 of Paula's famous sides, or The Savannah, which features 3 Down Home dishes and 4 sides. Some of the Down Home dishes include the Best Ever Southern Fried Chicken, Ol' Fashioned Southern Meatloaf, and Beef Pot Roast. You can choose from sides like Broccoli Casserole, Cole Slaw, Fresh Candied Yams, and more. You can't leave without trying the Ooey Gooey Butter Cake for dessert! Every dish served at Paula Deen's Family Kitchen comes straight from Paula's cookbooks, which you can purchase in the downstairs gift shop.
Now that you know about all these amazing places to eat in Pigeon Forge for lunch, you'll know exactly where to stop on your next Smoky Mountain vacation! Check out other things to do in Pigeon Forge and make your next trip to the Smokies the best one yet!