July 27, 2017
Cabin Showcase: 4 of Our Pigeon Forge TN Cabins with an Indoor Pool
Staying in a cabin offers a better experience than staying in a hotel because you have better privacy and more amenities. We have plenty of cabins for you to choose from. Some have home theaters, some have pool access, but the best cabins for you are our Pigeon Forge TN cabins with an indoor pool.
Staying in a cabin with an indoor pool is an easy and fun way to save money because instead of paying to go to a water park, you can just return to your vacation rental to cool off whenever you like. Here are 4 of our cabins with indoor pools that you should definitely check out for your next vacation!
1. Skinny Dippin'
This is one of our smaller Pigeon Forge TN cabins with an indoor pool. Skinny Dippin' is a 3 bedroom and 3.5 bathroom cabin that can sleep 12 people comfortably. This beautiful home offers you more than just an indoor pool. There are multiple TVs throughout the cabin that you can watch your favorite cable shows on. There is also a hot tub in this mountain view cabin and, in the loft, there's a pool table for you to use as well.
When you decide to stay in Skinny Dippin', you may never want to leave to visit the nearby attractions because you will want to explore every inch of the cabin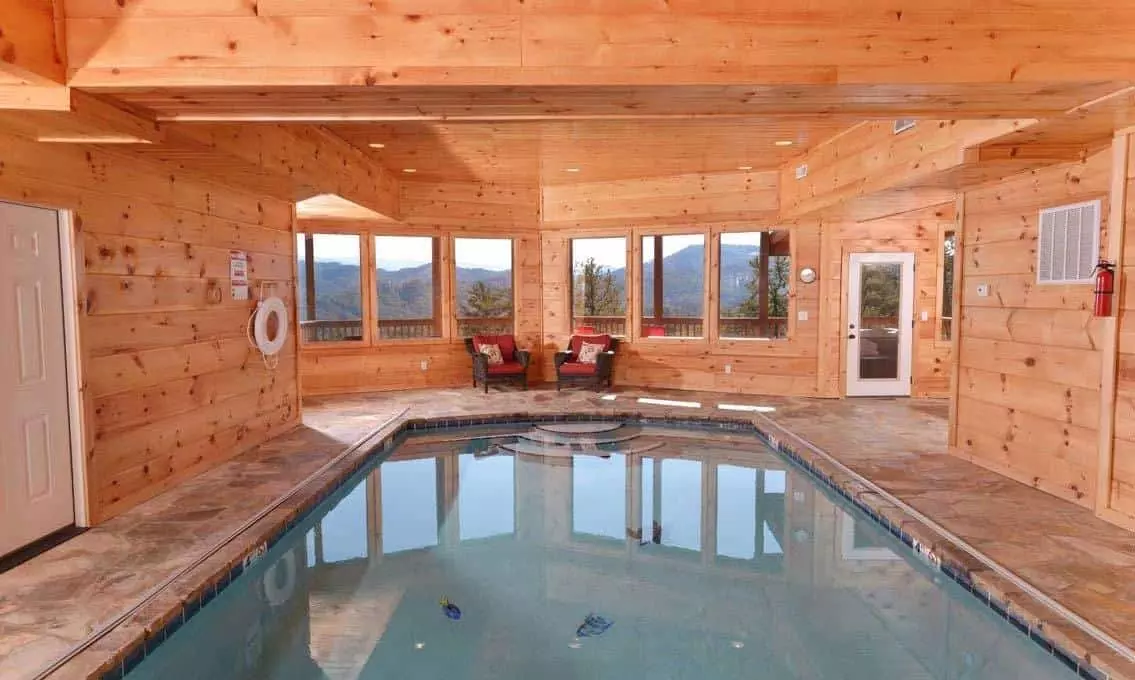 and try everything out! There's a fully-functional kitchen in the cabin that you can use to cook meals which can help you save money on your vacation.
2. A Pool With a View
A Pool with a View is a beautiful 2 bedroom, 3 bathroom cabin located in Waldens Creek, which is new in 2017! This is a great choice for a Pigeon Forge TN cabin with an indoor pool. This vacation rental can sleep up to 10 comfortably. You will love the log cabin look of this home and you will enjoy all the extra amenities that comes with it.
You will get to enjoy a hot tub here and an arcade game or two as well! This cabin does have internet access, like a majority of our cabins, so you can be online anytime without worrying about data overages. This cabin also features two king-sized beds, making it a perfect choice for a couple's getaway. However, this particular cabin is not pet-friendly, so your pet would have to stay at home this time around. We do have other pet friendly, indoor pool cabins, though!
3. Cooper's Cove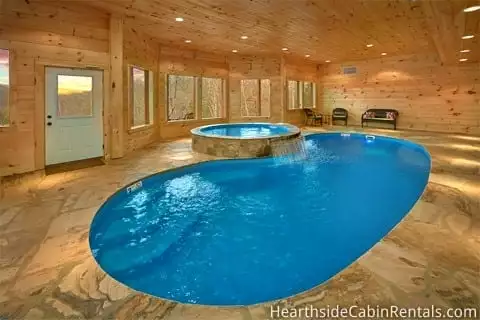 This beautiful 4 bedroom, 3.5 bathroom cabin allows you to access a pool year-round thanks to its private heated indoor pool. To top it off, it has an exciting waterfall feature too! Cooper's Cove can sleep up to 16 guests, so this would be the perfect place to stay with your extended family.
Other amenities in this cabin include a pool table, multiple TVs, internet access, cable TV, a hot tub and a variety of different sized beds for you and your group or family to sleep in. This is a relatively new addition, only just opening in 2015. You and your guests will love the mountain view and when your vacation comes to a close, you won't want to leave your little piece of paradise!
4. Summit Vista Lodge
Summit Vista Lodge might be considered a mansion in comparison to the other cabins on this list, due its the sheer size! This massive cabin features 10 bedrooms and 9.5 bathrooms that can accommodate up to 40 guests. With a great location near Dollywood, you will be close to all the best attractions the area has to offer you! This cabin would be the perfect place for a business retreat, a group getaway or a family reunion celebration.
This is one of our cabins that we decorate for the Christmas holidays, so if you are looking for somewhere to celebrate the holidays when they roll around, this is a great choice for you. This cabin has a hot tub, a pool table, foosball table and arcade game, not to mention a fabulous mountain view!
Start planning your vacation by checking out our selection of Pigeon Forge TN cabins with an indoor pool to find the best one for your vacation to the mountains!