November 26, 2016
5 Ways Our Group Cabins in Pigeon Forge TN Will Make Your Christmas Celebration Spectacular
Who says your family's Christmas get-together has to be dull or boring? Why not make this year's celebration one to remember by choosing to host it at one of our incredible group cabins in Pigeon Forge TN? Not only do these cabins give you the perfect place to spend time with your loved ones, they also come with several benefits you cannot get with other lodging options.
1. Includes All the Comforts of Home
The cabin rentals at Hearthside come with all of the comforts of home, so you can still enjoy your usual traditions in a fun new setting. Our cabins come with fully-equipped kitchens, outdoor grills, dining room tables, cozy living rooms, private bedrooms, and everything else you will need to feel at home during your stay. With all of these superb amenities, we promise you will have no trouble hosting your Christmas celebration in Pigeon Forge.
2. Unique Experience
Staying at our group cabins in Pigeon Forge TN for your family's holiday get-together this year is an incredibly unique experience for your family to share. It is not every day that the whole family gets to spend time together, let alone in a setting where you have a clear view of the Smoky Mountains wherever you turn!
(See Also: The 4 Best Things to Do in Pigeon Forge in the Winter)
You will be surprised by how much space our group cabins in Pigeon Forge TN offer guests to stretch out and relax during their stay. Unlike other lodging options, you won't have to worry about feeling cramped when you choose to book one of our cabins. Instead, you get to enjoy a peaceful and comfortable vacation with the people you care about most. Having ample space available to you during your stay also means that you will be able to share this experience with more of your friends and loved ones.
4. Reduces Stress
Although a Christmas celebration is an amazing time for you and your loved ones to get together, it can be a bit stressful. It's not so much spending time with family that brings the tension, but the responsibility of cleaning and getting your house ready for the guests.
However, if you choose to spend your holiday at one of our group cabins in Pigeon Forge TN, you won't have to worry about this. In fact, we will take care of all the preparation for you! All you have to do is show up and have a good time. You don't even need to worry about cleaning up after the festivities are over.
By taking this task off your shoulders and letting us handle it, you are giving yourself more time to enjoy your holiday break, as well as the company of your friends and family. Not to mention, this will also do wonders in terms of helping you relax, because you won't be tired or drained after hours of cleaning and preparing.
5. Beautiful Views
Last, but not least, we encourage you to consider booking one of our group cabins in Pigeon Forge TN for your Christmas celebration this year because of the amazing scenic views our rentals offer. As we mentioned earlier, everywhere you look in the area, you will find breathtaking views of the Smokies. We cannot think of a better setting for your holiday festivities than this.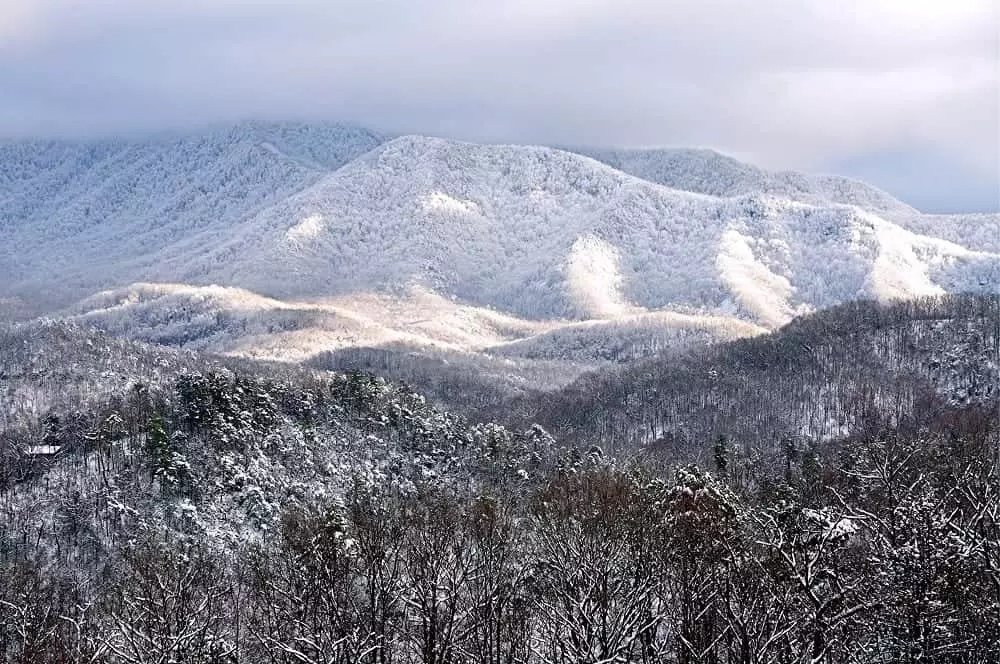 Even better, you can use this amazing view as a backdrop for some great family photos. Smoky Mountain vacation pictures are great for creating a memorable holiday card or family portrait!
Now that you know all of the benefits associated with renting our large cabins for your Christmas celebration, it is time to start planning your stay! You can start by browsing through all of our group cabins in Pigeon Forge TN. With the ability to sleep up to 74 guests under the same roof, we promise you will have no trouble finding the perfect place for your family's get together this year. We can't wait to see you this holiday season!