August 07, 2018
6 Benefits of Spending Your Vacation at Our 1 Bedroom Cabins in Pigeon Forge
When you're looking for the perfect place to stay for your vacation to the Smoky Mountains, look no further than Hearthside Cabin Rentals. We have 1 bedroom cabins that are not only affordable, but have everything you need for a fantastic stay. They are great for any type of vacation, from a romantic getaway with your sweetheart to a fun family trip. Here are 6 benefits of spending your vacation at our 1 bedroom cabins in Pigeon Forge:
1. Affordable
When you spend less on a place to stay, you will have more to spend on exciting things to do in the area! That's why we offer our cabins at an affordable price. You can have the vacation you've been dreaming of without breaking the bank! We have a variety of 1 bedroom cabins that are less than $150 a night, and to help you save even more, we offer cabin specials. Our specials are updated frequently throughout the year, and vary from things like discounts on the overall cost of your stay to free nights! Be sure to take a look at our specials before booking your cabin to guarantee you get the best deal on your stay.
Just because our 1 bedroom cabins in Pigeon Forge are smaller doesn't mean they're lacking in amazing amenities. They still have all the great things you can find in our larger cabins! You will be provided with all the comforts of home, like a fully equipped kitchen, a washer and dryer, and even an outdoor grill! You can save money by cooking meals in your cabin and pack less since you can wash your clothes while you're here. You will also have extras that make your stay even more special, like a bubbling hot tub, private deck with mountain views, and swimming pool access! Some of our 1 bedroom cabins even have arcade games and a home theater.
3. Sleep Up to 8 Guests
Another benefit of spending your vacation in one of these cabins is that we have some that sleep up to 8 guests! You might have thought that they were just made for two, but families and groups can all sleep comfortably in our 1 bedroom cabins as well. They can accommodate all types of guests. If you visit with your family, you won't have to worry about feeling cramped and can all have your own space, and if you visit with a group of friends you can save money by splitting the overall cost with each other!
4. Fantastic Location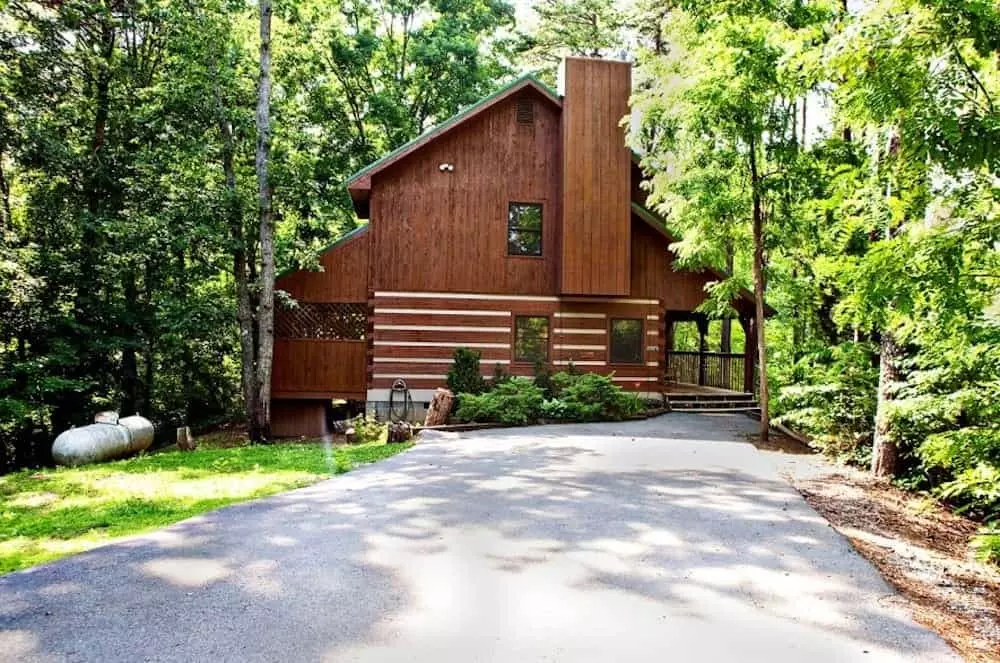 Our cabins in Pigeon Forge are in the best location! You will be nestled in the mountains and surrounded by peace and quiet, so you will feel like you are a world away from town. That's not that case, though! You will still be near all the action. All the best shops, dining and entertainment are just a short drive away. Their location combines the comfort of having your own privacy and no distractions with the convenience of being minutes away from fun.
5. Free Attraction Tickets
One of the best benefits of staying in our 1 bedroom cabins in Pigeon Forge is our Freedom Fun Pass! We reward our guests with free tickets to attractions and restaurants for every paid night stay. Not only will it help you save, but it will give you opportunity to try new things you might not have gotten to before! You can explore Ripley's Aquarium of the Smokies and interact with your favorite aquatic animals, laugh the night away at the Hatfield & McCoy Dinner Show , or explore a world of wonder at WonderWorks ! To find out more attractions you will get free tickets to, read our blog, "6 Pigeon Forge Attractions You Can Enjoy for Free When You Stay in Our Cabins."
We can't forget about the stunning views! One of the best parts about staying in the Smoky Mountains is being able to take in its beauty, and our cabins allow you to do just that. Whether you are soaking in the outdoor hot tub or relaxing in a rocking chair with your morning coffee, it is never a bad time to take in the gorgeous scenery. You will have picture-perfect mountain views that will look like something straight off of a postcard, so make sure to bring a camera along to capture it! In addition to mountain views, you can choose from cabins with lake views as well!
Now that you know all the benefits of staying in our 1 bedroom cabins, it is time to start planning your visit! Browse all of our 1 bedroom cabins in Pigeon Forge, and book your stay today.