August 29, 2013
Majestic View Lodge: Experience Luxury in the Smokies Like Never Before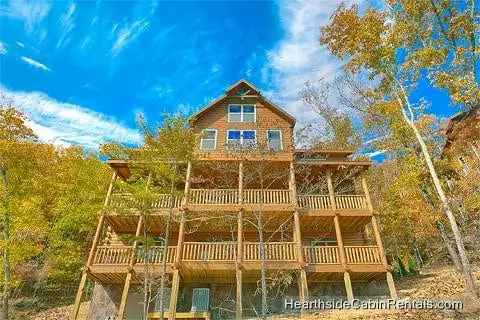 Now accepting reservations, The Majestic View Lodge is currently the largest cabin offered by Hearthside Cabin Rentals. Perfect for family reunions, church retreats, business functions, weddings and more, this Pigeon Forge cabin is the perfect place for your next group outing in the Smokies.
Sleeping a total of 58 guests, The Majestic View Lodge offers guests 13 spacious bedrooms, 11 baths and a full double kitchen with plenty of places to sit! This spacious Pigeon Forge cabin also offers guests an unparalleled panoramic view of the scenic Smoky Mountains.
Not only does this cabin offer guests plenty of room to stretch out and relax, but there is also an endless amount of entertainment included with each stay at The Majestic View Lodge. Ranging in activities from a bubbly hot tub, to a pool table, a foosball table, a home theater system, satellite TV service and more, a few days inside this Pigeon Forge cabin are sure to create lifelong memories for any Smoky Mountain vacationer.
Looking for something just a little bit bigger? Currently Hearthside Cabin Rentals is putting the final touches on their 74-sleeper Pigeon Forge cabin The Big Moose Lodge. Slated to be the biggest cabin in America based on the number of sleeps The Big Moose Lodge is currently accepting reservations, and will be open to guests by the end of this year.
To find out more about Majestic View Lodge, The Big Moose Lodge, or any other of Hearthside Cabin Rentals' exclusive Gatlinburg and Pigeon Forge cabins, visit our 'Cabins' tab on our website, or give us a call at 1-888-993-7655.