August 30, 2022
7 Reasons Our Smoky Mountain Honeymoon Cabins Are Perfect for a Romantic Getaway
We all sometimes need a break from the everyday stresses of life. Something to get away and remind us of what's really important in life! Could you use some quality time with your significant other? The Smoky Mountains and their endless beauty make for a special place for a romantic getaway! Here are 7 reasons why our Smoky Mountain honeymoon cabins are perfect for a romantic getaway:
1. Picturesque Views
Nothing sets the mood for a great experience quite like mountain views that fill your soul with happiness! Many of our cabins include gorgeous views of the Great Smoky Mountains all from the comfort of your own place! How about a cup of coffee on the porch as you watch the sun rise over the mountain horizon? Or a glass of wine as you watch the sunset from your back deck! You'll realize just how lucky you are to be a part of this beautiful planet when you stay in one of our cabins!
2. Hot Tub & Fireplace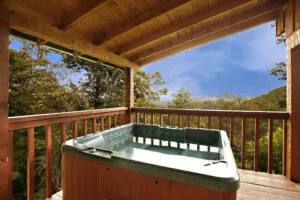 Snuggle up on the couch under a blanket with your significant other as you sit by the fireplace and look at mountain views or enjoy a movie together! Hop into the hot tub together as you spend a night under the stars with plenty of wine and chocolate! How about a cabin with a private pool? Our Smoky Mountain honeymoon cabins include numerous amenities that make for a perfect Smoky Mountain romantic getaway.
3. Dinner For 2
Our cabins come with fully equipped kitchens, allowing you to whip up your favorite meal together as a couple! No waiting an hour-plus to be seated at a fancy restaurant that will cost an arm and a leg! Turn on some tunes and spend quality time together cooking a delicious meal in one of our awesome kitchens! Sit down together and enjoy your meal at a dining room table or take advantage of outdoor seating on a deck with a beautiful view.
4. Affordable[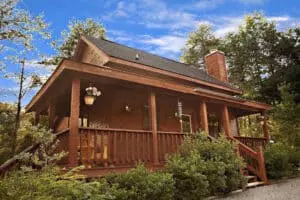 ](/media/642a97ce70e375d09b8f73c9/original.webp)
We want you to focus on having a great time — not on how much money you're spending — during your trip to the Smokies! The best part of staying in one of our Smoky Mountain honeymoon cabins for a romantic getaway is the vast number of affordable options! Take a look at our Smoky Mountain cabin specials to ensure you're finding the best deal possible. Each time you book a cabin with us, you'll receive a Freedom Fun Pass, which will get you into some of the best attractions free of charge! For each paid night with us, you'll receive one free ticket to a popular attraction such as Anakeesta, WonderWorks and Beyond the Lens!
5. Privacy
Visiting the Smoky Mountains is a blast, but the hustle and bustle of tourist attractions can be a lot. Retreat back to one of our luxury cabins to unwind with your sweetheart following a day of fun! You and your significant other can enjoy getting away from life's everyday stresses with a relaxing, revitalizing stay in one of our Smoky Mountain honeymoon cabins! There's no need to worry about loud traffic keeping you up at night or navigating waves of people in a packed hotel! You'll be at home in your own comfortable world when you stay with us!
6. Proximity To Attractions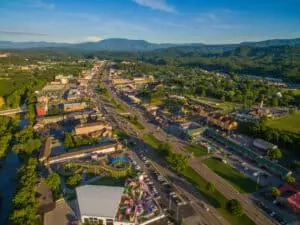 The reason you decided to visit in the first place is all the fun activities to participate in! Be conveniently located near all the finest Smoky Mountain attractions with a stay in one of our cabins! With cabins nestled in Pigeon Forge, Gatlinburg and elsewhere in the Smokies, we're sure to have a rental located exactly where you want to be! Memories are just waiting to be made! Visit The Island in Pigeon Forge and ride The Great Smoky Mountain Wheel or explore Anakeesta together or even ride the Gatlinburg SkyLift for wonderful views of the Smoky Mountains!
7. Entertainment Options
Our cabins are stocked with the latest technology and entertainment options to ensure there's always something fun to do during your stay in one of our cabins! Televisions, streaming services, DVDs and BluRays are all commonly found in our units! Additional entertainment options in some cabins include arcade games, board games, pool tables, foosball, ping pong and much more! Cuddle up together on the couch, turn on the fireplace and turn on a classic romantic comedy to enjoy your night together!
Our Smoky Mountain honeymoon cabins have everything you need and more for a perfect romantic getaway! Take a look at all our Smoky Mountain honeymoon cabins to find the perfect place for the two of you!