July 03, 2014
4 Best Places To Find Gatlinburg Aquarium Coupons and Discount Tickets
The Gatlinburg Aquarium is often referred to as the #1 Aquarium in the United States. Filled with tons of interactive exhibits, live shows and memorable animals, you and your family will love nothing more than to spend the day here.
That being said, there is not reason that you and your family cannot have fun and save money at the same time. That is why we have tracked down the top four places vacationers can find coupons for this thrilling Gatlinburg attraction. To find out where they are, keep reading!
Ripley's Gatlinburg Aquarium's Website
When looking for Gatlinburg aquarium coupons and discounts, it is always best to check Ripley's website first. Although the site does not offer discounts on individual tickets, it does offer several money-saving combo packages for families planning on visiting more than one Ripley's Gatlinburg attraction during their Smoky Mountain vacation. These packages can help families save up to 37% off regular admission prices!
Gatlinburg Aquarium Discount Ticket Packages include:
-U-Pick 2 (Gatlinburg aquarium + one other Ripley's attraction): $39.97
-U-Pick 3 (Gatlinburg aquarium + two other Ripley's attractions): $48.96
-U-Pick 4 (Gatlinburg aquarium + three other Ripley's attractions): $57.95
-U-Pick 5 (Gatlinburg aquarium + four other Ripley's attractions): $65.94
-U-Pick 6 (Gatlinburg aquarium + five other Ripley's attractions): $72.93
-U-Pick 7 (Gatlinburg aquarium + six other Ripley's attractions)" $78.97
-Gatlinburg aquarium + Great Smoky Mountain Wheel combo: $31.99
-Gatlinburg aquarium + Titanic Museum in Pigeon Forge combo: $41.99
-Gatlinburg aquarium + Dixie Stampede combo: varies
Other Ripley's attractions in Gatlinburg include the Ripley's Believe It Or Not! Odditorium, 5D Moving Theater, Haunted Adventure, Marvelous Mirror Maze, Davy Crockett's Mini-Golf and Old MacDonald's Farm Mini-Golf.
HearthSide Cabin Rentals
To help guests staying inside one of our Pigeon Forge or Gatlinburg cabin rentals, we at HearthSide Cabin Rentals have created our exclusive Freedom Fun Pass that offers one free ticket to a variety of Pigeon Forge and Gatlinburg attractions per paid night of stay.
Free Smoky Mountain Attractions tickets included in the Freedom Fun Pass are: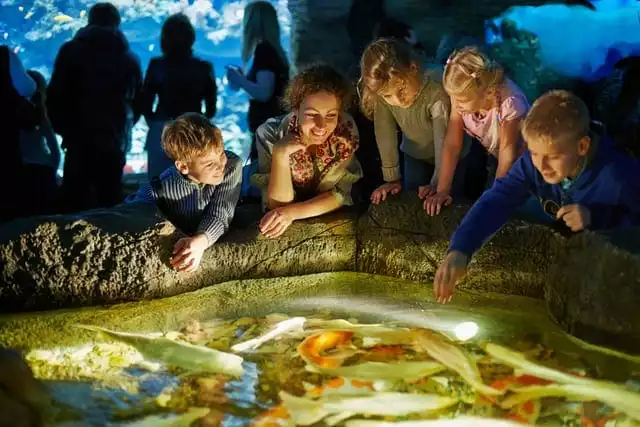 -Ripley's Aquarium of the Smokies
-WonderWorks
-Lazerport Fun Center
-Country Tonite Theater in Pigeon Forge
-Lumberjack Feud Dinner Show
To reserve your ticket to any of these exciting Smoky Mountain attractions using the Freedom Fun Pass, all you have to do is call our office at least 48 hours before you plan on visiting the attraction to make the reservation for the ticket. Our talented team of vacation specialists can take care of the rest.
Brochure Stands
If you have ever been to the area before, then you know to look for the brochure stands outside of many of the local shops and restaurants in Pigeon Forge and Gatlinburg. Along with information on all of the popular things to do in the Smoky Mountains, these stands are also the perfect place to find discounted tickets and coupons to several area attractions including Gatlinburg aquarium coupons.
Be sure to read the fine print on the coupons from the stands. You will want to make sure that there aren't any limits or restrictions on how many or how often you can use them during your Smoky Mountain vacation.
RetailMeNot.com
For the more internet-savvy travelers, often times you can find a variety of deals and discounts using RetailMeNot.com.
The best way to describe this website is that it is an internet-based coupon swap where users can post and rate coupon codes shared on the site. Here, you can see what percentage of users have had success with different codes, as well as how many have attempted to use the code that day.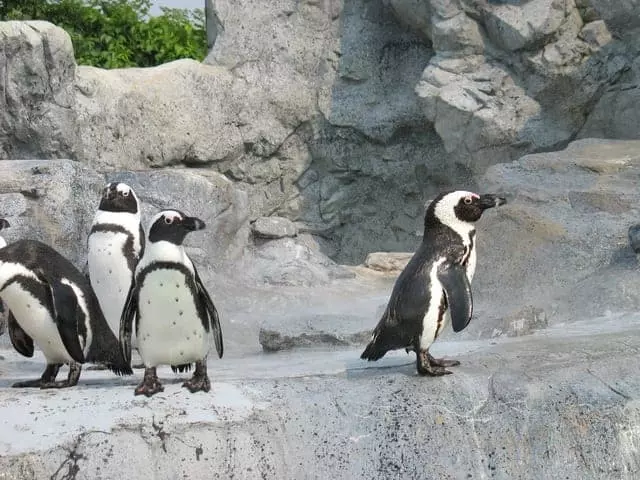 Current popular Gatlinburg Aquarium Coupons on RetailMeNot.com are:
-Free Entry for Children 2 & Under
-Up to 33% Select U-Pick Combos
(Pro Tip: If you have an Android or iPhone, be sure to download the RetailMeNot app from your phone's app store so you can find exclusive discounts and coupons while you are on the go during your vacation. The app will tell you when you are near stores that are currently offering discounts for RetailMeNot users.)
BONUS: Frequently Asked Questions About the Gatlinburg Aquarium
Where is the Ripley's Aquarium in Gatlinburg located?
The Gatlinburg aquarium is located at 88 River Road at Traffic Light #5. For directions to the aquarium, feel free to use the map below!
How much are regularly priced tickets?
Regular ticket prices for Ripley's Aquarium in Gatlinburg are:
-$15.99 for children 6-11
-$14.99 after 4 p.m.

-$7.99 for children 2-5
-$6.99 after 4 p.m.

-FREE for children 2 and under
Please keep in mind all ticket prices do not include tax
When are they open?
Hours of operation for the Gatlinburg aquarium are weekdays from 9 a.m. to 10 p.m. and weekends from 9 a.m. to 11 p.m.
Where can I park?
There is a city-owned, paid parking lot located directly behind the Gatlinburg Aquarium on Greystone Heights Rd. You can also try your luck at finding one of the free parallel parking spots on River Road, but keep in mind that these spots fill up fast!
Where should I stay?
Ready to start planning your next trip to the Gatlinburg aquarium and need a place to stay? At HearthSide Cabin Rentals we have a variety of spacious Pigeon Forge and Gatlinburg cabins that are just a short drive away.
Our cabins range everywhere from one bedroom cabins to large 18 bedroom cabins in Pigeon Forge, so they are perfect for any group or family traveling to the Smoky Mountains.
To learn more about our relaxing rentals, give us a call today at 1-888-993-7655. Our knowledgeable vacation specialists will be more than happy to help you and your family plan the perfect Smoky Mountain vacation.