June 13, 2023
6 Amenities You'll Both Love in Our Gatlinburg Cabins for 2
It's about time you decided to take some time for yourselves! You and your significant other deserve a getaway in the Smoky Mountains to recharge your batteries! You don't want just any place to stay; you want someplace where you and your sweetheart can live in luxury and make Smoky Mountain memories that will last a lifetime. Our Gatlinburg cabins for 2 feature all the amenities you need for a romantic retreat in a picturesque setting while spending quality time with the one you love the most! Here are 6 amenities you'll both love in our Gatlinburg cabins for 2:
1. Hot Tubs and Jacuzzis
Let the pampering begin! If relaxation is what you're looking for in your romantic getaway, you'll get plenty of it from the hot tubs and jacuzzis in our Gatlinburg cabins for 2! You'll want to make sure you bring your swimsuit to take a dip in the hot tub. Trade stories with your sweetheart as you sit in pure happiness in the hot tub, watching the sunset over the gorgeous Smoky Mountains in your cabin's backyard. Jetted jacuzzis make for plenty of romance and relaxation. Make sure to grab your favorite bottle of wine or whiskey to enjoy together in a hot tub or jacuzzi!
2. Breathtaking Views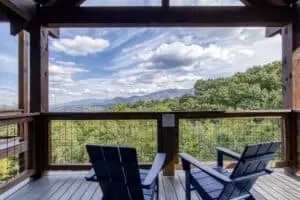 You'll be left in awe of the beauty that surrounds you in the Smoky Mountains! Many of our Gatlinburg cabins for 2 offer up picturesque views of Gatlinburg and the surrounding area! Start your day by rolling out of bed, turning the coffee maker on and taking a seat in a rocking chair or porch swing as you watch the sun slowly rise over the mountains. Sit in tranquility during the day as you listen to the sounds of nature and watch for birds and other Smoky Mountain animals. After exploring for the day, come back home to the comfort of your cabin and catch the sunset while cuddling up together.
3. Grills and Fire Pits
Does someone take pride in his grill master skills? You'll love the fact that many of our cabins come complete with a grill for you to make your favorite specialties while in the Smokies! Fire up the grill and throw on some burgers and hot dogs for the perfect lunch or dinner on a perfect weather day in the Smokies. Grill up a couple of steaks and have a romantic candlelight dinner in your cabin without having to fork over money for high-dollar steaks at an area restaurant. Fire pits are perfect for staying warm on a chilly night and, of course, making s'mores! Stare at the stars as you reminisce about all the fun memories you've made as a couple.
4. Fireplaces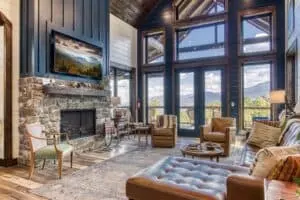 Picture this: you're cuddled up with your sweetheart on the couch of your cabin. You're covered in blankets, sitting by a roaring fireplace and enjoying the company of one another as you watch snow flurries fall through the giant windows of your cabin! Our very own winter wonderland comes to life each winter in the Smoky Mountains. Keep warm with the natural heat of a wood burning fireplace or stay in a cabin with a gas fireplace.
5. Pet Friendly Cabins
What's a vacation if you're missing a member of your family? Bring man's best friend along with you in one when you stay in one of our dog friendly Gatlinburg cabins for 2! Fido is sure to have the time of his life exploring the Smoky Mountains alongside the 2 of you. The Smoky Mountains are home to a number of attractions that are pet friendly so you can bring your good boy along! Imagine all the fun your dog can find while exploring a whole new world in the Smoky Mountains!
6. Conveniently Located Near Town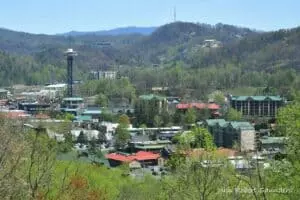 Our Gatlinburg cabins for 2 are ideal for those hoping to do some exploring while in the Smoky Mountains! The Great Smoky Mountains National Park is just a few minutes drive away where you can enjoy all sorts of fun activities. Several Gatlinburg hiking trails have both waterfalls and scenic views that you don't want to miss! Choose from several different portions of the park to explore unique places. Stroll through downtown Gatlinburg where you'll fall in love with some incredible restaurants and entertaining attractions! No matter what you're interested in, you're sure to find something to enjoy in Gatlinburg. You're going to love enjoying these amenities when you stay with Hearthside Cabin Rentals! Explore all of our Gatlinburg cabins for 2 to find the coziest spot for you and the love of your life!