February 03, 2014
HearthSide Cabin Rentals Celebrates 10 Exciting Years in Business
Time flies when you are having fun, at least that has been the case for us at HearthSide Cabin Rentals. What once started as a small idea among friends while sitting around a fireplace has now grown into one of the industry's most innovative and fastest-growing Gatlinburg and Pigeon Forge cabin rental company.
Before starting HearthSide Cabin Rentals, Danny and Janice McAllister owned a furniture manufacturing company in Albertville, Alabama. During downtimes at work, Danny would travel to the Smoky Mountains and help build rental cabins in Pigeon Forge and Gatlinburg. Danny and Janice also owned a few cabins that were managed through a management group.
However, when their management group was bought out by another company, and Janice and Danny started to see the management policies change, they knew it was time for them to branch out and start their own business.
"It was not an easy decision to start our own business," explained Janice. "We really didn't want to do it, but we had seen so many people come in and take over companies and do it wrong that we knew that we needed to do it right."
Thus, HearthSide Cabin Rentals was born. The name came from an evening while Danny and Janice were sitting with some friends around the fireplace in their kitchen. The friends were talking about what most Smoky Mountain cabin rental companies were lacking, and how they would do things differently.
"We knew we needed to take care of the three elements: the guest and their vacation, the owner and their investment, and still make money to take care of all the people that depend on the company," said Janice.
The motto that HearthSide Cabin Rentals uses today when explaining their company motto is, "You've got a friend in Tennessee." However, when guests and cabin owners decide to work with the staff at HearthSide they are considered more than just friends–they become family.
"Everybody that works here is family," said Danny. "If you would ask any of the employees they would say they are part of the family."
When Janice and Danny say that their employees are like family they mean it. Along with one of their sons and his wife, family members on the roster at HearthSide include Janice's sister and her husband, as well as long-time family friend and Alabama neighbor and her husband.
Family is a long-standing tradition for HearthSide Cabin Rentals that Janice and Danny hope to see continue long into the future.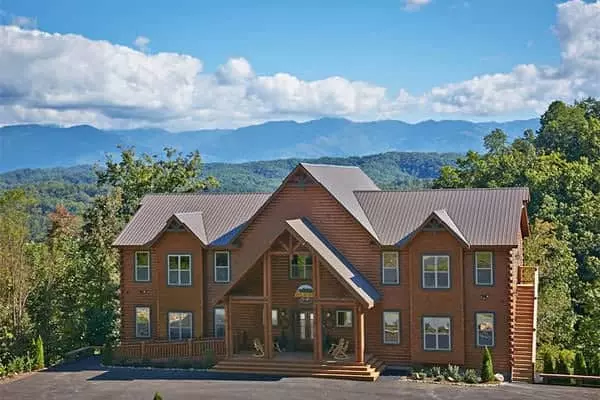 With 16 bedrooms and the ability to sleep up to 74 guests, The Big Moose Lodge is the largest rental cabin in the United States.
Ten years ago HearthSide Cabin Rentals started with just 10 Smoky Mountain cabin rentals, and today they have grown to around 120. Janice and Danny are both proud and excited to see this excitement and growth continue well past the upcoming decade.
HearthSide Cabin Rentals is no stranger to growth and success. Within the last year, the Smoky Mountain cabin rental company has successfully branched out into two new niches in the Smoky Mountain vacation industry. With the help of two Operations Managers, Duke Blevins and Jimbo Whaley, HearthSide Cabin Rentals has been able to take both large group cabin rentals and Smoky Mountain weddings by storm.
With the opening of The Big Moose Lodge this past fall, HearthSide Cabin Rentals was able to carve a new path for the future of large group vacations in the Smoky Mountains. By offering a cabin that can sleep up to 74 guests under the same roof, The Big Moose Lodge has earned the title of the largest cabin rental in the United States.
HearthSide Cabin Rentals is also pleased to announce the recent opening of their newest wedding venue. HearthSide at the Preserve offers couples and families a beautiful and relaxing place to stay while they host their dream wedding in the Smokies. A chapel, an outdoor pavilion, wedding planning, and cabin rentals are just a few of the many services provided by HearthSide at the Preserve.
To learn more about the history of HearthSide Cabin Rentals, or to book your next stay with our family-oriented Pigeon Forge and Gatlinburg cabin rental company, give them a call today at 1-888-993-7655. Our friendly and knowledgeable reservation team will be more than happy to ensure that you and your loved ones have the most memorable Smoky Mountain vacation possible.