April 12, 2023
Your Guide to the Best Food at The Island in Pigeon Forge
If you have plans to visit Pigeon Forge, chances are you'll want to visit The Island in Pigeon Forge! This family entertainment center located in the heart of Pigeon Forge offers fun and excitement for vacationers and locals alike! Every member of your family will find something that they enjoy at The Island in Pigeon Forge regardless of age! In the midst of all the exploring, you'll likely need to take a break at some point to refuel with some tasty food. The Island offers numerous delicious restaurants and snack shops so that you'll never run out of energy for your jam-packed day! Here is our guide to the best food at The Island in Pigeon Forge:
Food From Restaurants
Family Southern-Style Dining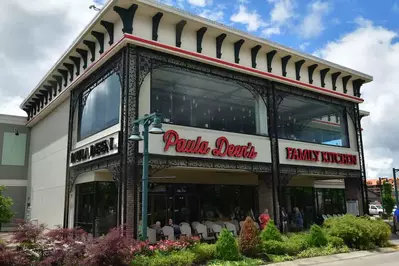 Paula Deen's Family Kitchen serves up Paula Deen's favorite family recipes in a special family-style setting! You'll love the seemingly endless portions of Southern-style classics like fried chicken, chicken and dumplings, pulled pork, spare ribs and so much more! Paula's famous sides like green beans, collard greens, fried okra, baked mac and cheese are to die for! You can't leave without having one of Paula's desserts like banana pudding, ooey gooey butter cake and seasonal cobbler!
Lodge-Themed Dining
You'll enjoy a true taste of the Smoky Mountains at Timberwood Grill ! Come inside this cozy lodge setting to enjoy incredible food and great service! Hearty foods and delicious drink creations make Timberwood Grill a popular spot for food at The Island in Pigeon Forge. Try a half-pound angus burger, one of many sandwiches or options like chicken, shrimp, salmon and even chicken pot pie!
Pizza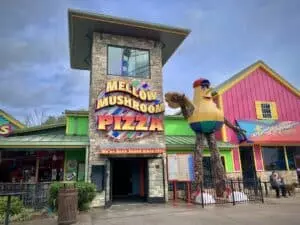 The best pizza on The Island is found at Mellow Mushroom ! Great pizza and a great hang are what you'll love the most about visiting Mellow Mushroom! These stone-baked pizzas start with classic Mellow crust made from Appalachian spring water before the freshest toppings are added and baked to golden-brown perfection. Pick from one of 24 craft beers on tap or from the excellent cocktail menu!
Drinks & Good Vibes
Relax just how Jimmy Buffet would on vacation at Jimmy Buffet's Margaritaville ! When you visit Margaritaville at The Island, the clock suddenly shifts to 5 o'clock! Raise a glass in celebration and enjoy tasty food with your closest family and friends. This laid-back atmosphere features unique dining spaces, a concert stage and multiple bars so you'll never run out of fun!  
Food From Snack Shops
Cinnamon Rolls
Ooey, gooey, melt-in-your-mouth cinnamon rolls make the perfect afternoon snack for a day spent at The Island in Pigeon Forge! Nobody does cinnamon rolls better than Cinnabon ! Stop by for a sweet treat that is sure to put a smile on everyone's faces. This food at The Island in Pigeon Forge also includes additional baked goods and specialty beverages.
Soft Pretzels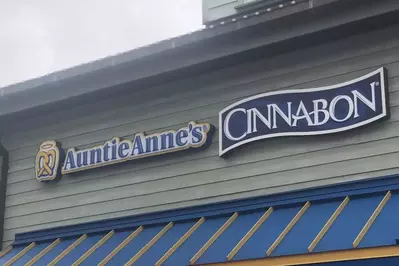 There's just something about a soft pretzel that brightens your day! The fresh, hot-out-of-the-oven pretzels from Auntie Anne's are top notch! Brushed with butter, baked to golden-brown perfection and topped with the perfect amount of salt, these pretzels make the perfect snack to quickly quiet your rumbling stomach.
Refreshing Lemonade
A tall refreshing cup of lemonade is the perfect treat for a busy day at The Island in Pigeon Forge! Bob's Lemonade serves up freshly squeezed lemonade made from the freshest ingredients! Bob's slices its lemons into eighths with a top-of-the-line machine, pours in a low-sugar blend, adds fresh water and mixes it all together in a giant 32 ounce cup!
Ice Cream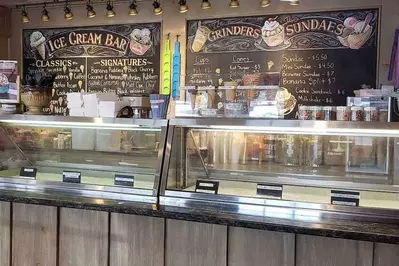 You scream! I scream! We all scream for ice cream! The Island Creamery has you covered with some of the very best ice cream and gourmet treats around! The Island Creamery offers a vast selection of homemade ice cream flavors! Have your ice cream topped high on a hand-dipped chocolate waffle cone, cool off with a smoothie or even try other sweet treats like cookies!
Gourmet Popcorn
You won't find popcorn like this at your local movie theater! Featuring 12 flavors of fresh homemade popcorn, Kapop! Gourmet Popcorn has a little something for everyone's unique tastes! Caramel Corn and Kettle Corn are 2 classics you have to try while Bacon and Dill Pickle are among the unique flavors!
Sweets & Treats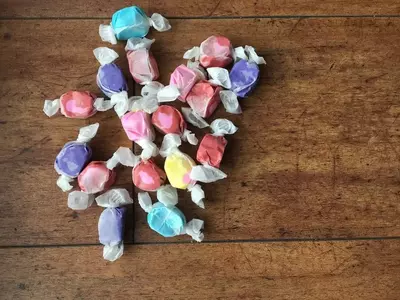 serves up made-from-scratch sweets and treats that you won't be able to get enough of! Big Rocky Candy Kitchen is a great place to bring the kids, who will find incredible treats they never knew existed! Salt water taffy, creamy fudge, crisp caramel apples, gourmet popcorn and gelato are all on the menu at this snack shop. Don't forget to grab a free sample! You'll be doing your stomach a favor when you and the family enjoy this food at The Island in Pigeon Forge! What else do you guys have planned for your trip? Explore our Freedom Fun Pass to see the great deals you'll get on area attractions when booking a cabin rental with us!