December 11, 2019
Coming Soon: New Shop Offers Boozy Liquid Nitrogen Ice Cream in Pigeon Forge
If you've ever mixed ice cream and your favorite liquor, you know how delicious the combo can be! At Buzzed Bull Creamery, they do the mixing for you! This new shop that serves ice cream in Pigeon Forge can be paired with a variety of alcoholic beverages, and all the ice cream is frozen using liquid nitrogen. Find out more about this new shop offering boozy liquid nitrogen ice cream in Pigeon Forge:
Unique Ice Cream in Pigeon Forge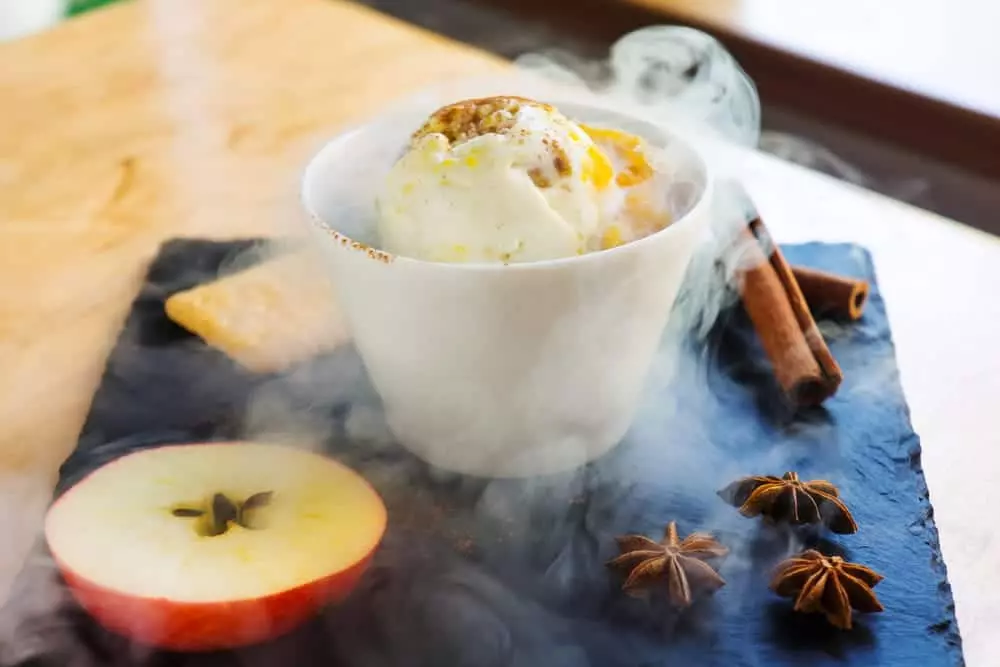 You won't find another ice cream shop like this in Pigeon Forge! For adults who are 21 years old and up, ice cream can be mixed with alcohol starting at 5 percent ABV. Buzzed Bull Creamery does offer non alcoholic ice cream options so guests who are too young or don't want alcohol can also have a fun experience getting liquid nitrogen ice cream in Pigeon Forge! Want an even cooler ice cream experience? Try the monthly flight boards! Just like a beer flight, you will receive four, 3-ounce flavors of ice cream with alcohol in it on a tasting board.
There are a huge selection of flavors at Buzzed Bull Creamery. Some of the specialty flavors include:
Dreamsicle – orange juice, waffle cone, whipped cream, cake batter; suggested booze: orange vodka
Death by Chocolate – chocolate, brownies, chocolate chips, chocolate sauce; suggested booze: chocolate vodka
Bonfire – marshmallow syrup, graham crackers, chocolate chips; suggested booze: cinnamon whiskey
You can also create your own flavor at Buzzed Bull Creamery. Here are some of the flavors and mix-ins:
Vanilla
Mint
Honey
Coconut
Chocolate chips
Gummy worms
Waffle cone pieces
Rainbow sprinkles
How the Ice Cream is Made
Each ice cream cone and milkshake is hand made and customized for a unique experience at Buzzed Bull Creamery. Getting ice cream at this shop serving ice cream in Pigeon Forge is different than other ice cream shops. Every cup of ice cream and milkshake is made to order since it is frozen with liquid nitrogen.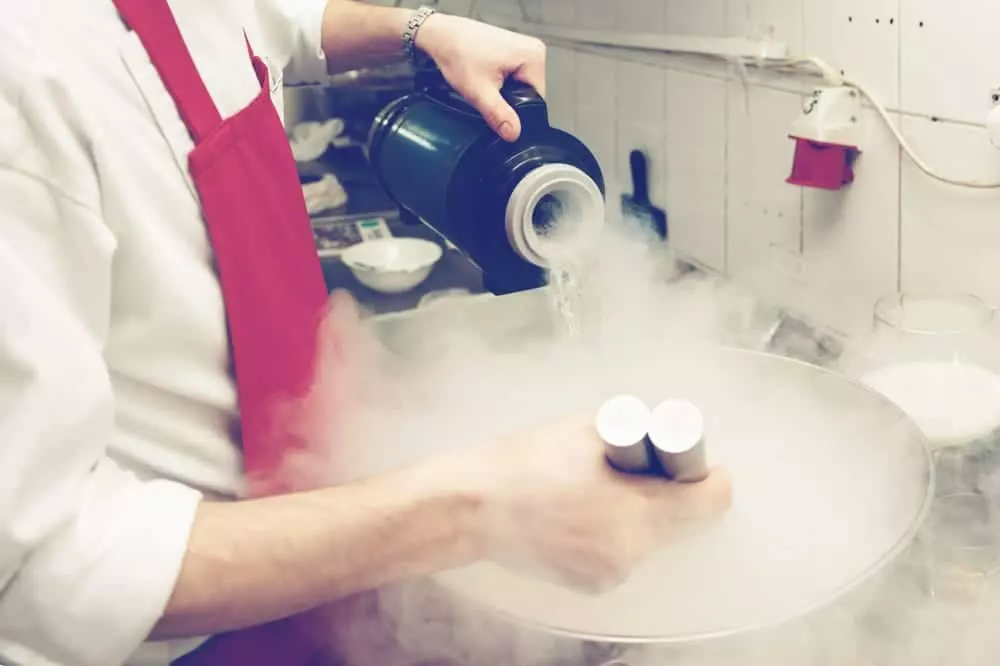 Most ice cream is made using an ice cream machine, hand crank, or ice and rock salt. When using liquid nitrogen, the creation of ice cream is almost instantaneous. Liquid nitrogen is around -320 degrees Fahrenheit. Along with its freezing temperature, liquid nitrogen is tasteless, colorless, and odorless. The employee will add cream to a large bowl then all your toppings. Liquid nitrogen is added, and your ice cream is frozen within minutes!
Get a Drink at the Espresso Bar
Not only does Buzzed Bull serve ice cream in Pigeon Forge, they also have an espresso bar. You can get a variety of specialty flavor coffees, including the Buzzed Bull, which has espresso, steamed ice cream, caramel, whipped cream, and a suggested booze of bourbon. You can also get classics, such as an americano or a macchiato.
Buzzed Bull Creamery is slated to open in Spring of 2020.
More Places for Ice Cream in Pigeon Forge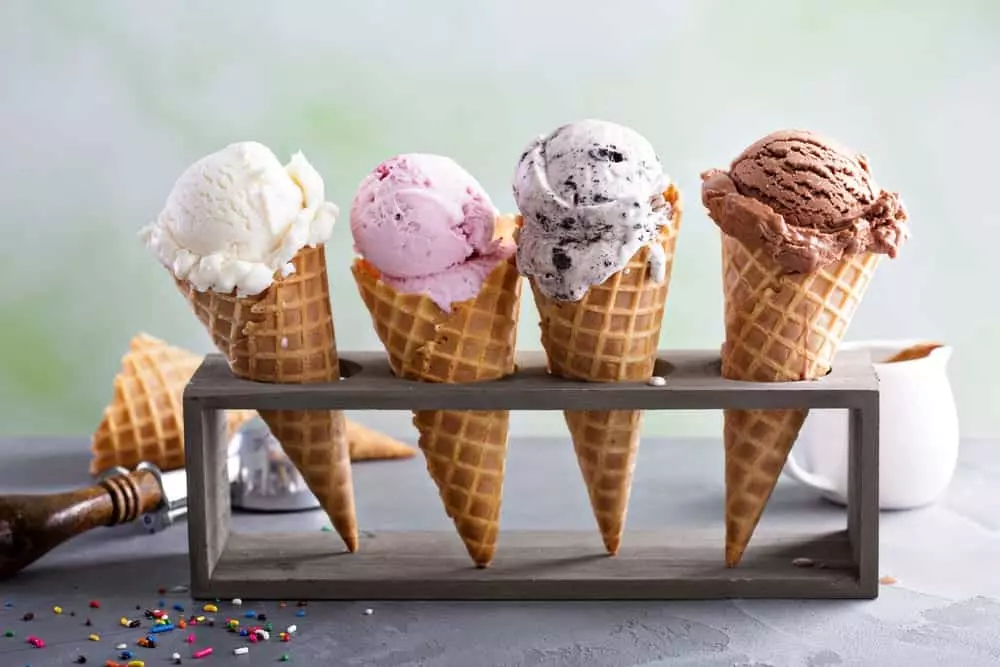 There are plenty of places where you can get ice cream in Pigeon Forge. Each shop is unique but all of them are delicious! Here are other ice cream shops in Pigeon Forge:
Old Mill Creamery
If you're looking for old fashioned ice cream, you should visit the Old Mill Creamery . The custard is slowly cooked and churned into a creamy frozen treat that is served in a cone or a bowl. Some of their signature flavors include oat mill cream pie, Salted Caramel, and Whiskey Ribbon, which also has alcohol mixed in from the Old Forge Distillery that is located across the street from the Old Mill Creamery. This shop also serves all kinds of beverages, from coffee to hot chocolate.
Mad Dog's Creamery
A local shop where you can get ice cream in Pigeon Forge is Mad Dog's Creamery . This shop is pet friendly, so you can bring your furry friend with you for a treat! Mad Dog's has classic flavors such as vanilla and chocolate. You'll also find unique flavors such as white chocolate raspberry, yellow brick road, and caramel pie. Not only does Mad Dog's have ice cream, they also have donuts and funnel cakes.
Curl de la Creme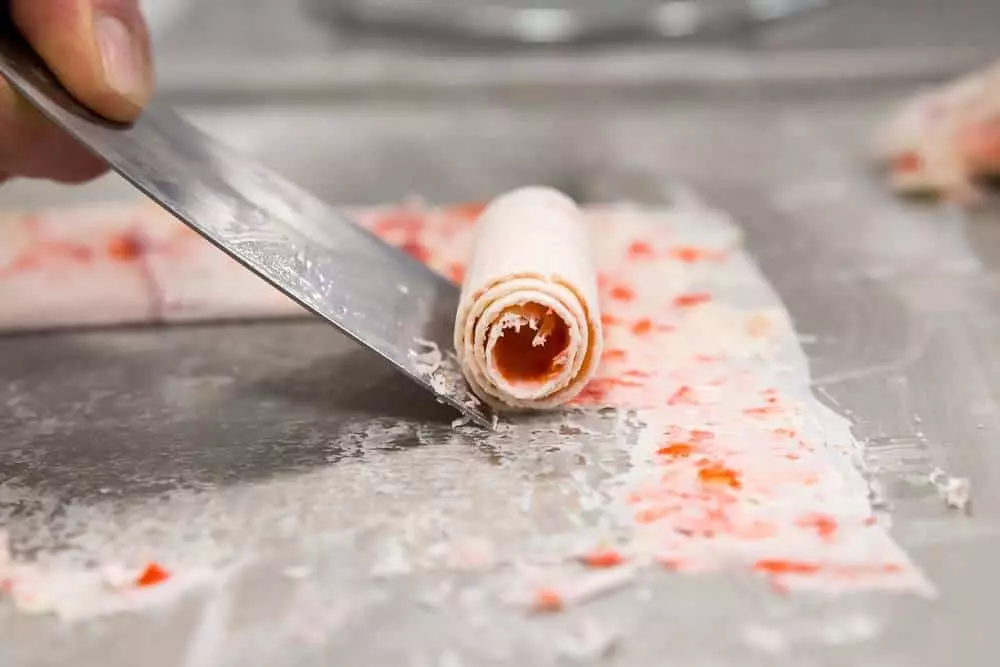 A cool way to eat ice cream is when it's rolled into ribbons! At Curl de la Creme , you can get all kinds of delicious flavors rolled into a cup. Waffle cones are made in house, and the ice cream is made right in front of you! Choose one of the three base flavors, choose which mix ins you want, and watch the ice cream form in front of your eyes! Your ice cream is spread onto a flat surface that freezes the cream, and the employee then rolls your ice cream into ribbons. Then you get to enjoy it!
Now you know all about the newest place to get ice cream in Pigeon Forge! Want to know what else you should do while you stay with us? Look at our Freedom Fun Pass you'll get when you book your stay for discounts and free tickets to local attractions!