July 27, 2023
Top 6 Thrill Rides at Dollywood Theme Park
Are you a thrill-seeker planning on visiting Dollywood? While Dollywood is most known for being a family-friendly theme park, it also has plenty of rides for those seeking thrills. From high-speed roller coasters to gravity-defying drops, you'll be able to get your heart racing and adrenaline pumping in no time. Here are some of the top thrill rides at Dollywood that you definitely need to experience while you're in Pigeon Forge.
1. Lightning Rod
One of the most thrilling rides at Dollywood is Lightning Rod. When it was first built, this roller coaster was the fastest wooden coaster in the world. Now, it's classified as a hybrid coaster that combines both wood and steel. It's still considered one of the top-ten best roller coasters in the country, though! Lightning Rod gets its thrills from a 165-foot drop and top speeds of up to 73 miles per hour. You'll experience a total of nearly 20 seconds of airtime on the hills of this ride. There are a number of unexpected twists and turns that make riders feel like the car could fly off the tracks at any moment. Lightning Rod was styled after a 1950s-style hot rod car, and the ride is meant to make you feel like you're racing down an old dirt road. You'll love flying through the air with the wind in your hair as you race around the track!
2. Drop Line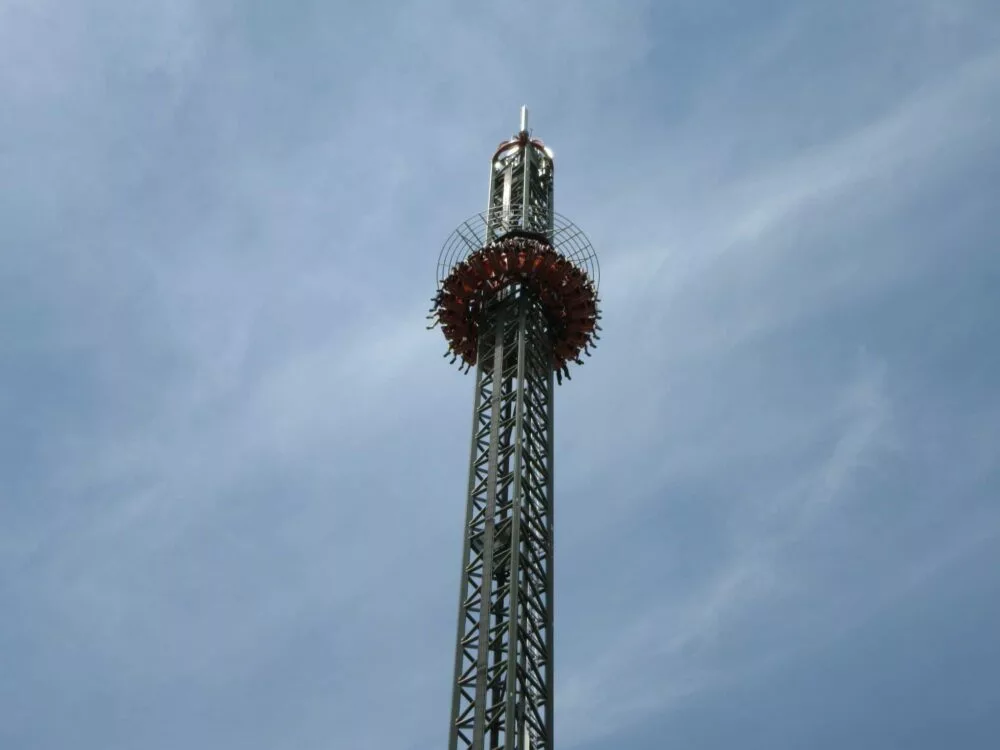 If you want a thrill ride at Dollywood that will give you butterflies and a major adrenaline rush, make sure you check out Drop Line! This is a drop ride that brings you high above the park to enjoy a bird's-eye view of Dollywood and the surrounding Smoky Mountains. As you ascend up the 230-foot tower, the ride slowly spins to give you a 360-degree view all the way up. When you reach the top, you'll anxiously wait for the moment that you know is coming, but you won't have any idea when. Without warning, Drop Line will plummet you back down 20 stories to the ground in a thrilling freefall drop.
3. Mystery Mine
Mystery Mine is a thrilling roller coaster full of unexpected elements. After you climb into the mine car, you'll start off the ride inside in a dark, abandoned coal mine. You'll twist, turn, and drop through the dark before making your way up a steep incline. A 95-degree, 85-foot vertical drop awaits you. The track will bring you outside where you'll experience various elements like sharp banks, rolls, and even some upside-down hang-time. Unlike most train-style roller coaster cars, these cars aren't connected and only have two rows so everyone can feel like they're in the front row. This is by no means the fastest or the biggest ride at Dollywood, but Mystery Mine's unexpected thrills make it one of the most unique and fun rides you can experience.
4. Wild Eagle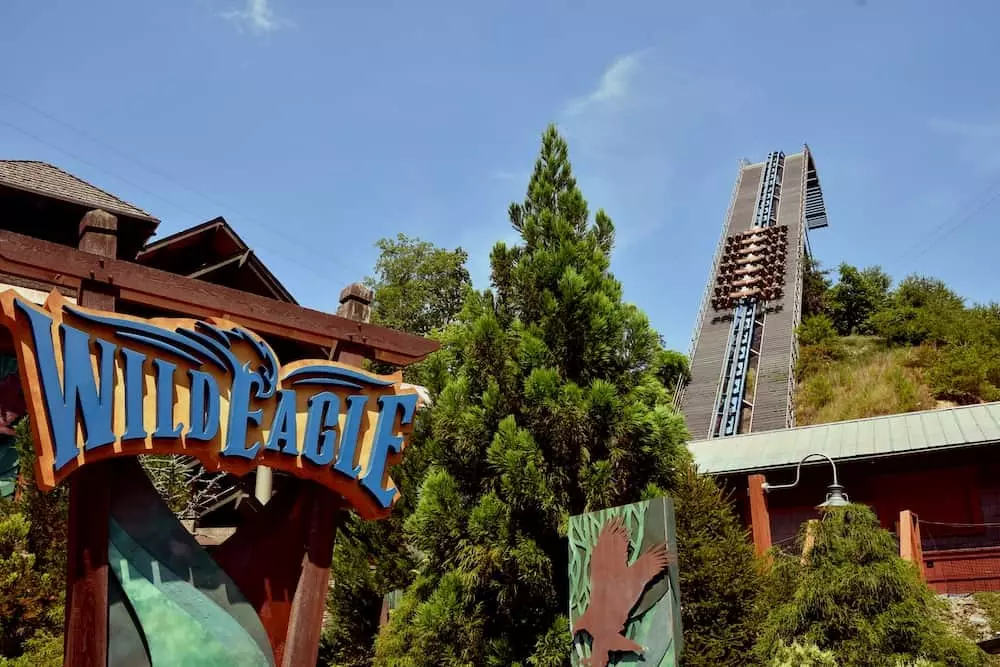 One of the biggest thrill rides at Dollywood is the roller coaster Wild Eagle. When it was built, this roller coaster was the first wing coaster in America, which means riders are seated on either side of the track with nothing above or below them. This makes you feel like you're actually flying above the Smoky Mountains! You'll start the ride by traveling up the 210-foot lift hill that goes into a 135-foot drop. Wild Eagle reaches speeds up to 61 miles per hour, making this one of the faster rides at the theme park. After the initial speedy descent, you'll soar through a series of loops, rolls, corkscrews, and drops. You will get to experience quite a bit of airtime, too. Though thrilling, this steel roller coaster is also incredibly smooth, so you'll be able to ride it again and again.
5. Barnstormer
Climb aboard Barnstormer to find out what it's like to be a daring 1920s stunt pilot! This ride isn't a roller coaster, but it offers plenty of thrills. Riders are seated back-to-back on a massive pendulum arm. When the ride begins, you'll start to swing back and forth, getting progressively higher with each swing. This ride can reach a maximum speed of 45 miles per hour and 230 degrees of rotation. When you're at the highest point, you'll be 81 feet in the air. This is a great ride for thrill-seekers because of all the butterflies and airtime you'll enjoy. Plus, you'll be staring straight down at the ground up to 81 feet below!
6. Tennessee Tornado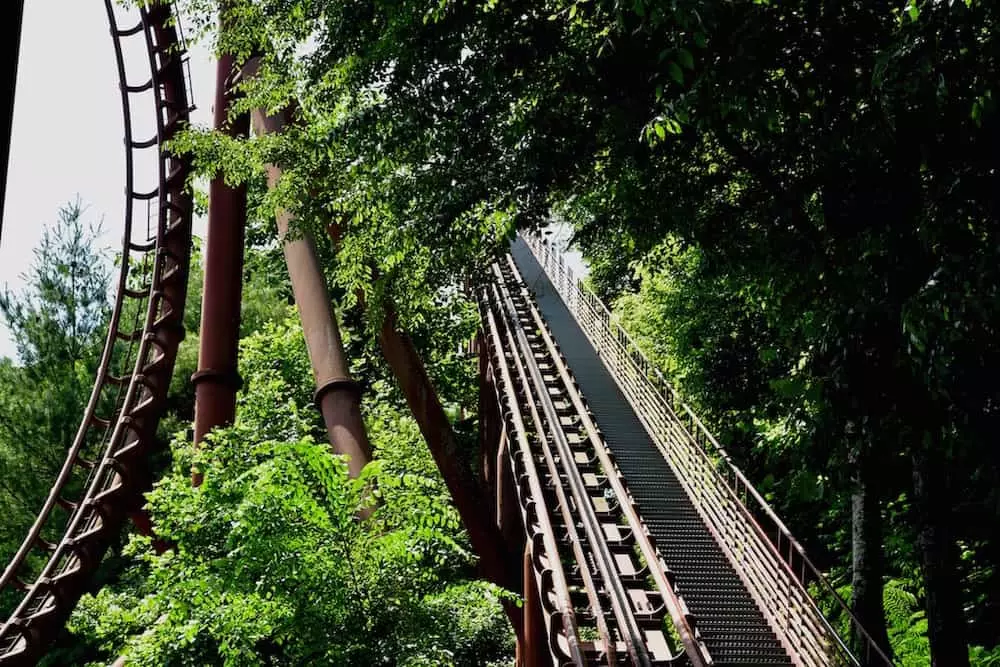 Tennessee Tornado is one of Dollywood's first true roller coasters. It was originally built in 1999 and is still offering high thrills today. Tennessee Tornado brings riders down a 128-foot drop and reaches speeds close to 70 miles per hour. In less than a two-minute ride, you'll go upside down three different times and even speed through a tunnel. One of the loops on this ride is 110 feet tall, which is sure to get your heart racing. One of the unique features of this ride is its "butterfly," which is created by two back-to-back loops that make the shape of a butterfly. As the name Tennessee Tornado suggests, you can expect to be tossed around through loops, corkscrews, and drops that will make you feel like you're caught up in the strong winds of a tornado.
Stay in a Cabin Near Dollywood
If you're planning on visiting Dollywood during your trip to the Smoky Mountains, you'll want to stay close by so you can get there when they open and stay until they close. To make the most of your trip to Pigeon Forge and Dollywood, it's best to stay in a cabin nearby so you won't have to waste time driving. Take a look at some of our cabins that are closest to Dollywood and find the best place to stay for your vacation!