September 12, 2023
All You Need to Know About Guy Fieri's Downtown Flavortown in Pigeon Forge
Welcome to Flavortown! This exciting attraction in Pigeon Forge is definitely one that you don't want to miss. Guy Fieri has brought Downtown Flavortown to the Mountain Mile! This 43,000 sq. ft. entertainment complex is home to an arcade, a restaurant, a tiki bar, and more. We know you're excited, so we've put together a guide of everything you need to know before you go:
What Can You Do at Downtown Flavortown in Pigeon Forge?
Downtown Flavortown is the place to be in Pigeon Forge! There are plenty of opportunities for fun at this attraction. When you're looking for a day full of good food, good drinks, and good fun, you're going to want to spend it at Guy Fieri's Downtown Flavortown! Here's everything you can do when you visit:
DuckPin Bowling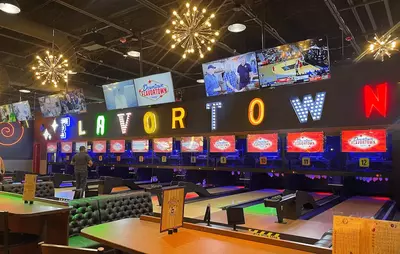 Downtown Flavortown is home to its own DuckPin bowling alley! There are 14 lanes with shorter pins, for bigger fun. The bowling alley also has its own food menu with delicious shareables like Trash Can Nachos, chicken wings, and pizza!
Guy's Real Deal Arcade
One part of Flavortown that will keep you entertained for hours is the arcade. Guy's Real Deal Arcade has 10,000 sq. ft. of arcade games, virtual reality games, and go-big-or-go-home prizes. You'll have all your favorite classic arcade games, along with some new ones you can test your skills with.
Restaurant
It wouldn't be a Guy Fieri attraction without a Guy Fieri restaurant! At Downtown Flavortown's restaurant, you can taste some of Fieri's famous culinary combinations. The menu includes Outta Bounds Waffles, Big Bite Burgers, Signature Sandwiches, and more. We recommend trying the Cajun Chicken Alfredo or the Nashville Hot Chicken Waffle! Plus, you have to end the meal the right way — with a "Flavortown Finale." Dessert options range from specialty milkshakes you'll only find at Downtown Flavortown, Salted Caramel Pretzel Bread Pudding, and the Cheesecake Challenge!
Tiki Bar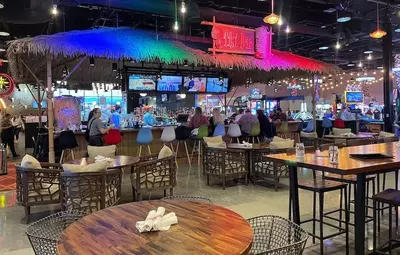 Do you wish you were on island time? Head to the Tiki Bar! Sit back, relax and enjoy one of Guy's favorite cocktails, like his famous BBQ Bloody Mary, or get a Bubblin' Bowl for 3 or more to share! You can also get a specialty drink in a souvenir tiki mug! Plus, if you're hungry, order off the Tiki Bar Bites menu, which has Coconut Gulf Shrimp, Huli Huli Ribs, and more.
Downtown Flavortown is also home to Guy Fieri's Camaro for guests to take pictures with, a merch shop, and more. There's plenty of fun to be had here!
Where Is Downtown Flavortown in Pigeon Forge?
Downtown Flavortown is located at the Mountain Mile in Pigeon Forge. The official address is 2655 Teaster Ln. Pigeon Forge, TN 37863. Other places nearby are Pigeon Forge Snow, Blue Moose Burgers & Wings, and The Island in Pigeon Forge.
What Are Downtown Flavortown's Hours?
Downtown Flavortown in Pigeon Forge is open daily, so you'll have plenty of time to plan a visit while you're in town! Its operating hours are subject to change, but you can visit from 11AM to 11 PM 7 days a week.
More Things to Do at the Mountain Mile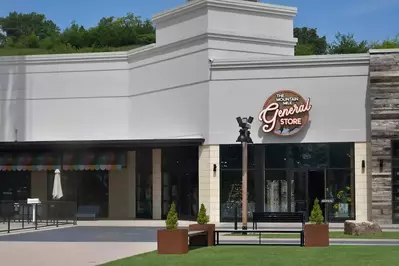 Downtown Flavortown isn't the only fun thing you can do at the Mountain Mile and Tower Shops in Pigeon Forge. Some of our favorite places there are Cinnaholic, where you can get custom, gourmet cinnamon rolls, and Currahee Winery, where you can taste award-winning wines from Vinifera, Muscadine, and other native grapes. If you're up for an adventure, ride the Mountain Monster! This attraction offers 3 different thrill rides that are sure to get your heart racing. Other spots we think you'll love at the Mountain Mile are Junction 35 Spirits, Black Rifle Coffee Company, Toy Town, and Mountain Mile General Store!
Plan a Visit to Downtown Flavortown in Pigeon Forge
We bet you can't wait to see what Downtown Flavortown in Pigeon Forge has to offer! Whether you're grabbing a drink at the bar, bowling, or seeing what prizes you can win in the arcade, you're guaranteed to have a great time.
For help planning your trip, we're here to tell you more about some of our favorite things to do nearby! When you visit Guy Fieri's Downtown Flavortown in Pigeon Forge, be sure to check out these top 7 places at the Mountain Mile!