August 11, 2023
6 Best Places to Play Mini Golf in Gatlinburg
Are you looking for a fun family-friendly activity during your Smoky Mountain vacation? There are so many great attractions and activities in the area that it can be hard to choose where to go! One of the best family-friendly activities that offers a fun challenge for everyone is mini golf! Here are some of the top places to play mini golf in Gatlinburg to add some extra excitement to your vacation!
1. Ripley's Davy Crockett Mini-Golf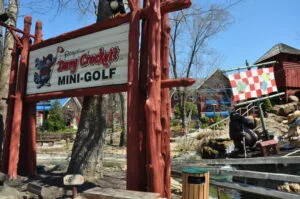 One of the first mini golf courses in Gatlinburg you'll see as you approach downtown is Ripley's Davy Crockett Mini-Golf. This miniature golf attraction has two outdoor 18-hole courses, so you can choose to tackle one or both! You'll be surrounded by the sights and sounds of the Smoky Mountains, and even the interactives and hazards are Smoky Mountain-themed. Try to putt your golf ball around trees, rocks, bears, frogs, and other Smoky Mountain wildlife hazards. You'll even putt under logs and through tunnels! The winner can be crowned King of the Wild Frontier!
2. Treasure Quest Golf
If the weather is too hot or rainy for outdoor mini golf, check out Treasure Quest Golf in the middle of downtown. This 18-hole indoor mini golf course is unlike any other mini golf in Gatlinburg. Treasure Quest Golf is set in an ancient jungle temple, and each hole is full of adventure! You'll encounter an Egyptian sarcophagus, giant shark jaws, crocodiles, pirates, canons, and more. Five of the holes are set in blacklight for an additional challenge. See if you can make it through all the obstacles and interactives while staying under par!
3. Hillbilly Golf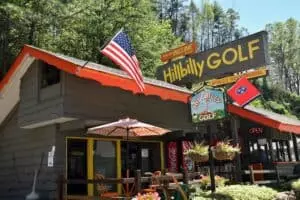 One of the most unique places to play mini golf in Gatlinburg is Hillbilly Golf. Before you can start playing, you'll first travel up the side of the mountain on an incline rail. Once you reach the top, you'll play your way around the mountain on one of the two 18-hole courses. These mini golf courses are hillbilly-themed, which means you'll have to maneuver your golf ball around outhouses, moonshine stills, animals, and farm equipment. Because this mini golf course is on the side of a mountain, you'll also have to battle gravity as the hills add another challenging element. When you're finished, you'll ride the tram back down to the entrance.
4. Gatlin's Mini Golf
Gatlin's Mini Golf offers two award-winning 18-hole outdoor mini golf courses–Old Mountain Trail and Old Town Square. Both of these courses are set on a unique hillside and will take you back in time to learn about Gatlinburg's history. Each hole tells a story about the area's past and its first settlers. These holes also thoughtfully use native plants, flowers, and trees to provide shade as you play. You can choose to play one or both courses, or you can purchase the Unlimited Mini Golf pass to play as much mini golf as you want during your vacation!
5. Circus Golf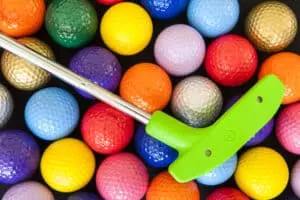 Another place to play indoor mini golf in Gatlinburg is Circus Mini Golf. This 18-hole mini golf course uses special effects to immerse you in blacklight 3D. These effects bring the obstacles to life as you make your way through this circus fun house. Get out of the heat or rain and enjoy this air-conditioned mini golf experience! For extra fun, you can purchase a combo ticket so you can also explore the state-of-the-art Amazing Mirror Maze, which is located in the same building. You can spend hours of fun indoors under one roof!
6. Black Light Golf
More indoor mini golf adventure can be found at Gatlin's Black Light Golf. This indoor mini golf course in Gatlinburg has 9 holes and is fully immersed in blacklight. You'll travel under the sea and play around a number of sea creatures and plenty of colorful fish. You will also encounter a sunken pirate ship and its glistening treasure! There are some unique challenges you'll face, too, like trying to putt your golf ball into the mouth of a shark or shooting under a giant octopus! This is a great place to go for some family-friendly fun and to escape the weather.
Book a Cabin with Its Own Mini Golf Course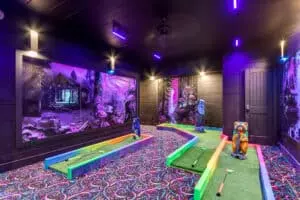 If your family loves mini golf, you can stay in a cabin with your very own private mini golf course! Bear Paws has its own indoor blacklight mini golf course where you and your family can challenge one another to hours of fun! Find out more about Bear Paws cabin in Gatlinburg and book your stay today!