September 23, 2022
Top 4 Gatlinburg TN Family Attractions
If you and your loved ones are looking for a list of fun and exciting things to do during your next vacation to the area, we suggest you check out our selection of all our favorite Gatlinburg TN attractions. Not only do these businesses promise you and your family and memorable experience, but they are also incredible ways for you all to spend time with one another during your trip. To discover all our favorite Gatlinburg TN family attractions, read below:
1. Ripley's Aquarium of the Smokies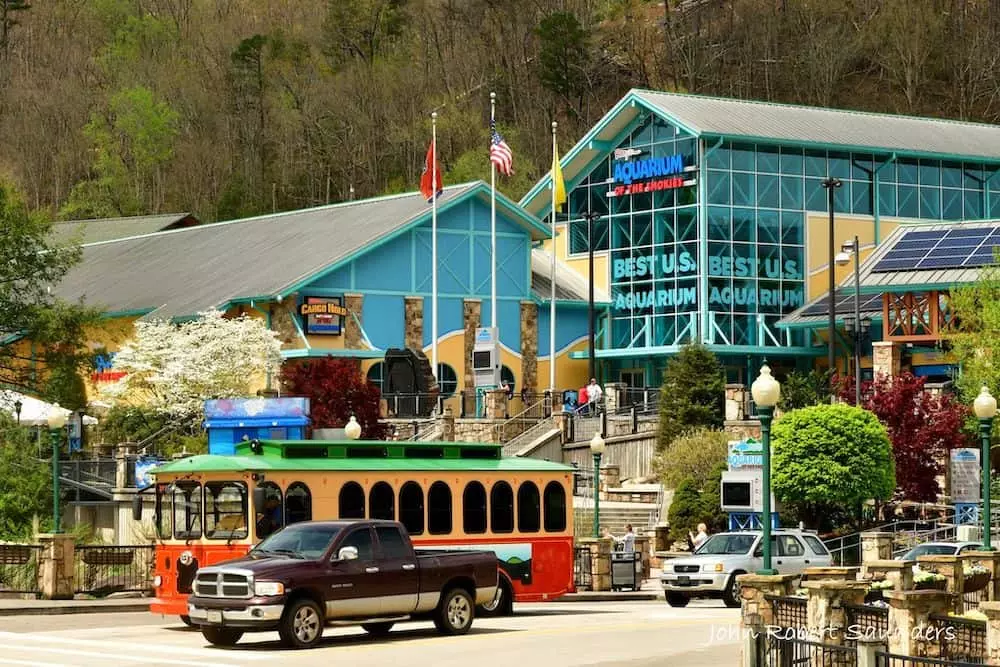 Home to over 350 different species of aquatic life, the Ripley's Aquarium is by far one of the best Gatlinburg TN family attractions for you and your loved ones to spend an afternoon. Here, not only can you find hundreds of displays housing these unique creatures, there are also several interactive exhibits you are sure to love. In addition to helping make your experience here more memorable, the hands-on exhibits are also a great way for you to learn something new during your visit.
Ripley's Aquarium of the Smokies also houses a large penguin play area where you and your family can observe the birds interact with one another as if they are in the wild. We love this because it is not every day you see penguins in their natural habitat.
You will also love visiting the Ripley's Aquarium of the Smokies during your next trip to the area because you will receive one free adult ticket for each paid night stay you have inside one of our relaxing Gatlinburg cabins thanks to our Freedom Fun Pass. With this deal, you and your family get to experience your favorite Smoky Mountain aquarium while still staying on your travel budget. It also means you will be able to visit the aquarium multiple times during your visit as the passes renew daily.
2. Gatlinburg Space Needle
The Gatlinburg Space Needle is one of our favorite Gatlinburg TN family attractions for several reasons. For starters, it offers you a 360-degree panoramic view of the scenic Smoky Mountains surrounding the attraction. Thanks to how tall the building is, you don't have to to worry about your view being obstructed as you would from other places in town.
In addition to the scenic views of the mountains, you will also be able to look out at the bustling town of Gatlinburg below you when you visit the Gatlinburg Space Needle.
We especially love this view at night because you can see all the twinkling lights of the city around you as it rests next to the peaceful natural scenery surrounding it. It is also a good way to step back and observe just how much downtown Gatlinburg has grown over the last few years.
Another reason why we love visiting the Gatlinburg Space Needle is the fact that there are so many fun and entertaining things to do here outside of the observation deck. There is an arcade, a great place to get a bite to eat, and even a theater where you and your loved ones can catch an exciting act from one of the area's most popular illusionists. With so many thrilling things to do at one place, we can't imagine why you wouldn't want to spend some time here during your next vacation.
3. Gatlinburg SkyLift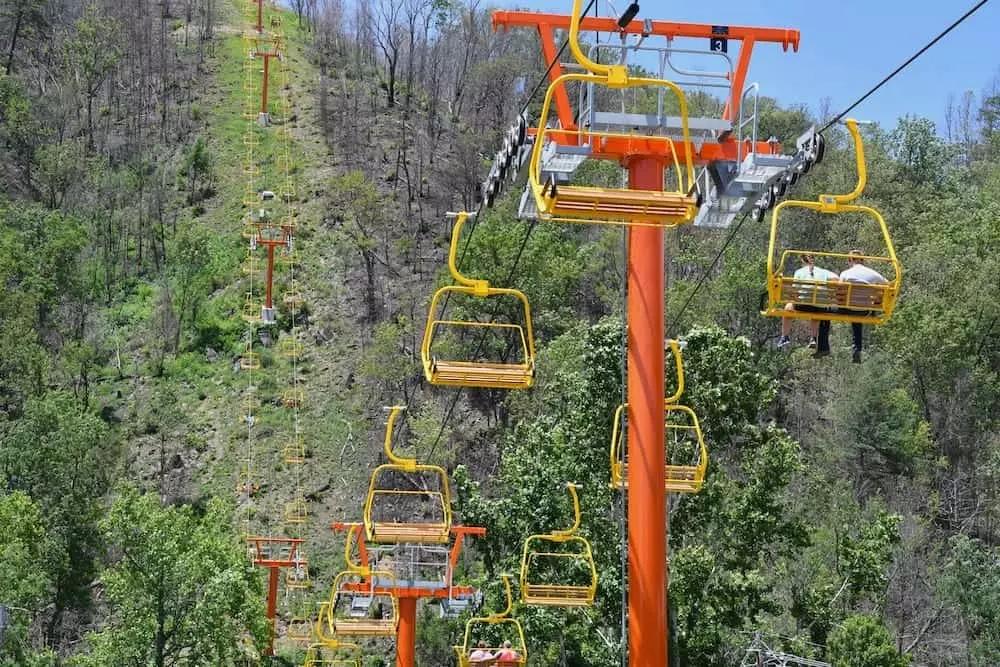 The Gatlinburg SkyLift is one of our favorite Gatlinburg TN family attractions because it allows you and your loved ones to experience the scenic views of the Smoky Mountains from a whole new perspective. Unlike other attractions where you have to stand on an observation deck to see the mountains, you will instead enjoy a scenic ride to the top of one of them from the comfort of one of the open-aired chairs. Don't worry, Mom! This ride is completely safe. You and your family will have a safety bar holding you into your seat as you sit back and take in the breathtaking views.
4. Moonshine Mountain Coaster
The Moonshine Mountain Coaster is probably the most unique family attraction on our list. It combines the thrill and excitement of riding a roller coaster with the peacefulness and tranquility of a scenic nature tour.
The way it works is you and another person, unless you choose to ride solo, will sit down in the coaster car as it carries you to the top of the mountain. From there, you will experience a series of dips, twists, corkscrews, and turns as you coast down the hill back to the starting area. You will have a hand brake in case you feel as if it is moving too fast. However, we promise you even if you don't use the break you will enjoy a fun and safe ride.
We included the Gatlinburg Mountain Coaster on our list of our favorite family attractions because it puts you totally in control of your experience. You can be as daring as you want or as relaxed as you want. The best part is the ride is fun for guests of nearly all ages. The staff does ask that children be at least 3-years-old and be 38-inches tall.
After a fun-filled day visiting all these Gatlinburg TN family attractions, you and your loved ones will want a quiet and relaxing place to come home to. If so, check out all the spacious Gatlinburg cabin rentals we offer! From cozy 1 bedroom cabins all the way to large 18 bedroom rentals, we promise we have just what you and your family need to enjoy a peaceful mountain getaway.