August 22, 2013
Ultimate Relaxation At The Hearthside Cabins at the Preserve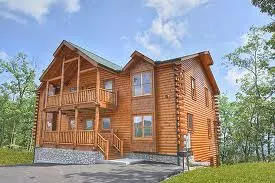 When looking for a cabin rental near the Great Smoky Mountains, Hearthside Cabins at the Preserve have just what you are looking for. Set in beautiful rolling hills outside the Gatlinburg, Tennessee area, the rustic cabins of the Preserve will provide your family with fabulous memories of fun times spent together.
Popular attractions like Dollywood, Wonderworks, and the Dixie Stampede are close by, not to mention the splendid grandeur of Great Smoky Mountains National Park. Great views of mountain forests, autumn color, spring green, and grand vistas are out each window. Renting a cabin inside the Preserve gives full access to all of the resort amenities like wireless internet access, seasonal swimming pool, meeting room, workout facilities with sauna and steam room, as well as a quaint wedding chapel.
Hearthside Cabins offers rentals on properties built to accommodate your needs if you are a couple looking for a getaway or a large group seeking a common vacation experience. The "Stargazer" cabin is a romantic one bedroom outpost of luxury for two or it can sleep up to six. On the other end are the immense 12-bedroom cabins. Talk about an outstanding choice for a large group! Incredible views with multiple decks and gaming options like pool tables and air hockey tables provide a wide range of recreational opportunities for all ages.
Booking with Hearthside Cabins means you have choices. In addition to the one bedroom and 12 bedroom units, we offer 2, 3, 4, and 8 bedroom options. Each has traditional King or Queen beds along with pull-outs and futons. The flat-screen televisions and home theaters bring new meaning to movie night.
Take advantage of the barbecue grills to fire up a family feast to enjoy on the expansive decks or relax inside with popcorn and a movie. Take in the mountain air in a rocking chair or take a glass of wine and slip into the hot tub for ultimate relaxation. The wonderful thing is that it's all up to you. Contact Hearthside Cabins today at 1-888-993-7655 and book your adventure in the Great Smoky Mountains.