August 29, 2023
7 Reasons to Stay in Our Smoky Mountain Cabins with Game Rooms
Are you planning a trip to the Smoky Mountains? A cabin in the Smokies is the best place to stay for your next vacation. Not only are our cabins close to the Great Smoky Mountains National Park, Gatlinburg, and Pigeon Forge, but they also come with a number of great amenities. One of the best amenities you'll want in a cabin is a game room. Here are five reasons why you should stay in one of our Smoky Mountain cabins with game rooms.
1. Endless Fun for Everyone
Our Smoky Mountain cabins with game rooms offer a great way for everyone to have a good time. Your whole family will enjoy competing against one another in the various games. Different cabins have different games in their game rooms, but some of the most popular games in our cabins include pool tables, foosball tables, air hockey, board games, and arcade games like Pac-Man. Some of our cabins even have miniature golf courses!
2. Entertainment on a Rainy Day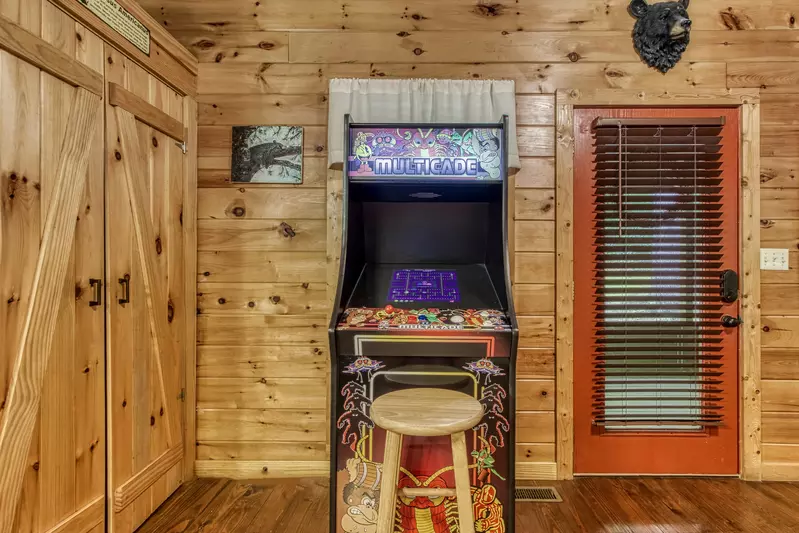 If you have some bad weather during your vacation, don't worry! When you stay in one of our cabins with game rooms, you can keep your kids entertained for hours. You won't need to go out in the rain to find something fun to do. Instead, you can have rainy day fun within the walls of your Smoky Mountain cabin. Have a pool tournament to see who will reign supreme, or host a board game marathon! Because all of our cabins also have full kitchens, you won't need to go out in the rain for food, either. You can easily spend the whole day inside your cabin to avoid the weather without running out of things to do!
3. Save Money
Our cabins with game rooms can actually help you save money on your Smoky Mountain vacation. The game rooms offer free entertainment, which means you won't need to spend as much money on visiting various attractions. Your whole family can enjoy hours of fun right in the comfort of your cabin for no extra cost. Instead of spending money at the arcades in Pigeon Forge, your kids can play the arcade games in your cabin for free. You don't need to pay for tokens or game cards, and there's no limit to the number of games they can play.
4. Grow Closer Together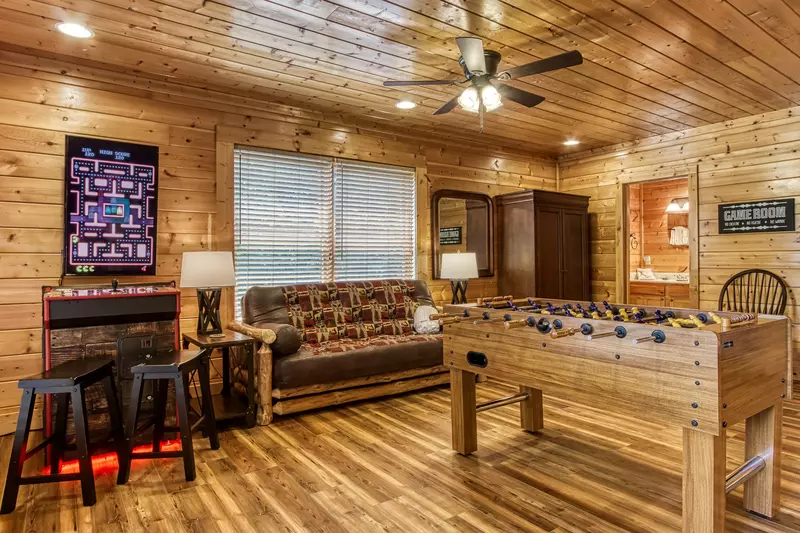 Spending quality time with loved ones is one of the best things about a family vacation. When you stay in a cabin with a game room, you can spend your downtime playing pool, board games, or arcade games together to grow closer as a family. Playing games together in friendly competition is a great way for your family to bond with one another. Have your family members put down their phones and gather around for a quick game of foosball, ping pong, or darts. If you want to make it interesting, wager that the winner gets to choose where to go for dinner!
5. Learn New Skills
Our cabins with game rooms include a variety of games, some of which you may be very familiar with and some you may have never played before. This gives you and your family a chance to learn some new skills together. Learn how to perform a trick shot on the ping pong table, or master getting a bullseye in darts. Some of our cabins have classic arcade games that your kids may have never even heard of before, so you can have the chance to introduce them to games you grew up playing.
6. Close to Town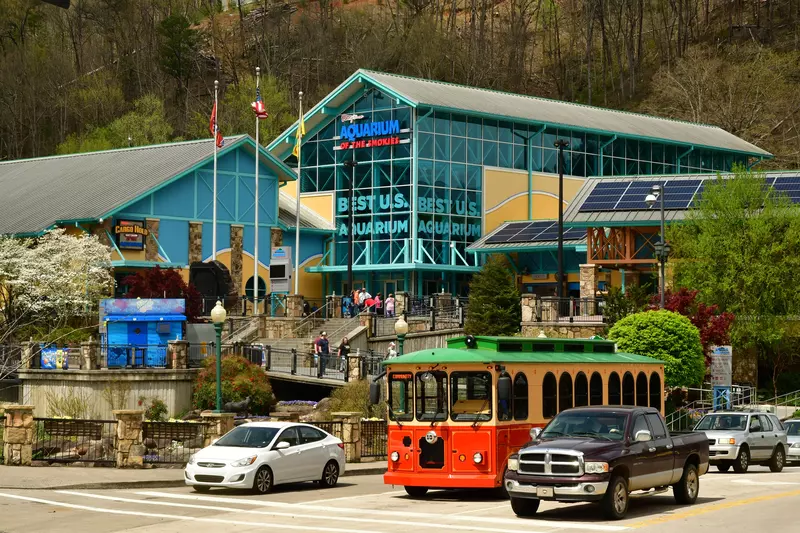 Another great perk of staying at our cabins with game rooms is their location. Our cabins are nestled in the Smoky Mountains and are just a short drive from all the fun things to do in Pigeon Forge and Gatlinburg. That means you can have fun exploring all the popular attractions like Dollywood, Ripley's Aquarium of the Smokies, and Anakeesta, then retreat back to the quiet of your peaceful cabin. Our cabins are also just a short drive from the Great Smoky Mountains National Park, so you can easily get to all the hiking trails and scenic drives you'll want to experience.
7. Other Great Amenities
Not only do our cabins with game rooms come with fun arcade and table games, but they also have many other great amenities you'll love. Most of our cabins have hot tubs for relaxing after a long day of adventure. Some of our cabins even have theater rooms for watching movies together. Other great amenities you can enjoy at our cabins include fireplaces, indoor pools, indoor jacuzzi tubs, picnic tables, fire pits, and more.
Check Out Our Smoky Mountain Cabins
Are you interested in staying in one of our cabins with game rooms? Take a look at our Smoky Mountain cabin rentals and start planning your vacation today!