January 28, 2016
5 Advantages of Having Your Church Retreat at Our Smoky Mountain Cabin Rentals for Large Groups
Tennessee's Great Smoky Mountains are the perfect place to hold a religious retreat! Getting away with your church group or another religious organization in the mountains is guaranteed to bring you closer together and to strengthen your faith. Our Smoky Mountain cabin rentals for large groups provide the ideal accommodations for a meaningful stay in East Tennessee. Hearthside Cabin Rentals has put together a convenient guide to all of the advantages of spending your retreat with us in the Smokies.
1. Close to Nature
The Great Smoky Mountains are often called "God's Country" because of their breathtaking natural beauty. When you stay at our large cabins, you'll be immersed in this majestic landscape throughout your retreat. Your group will love hiking in the national park and visiting some of the most scenic areas in the country, like Cades Cove and Clingmans Dome. Spending lots of time in the park will make you feel closer to God's creation.
2. Space to Worship Together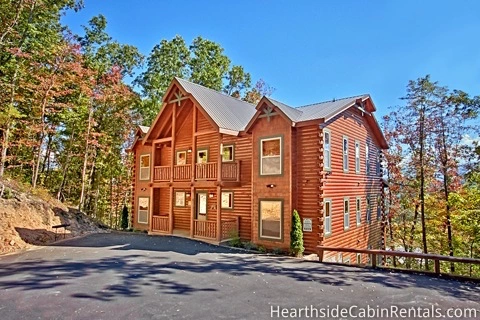 Our Smoky Mountain cabin rentals for large groups can accommodate religious retreats of any size. We even offer two cabins, The Big Moose Lodge and The Big Elk Lodge, that can each sleep 74 guests! When you stay at one of our big cabins, you'll have plenty of space to worship together. Spacious living rooms with ample seating and a roaring fireplace provide an excellent atmosphere for praying as a group.
3. Place for Private Reflection
While you'll definitely want to spend lots of time together, religious retreats also offer the opportunity for individual reflection. If you want to meditate or read a devotional, your cabin's deck is the ideal place for a quiet spiritual experience. Sit on a rocking chair and gaze out onto the mountains as you contemplate some of life's biggest questions.
4. Group Meals
Group meals are one of the best parts of a religious retreat, and you will find everything you need to dine together at your cabin. All of our properties come with fully furnished kitchens complete with stoves, sinks, refrigerators, and freezers. Gather the whole group together to cook, and then enjoy your feast in your cabin's dining area or have a picnic under the stars. Many of our cabins also come with grills, so you can have a barbecue during the warmer weather.
When you're not worshipping, your group can enjoy all of the great entertainment available right at your cabin. Play a friendly game of pool in the game room, or watch an uplifting movie together in your home theater room. There are all kinds of amenities you will love in our cabin rentals! Our Mountain Top Retreat cabin even comes with its very own 18-hole putt putt course! No matter how you decide to spend your free time, sharing this experience together will make you a more tight knit group.
To start planning your religious retreat, check out our complete selection of Smoky Mountain cabin rentals for large groups. If you have any questions about our properties or would like a cabin recommendation, don't hesitate to call our friendly reservation specialists!