May 01, 2019
6 of the Best Places to Play Mini Golf in Pigeon Forge
Want to find something to do that everyone in your family will love? Why not try mini golf in Pigeon Forge! Everyone from 5 to 75 years old will love spending time together putt putting, no matter if it's indoors or outdoors! In Pigeon Forge, there's a wide variety of course types and themes. You're sure to find something everyone will love! Look at these top 6 places to play mini golf in Pigeon Forge:
1. The Track
Kids will love the Safari theme of the mini golf course at the Track in Pigeon Forge! There are elephants, zebras, and other creatures you would find on the savannah throughout the course, looking almost so real you'll wait to see if they move. They have giraffes that are almost as tall as real ones! You'll even walk through a cave and past a waterfall! Once you go through the course, you can ride go karts or ride bumper cars. Everyone will have fun at the arcade too!
2. Ripley's Old McDonald's Farm Mini Golf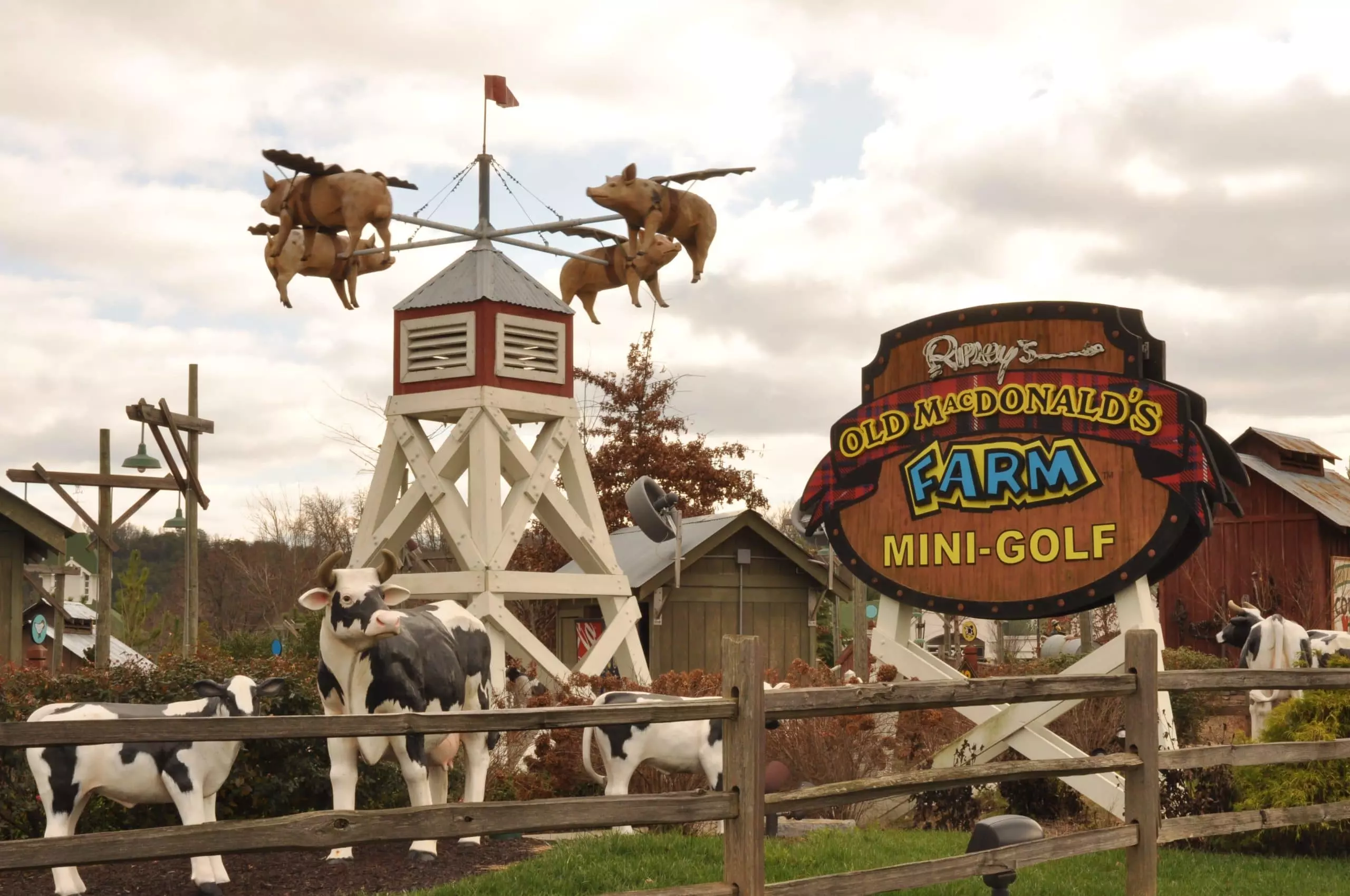 As one of the only mini golf courses with three unique courses, Ripley's Old McDonald's Farm Mini Golf has the most variety. Each course has its own theme, including cow, pig, and chicken. They also range in difficulty from easy to medium to challenging. The animals along the courses interact with you while you're playing, so you'll hear them talk throughout your game. When you reach the end of the course, you have the opportunity to win a free game if you get a hole in one on the last hole. After you finish playing, head over to the arcade to play more games and win prizes!
3. Lazerport Fun Center
What do you do when you were planning to play outdoor mini golf but now the weather is bad? Head to Lazerport Fun Center for indoor mini golf! This alien-themed course is decked out in blacklight for a cool experience! You'll come across meteors, aliens, and spaceships along this 18-hole course. Everyone in your group will have a blast playing this mini golf course! Plus, you'll want to check out the go karts, arcade, and laser tag before you head out!
4. Crave Golf Club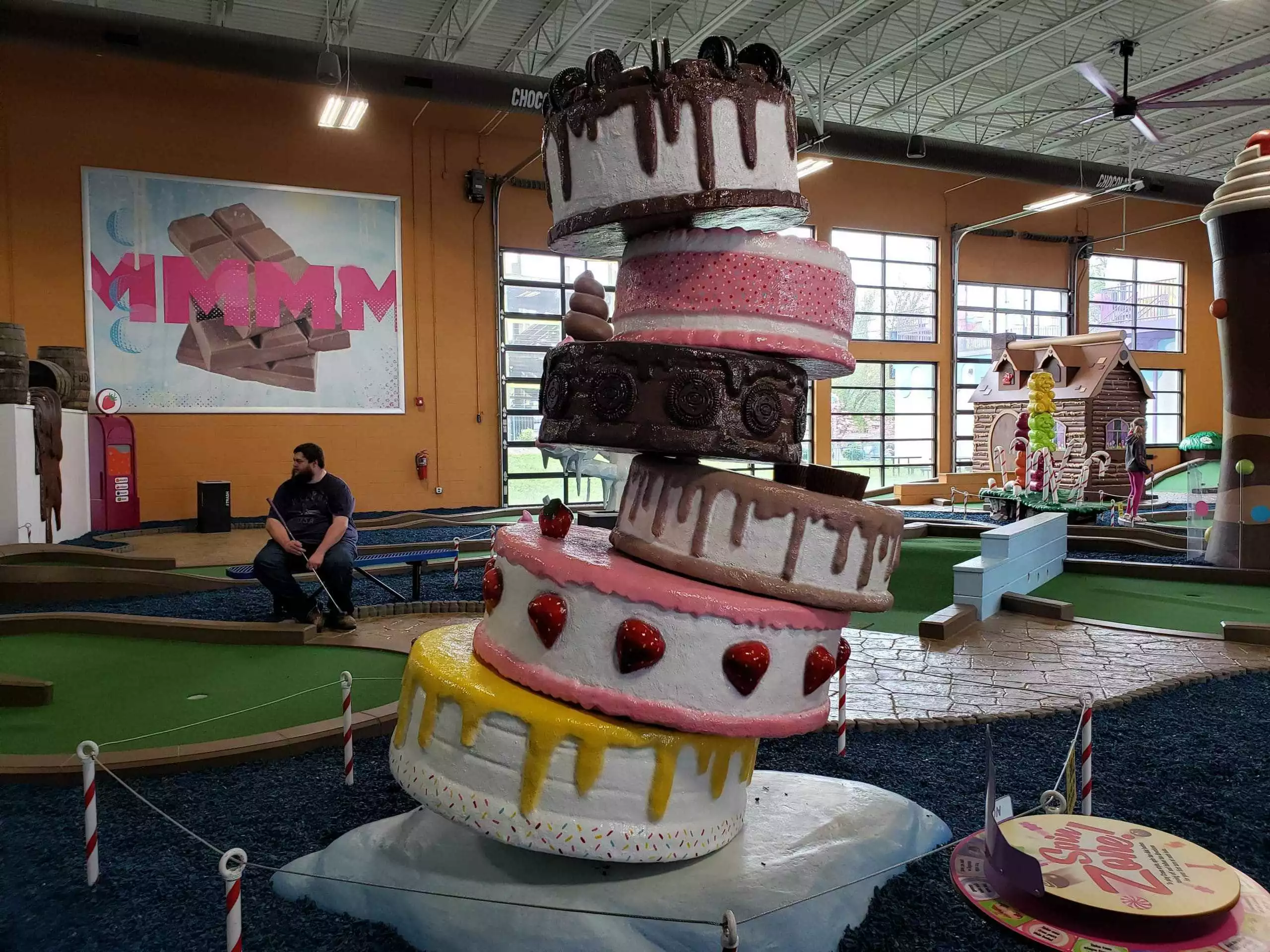 Looking for mini golf in Pigeon Forge with a unique theme? You'll want to go to Crave Golf Club! This attraction has indoor and outdoor courses that are dessert themed! If you want to make your game more fun, Crave has spinners at every hole that you can spin. Some of the things you may have to do include putt with one hand, putt while on one knee, or get a free putt on that hole. You'll find all kinds of features, from gummy bears to a leaning tower of cakes. After looking at the sweets your entire game, you'll definitely want to grab candy, chocolate, or a speciality milkshake from the candy shop before you leave!
5. Professor Hacker's Lost Treasure Golf
Want to help find lost treasure while going on a grand adventure? Professor Hacker's Lost Treasure Golf is the mini golf in Pigeon Forge for you! You'll choose between two courses, and a mining train takes you to the top of the hill where you start playing. You'll find a temple where you might spot treasure. A pirate ship sits in the lagoon, and a waterfall comes down from a rock formation in the middle of the golf course. You'll also see a plane and a volcano. Once you finish one course you'll want to go back and do the other one!
6. Fantasy Golf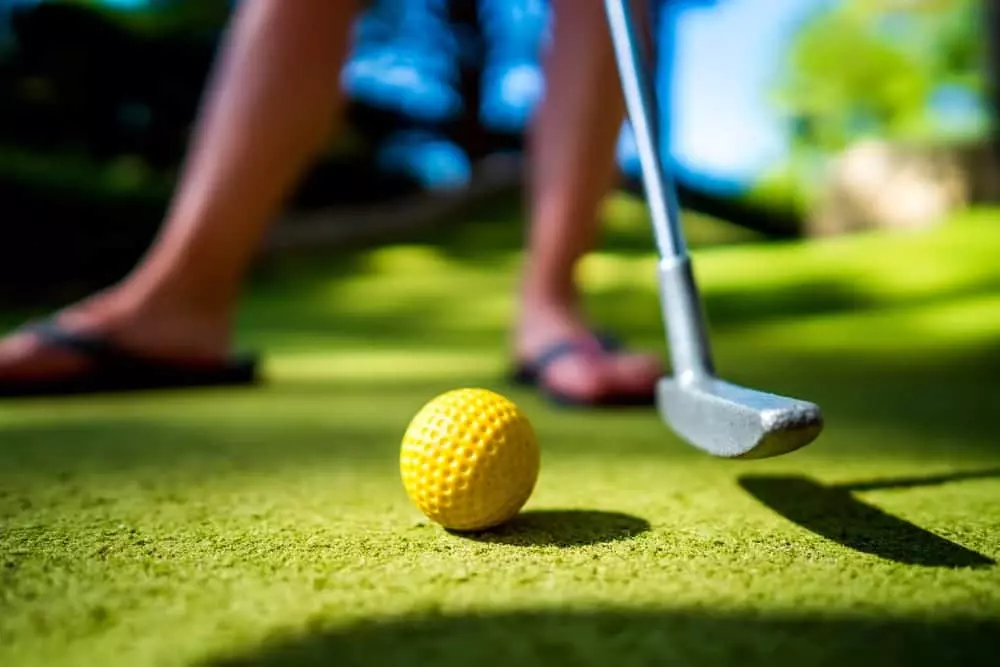 Love fantasy and adventure? You should definitely play mini golf at the Fantasy Golf course. At each hole, you'll find a new feature and challenges, ensuring you have a ton of fun! You'll be greeted by dragons, lagoon monsters, and even dinosaurs. You could even spot winged horses and trees with faces. Play through a cave and the castle, and everyone will love watching water gush through the waterfall feature. The two courses have an easy and a challenging level, perfect for a variety of people! Since this golf course is part of FunStop Family Action Park, you can head over to the rest of the park to enjoy thrill rides, the arcade, and the raceway!
Want to take a day and get out on a real golf course? Check out these golf courses in the Smoky Mountains.
Mini golf in Pigeon Forge is a great way to spend time with family and friends on your vacation. You can play a fun game all while talking to each other! Are you looking for other activities to do while you're in town? Don't forget to check out our Freedom Fun Pass for free attractions you'll definitely want to try!