August 02, 2016
The Top 4 Pigeon Forge Shows (and How to Get Free Tickets to All of Them!)
There is certainly no shortage of great entertainment in Pigeon Forge, TN! The Smoky Mountain area is full of wonderful theaters that offer world class shows that your entire family will love. When you stay with Hearthside Cabin Rentals, you will have the chance to see 4 of the best Pigeon Forge shows for free. With our Freedom Fun Pass, you will receive one complimentary adult admission to the following shows each night of your stay.
1. Hatfield & McCoy Dinner Show
The world's most famous feuding families are at it again! The Hatfields and McCoys continue their centuries long dispute in this hilarious show filled with great music, incredible stunts, and plenty of laughs. For dinner, guests will enjoy heaping helpings of Granny's Southern cooking, including fried chicken, pulled pork, creamy soup, mashed potatoes, buttered corn on the cob, and a special dessert. Be sure to come hungry!
The Smoky Mountain Opry is a variety show like no other! This wonderful performance features dancers, singers, magicians, comedians, jugglers, and high-flying acrobats. Whether you like country, pop, or Broadway, you're sure to enjoy the fantastic music at the Opry. The theater is an attraction in itself, with enormous video screens, concert quality lighting and sound, and state of the art special effects. The Smoky Mountain Opry is also home to Tsimba-Vaati, one of only 300 white lions in existence today.
3. Comedy Barn Theater
The Comedy Barn is the funniest show in the Smokies! For over twenty years this great theater has been delivering plenty of belly laughs and clean entertainment that is appropriate for the whole family. Talented comedians, jugglers, ventriloquists, and other performers will keep you in stitches throughout the show. Guests will also have the chance to get on stage and become part of the performance. It's easy to see why the Comedy Barn is one of the most popular Pigeon Forge shows!
4. Darren Romeo: Magic Beyond Belief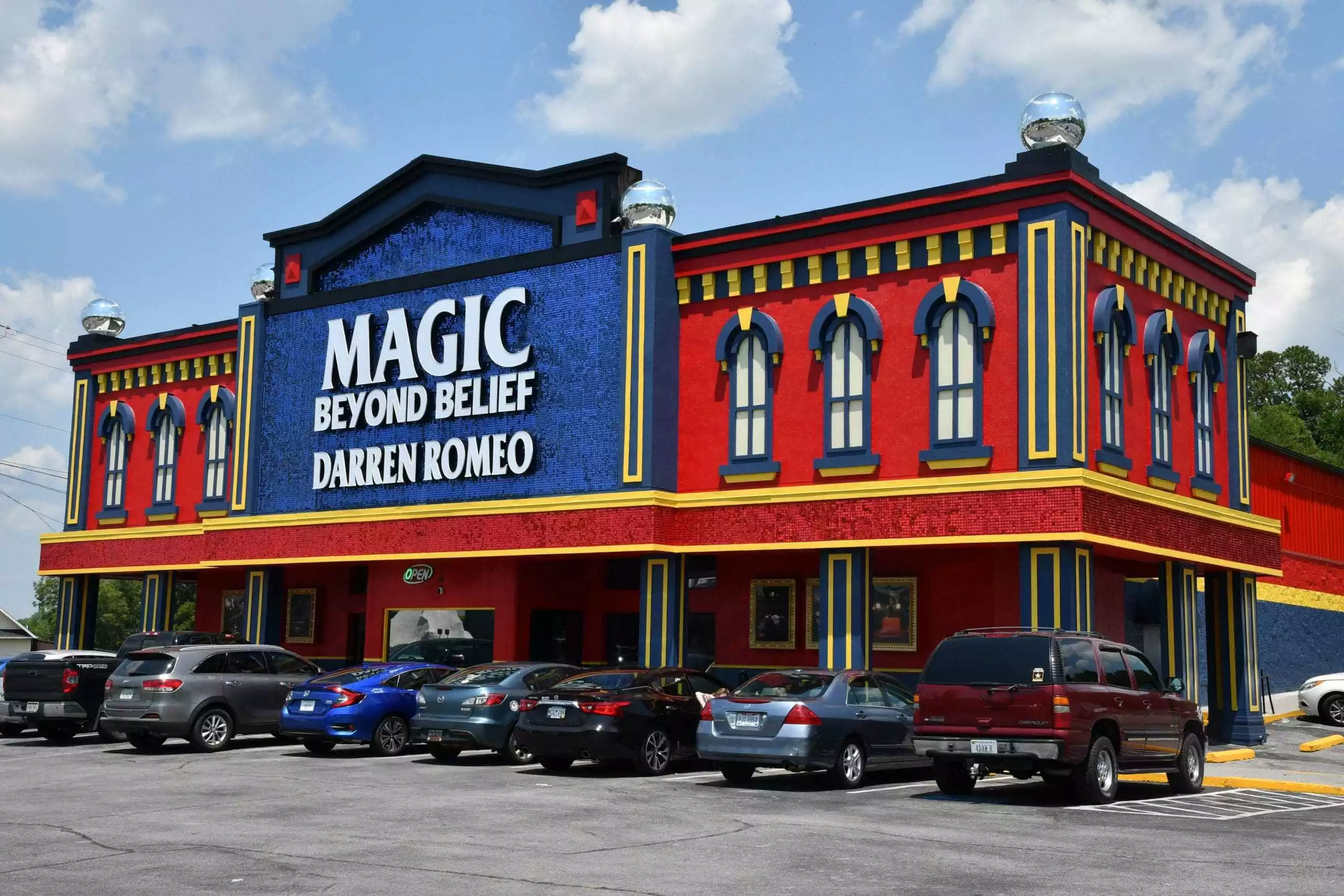 Darren Romeo's Magic Beyond Belief show certainly lives up to its name! Mentored by Sigfried and Roy, Darren Romeo is one of the most awarded magicians working today. In Magic Beyond Belief, Romeo brings a Las Vegas caliber show to Pigeon Forge, complete with large scale illusions, celebrity impressions, and vocal performances. Romeo is also the only magician in the world granted permission to perform Harry Blackstone Jr.'s famous "Floating Light Bulb" Illusion.
For more information about getting free tickets to these amazing Pigeon Forge shows, check out our Freedom Fun Pass!