May 20, 2015
5 Amazing Thrill Rides in Pigeon Forge TN
Do you love feeling the wind in your hair, the sun on your face and the adrenaline in your veins? Then you are sure to love these amazing thrill rides in Pigeon Forge TN. Perfect for adventure seekers of all ages, these rides are sure to make your next trip to the area one to remember.
1. Wild Eagle at Dollywood
Not your typical roller coaster, Wild Eagle at Dollywood is the first wing coaster in the United States. Here, you flip, twist, and soar while safely strapped to the wings of a majestic bald eagle as it rises over 200 feet into the air. It truly feels as if you are flying.
Not to mention, during the ride, you will catch a glimpse of some of the most stunning views of the Great Smoky Mountains. This means you get to enjoy the excitement of the ride and the natural beauty of the area all at the same time.
For a preview of what to expect from Wild Eagle, watch the video below!
To ride the Wild Eagle, you must be at least 50 inches tall.
If the Wild Eagle is a little too extreme for you, Dollywood has several other exciting roller coasters that you can try, including FireChaser Express, Tennessee Tornado, Thunderhead, Barnstormer, Blazing Fury and Mystery Mine.
To purchase tickets to ride any of these thrilling rides in Pigeon Forge TN, be sure to visit Dollywood's website at https://www.dollywood.com/ .
2. River Rush at Dollywood's Splash Country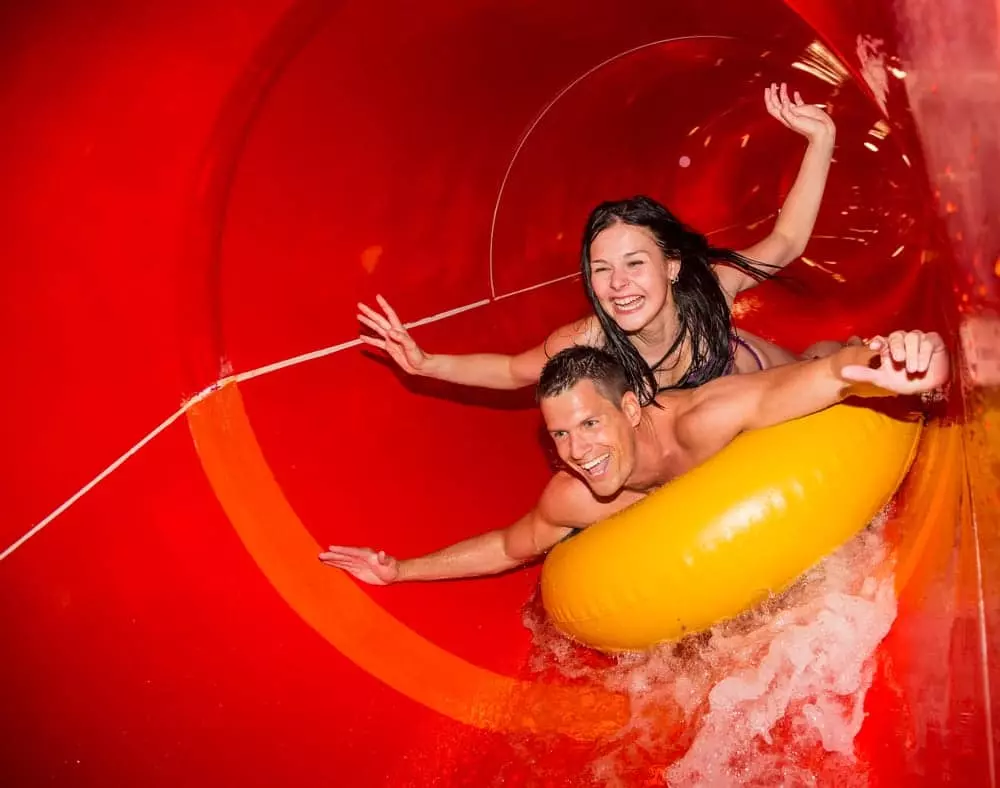 If you aren't into real roller coasters, then you can head next door to Dollywood's sister park, Splash Country. Here, you will find the first and only water coaster in Tennessee, RiverRush.
Powered by a hydromagnetic force, RiverRush is filled with powerful climbs, twists, turns, drops, splashes and a ton of fun! You and your family or group will love racing through the trees and gliding through hairpin turns from the comfort of your raft.
You must be at least 42 inches tall to ride RiverRush. Up to four people are allowed to ride the coaster at once. Group sizes are determined by the total weight to make sure that your ride is as enjoyable as possible.
Once you are done experiencing the excitement of Splash Country's RiverRush, we recommend you check out a few of the other daring slides found at the park. You and your friends can ride together on one of the dual slides like Big Bear Plunge and Raging River Rapids. You can also choose to brave the waters on your own by choosing one of the single-person slides, including Mountain Climb, Mountain Twist, Slick Rock Racer and Wild River Falls.
If you need to catch your breath, you can always take a ride on the lazy river or spend some time catching waves in the wave pool.
To buy tickets to Dollywood's Splash Country, click here .
Did you ever want to learn how to fly as a kid? Well now is your chance thanks to the SkyFlyer ride at The Track in Pigeon Forge.
This is where you are strapped into a harness and sent speeding through the air. You go both backwards and forwards to create a stunning and memorable adventure. When you are done, the staff will gently lower you back to the ground.
You can either ride SkyFlyer by yourself or you can share the experience with up to two other people. This will at least give you a hand to hold as you soar through the sky.
If you want to continue your adventure, why not try out The Track's Bungee Jump when you are done with SkyFlyer? This amazing attraction invites you to climb up 65 feet off the ground to a large platform and then jump off the side of it. Don't worry, you will be attached to an industrial-strength bungee cord and there is a soft landing space to catch you when you fall.
The Track requests that all bungee jumpers weigh between 80 and 260 pounds. There is no minimum weight requirement for SkyFlyer, but you do need to be at least 42 inches tall. There is no minimum age requirement for either ride.
Click here for more information about tickets and hours of operation for The Track.
4. Zip Lining at Legacy Mountain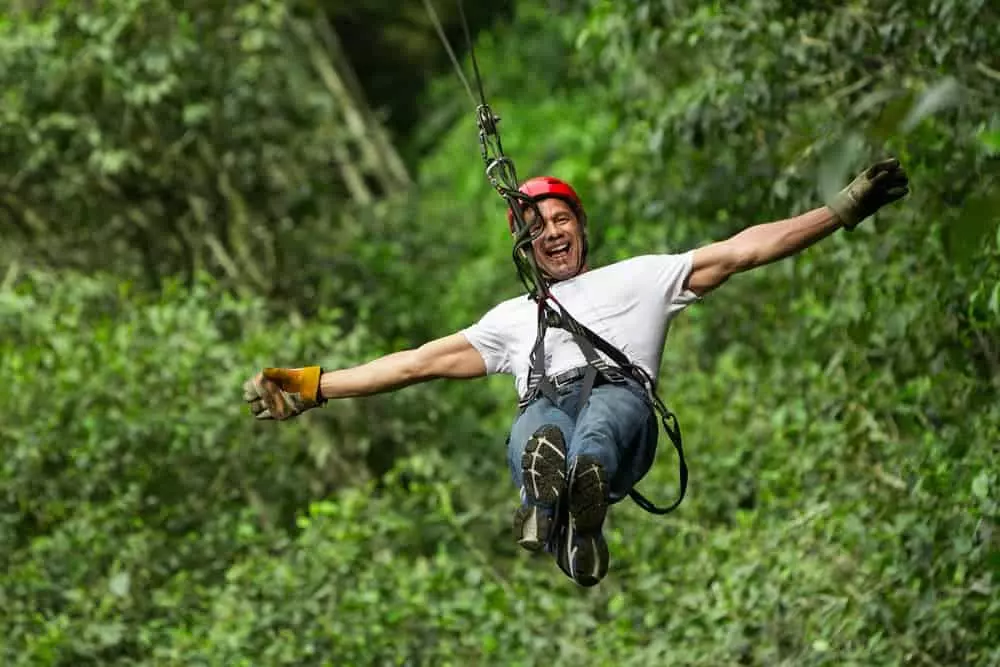 Just in case we haven't given you enough chances to go flying in the Smoky Mountains, we have decided to throw in one more option, zip lining at Legacy Mountain in Pigeon Forge. Offering a total of seven daring zip lines that are up to 2,500 feet in length and 450 feet off the ground, there are few better places to zip in the area. Not to mention, the views that you see when you visit here are truly incredible.
Because you are tucked away on a side of a mountain, your view won't be obstructed by any tall buildings or competing attractions. Instead, it is just you, nature, the zip line, your guide and the opportunity to enjoy hours of fun.
For a solo zip lining experience, riders must weigh between 100 and 275 pounds. Children under 100 pounds are allowed to ride tandem with an adult.
Watch this video for a sneak peek of what to expect when you visit Legacy Mountain.
5. The OGO At The Outdoor Gravity Park in Pigeon Forge
The newest thrill ride in Pigeon Forge TN, The OGO is unlike anything you have seen before. Considered a modern take on the ever-popular slip n' slide, this ride invites guests to step inside a giant sphere that they will with 20 gallons of water and roll down a 1,000-foot hill. Needless to say, you will want to pack your bathing suit and a towel for this adventure.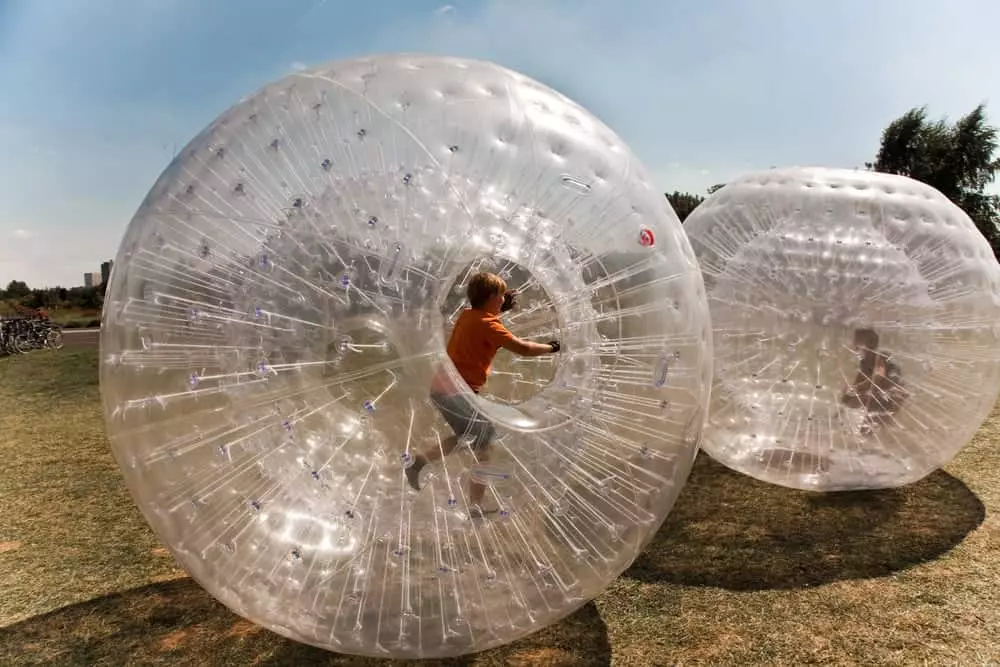 Don't worry, thanks to the water that the staff at the gravity park keeps in the spheres, you don't have to worry about tumbling around as you roll down the hill. Instead, you safely splish, splash and slide all the way to the bottom.
Don't forget to smile during your ride! There is a GoPro attached to the inside of each OGO so you can pick up a custom video of your experience as a souvenir before you go home.
Right now, the gravity park is only offering a wet version of their ride. However, they promise that a dry version will be coming later this summer.
To follow updates on the new ride or to purchase tickets to experience The OGO, visit the Outdoor Gravity Park's website at https://www.outdoorgravitypark.com .
Looking for more fun things to do in Pigeon Forge? Take a look at our Top 8 Attractions in Pigeon Forge!