August 15, 2018
New Dollywood Expansion Announced for 2019: Wildwood Grove
Pigeon Forge's biggest attraction is getting even bigger! Dolly Parton and Dollywood President Craig Ross recently announced that the South's favorite theme park will be getting a major expansion in 2019. Introduced as " Wildwood Grove ," the new area of the park will be geared toward families, featuring plenty of fun rides that are perfect for kids. Read on to learn everything we know about the Dollywood expansion.
Dollywood's Largest Expansion Ever
Wildwood Grove will be the first expansion to Dollywood since 2008 when the park introduced Wilderness Pass. With a budget of $37 million and around 5 acres set aside for development, Wildwood Grove will be the single biggest addition in the park's 33-year history. Believe it or not, it will cost more to build Wildwood Grove than it cost to build the entire Dollywood theme park back in the 1980s!
The hefty price tag for Wildwood Grove is part of Dollywood's commitment to invest $300 million in the park's development over 10 year's time. During the official announcement, Dolly joked that she's "going to have to get out there and make some more money" to pay for all of the new additions to the theme park!
Inspired by Dolly's Childhood
The new Dollywood expansion was inspired by Dolly Parton's childhood growing up in the foothills of the Great Smoky Mountains. As a youngster, Dolly and her siblings would spend hours walking through the forest, splashing around in creeks, and looking for wildlife in the Smokies.
As Dolly explained to the press , "We were talking about the fact that kids don't get out in nature enough anymore. Everybody's so caught up in all their gadgets, all the social media, all the things that they do in their games, their video games, and all the stuff that they do that they don't actually even know there's an outdoors hardly anymore."
To fill this void, Dolly and her team designed Wildwood Grove to be a place "for kids to really explore and to be adventurous and to find their own little true self, their own little natural selves, rather than all the technical stuff."
Rides and Attractions in Wildwood Grove
To promote the new Dollywood expansion, the park put together a great video that previews all of the fun that you can expect at the Wildwood Grove section of the park:
Dollywood also provided a brief overview of the new rides and attractions that will call Wildwood Grove home:
Wildwood Tree: This 55-foot tree will be at the center of Wildwood Grove. The canopy of the tree will be adorned with thousands of lovely butterflies. In the evening, the Wildwood Tree will be illuminated with beautiful lights and host live entertainment.
The Dragonflier: Thrill-seekers will love this suspended 453-meter roller coaster that captures the fun of soaring like a dragonfly.
Black Bear Trail: Your little ones can hop on the back of a mechanical bear for a memorable ride around the Grove.
Sycamore Swing: Guests will sit in a leaf boat and swing back and forth on this tree-themed ride.
Treetop Tower: Adventurers will climb 40 feet in the air inside of a giant acorn! The ride will spin around so passengers can take in breathtaking views of the Great Smoky Mountains.
Mad Mockingbird: Prepare to get dizzy! The Mad Mockingbird will spin you in circles, but you can control the ride by moving a sail.
Frogs & Fireflies: Climb aboard the back of a giant frog and race your family members around a lily pad!
Hidden Hollow: This 4,000-foot indoor, climbing structure will include slides, games, and a climate controlled atmosphere.
Wildwood Creek: Perfect for a sweltering summer's day, this refreshing oasis will feature pop jets and splashing pools.
Costumed Characters: Young guests will have a blast interacting with Flit and Flutter, butterfly ambassadors for the Wildwood Tree, and Benjamin Bear, a friendly black bear from the Smoky Mountains.
Till & Harvest: When you get hungry in Wildwood Grove, you can head on over to Till & Harvest for Southwest favorites like burritos, salads, pulled pork, slaw, and a toppings bar with salsa. If you're just in the mood for dessert, you can stop by the restaurant's walk-up window to order churros or ice cream.
Where to Stay Near Dollywood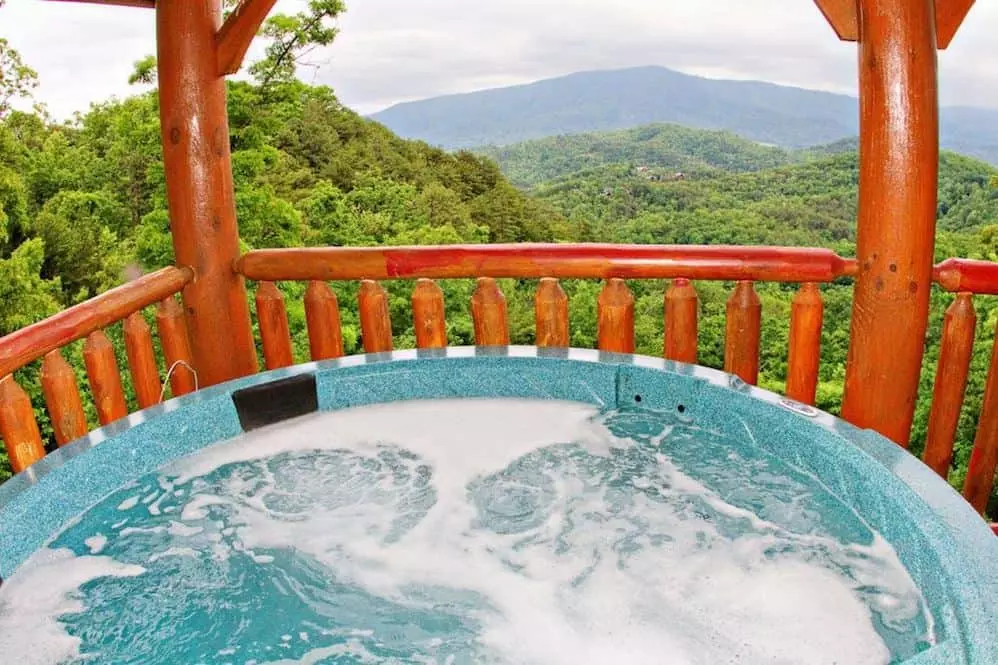 When you stay with Hearthside Cabin Rentals, you will be just a short drive away from all of the fun at Dollywood. Our cabins come with your choice of incredible amenities, including beautiful mountain views, decks with rocking chairs and hot tubs, fully furnished kitchens, epic theater rooms, awesome game rooms, and even more excellent features. With everything from 1 bedroom cabins for romantic escapes to 18 bedroom lodges for family reunions, we are sure to have the perfect property for your getaway. To start planning your vacation, browse all of our cabin rentals!