February 06, 2019
5 of the Best Pigeon Forge Attractions for Families
Pigeon Forge is home to countless family friendly attractions and entertainment! You'll have an amazing time exploring all that this action-packed mountain town has to offer. Now, you just have to decide where to go first! To help you plan for an unforgettable trip, here are 5 of the best Pigeon Forge attractions that you and your family are sure to love.
1. Dollywood and Dollywood's Splash Country
Dollywood is one of the many Pigeon Forge attractions owned by country superstar, Dolly Parton! Here, you'll find more than 40 world class rides, and award-winning dining! We recommend trying the FireChaser Express, which is the nation's first dual-launch family coaster. If you're looking for a way to beat the heat during the warmer months, Mountain Waves in Dollywood's Splash Country is a great choice. You can all soak up the sun while you float around in your inner tube in this large wave pool! The theme parks opens mid March and operates through early January of next year. The water park opens mid May and closes in early September.
2. The Island in Pigeon Forge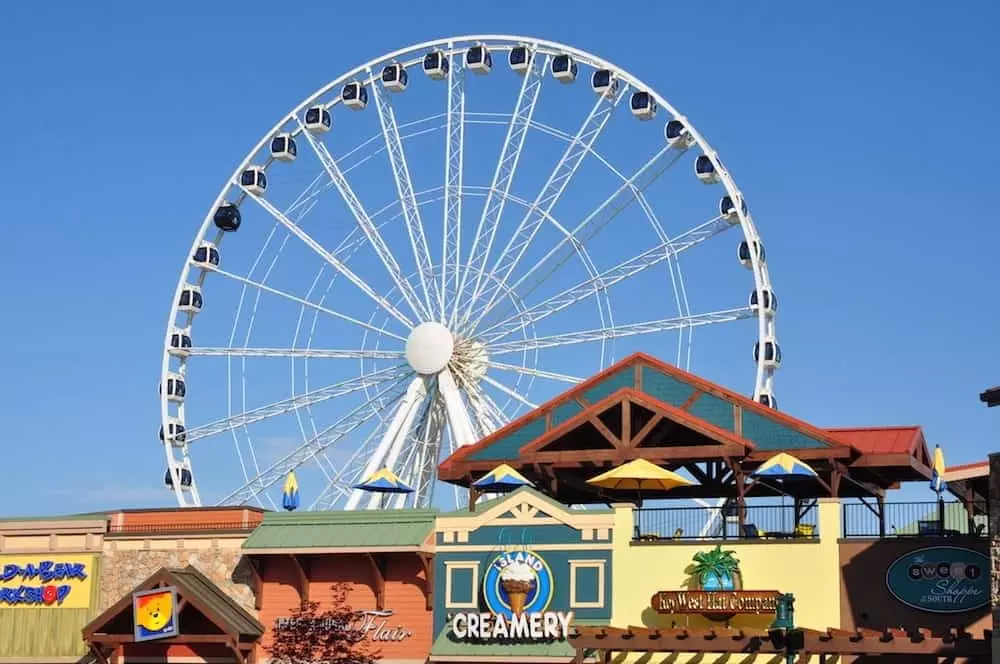 One of the best things about The Island in Pigeon Forge is that it's completely free to enter! You can enjoy sitting in a rocking chair and watching the show fountains dance to the tunes of various hit songs. The Island also features over 60 shops and eateries that you can explore throughout your visit. For the gamers at heart, there is an incredible arcade filled with all the most entertaining games as well as incredible prizes! Outside of the arcade, there's a high ropes course that's fun for the whole family. There are 2 courses for you to choose from with 30 different elements, 2 zip lines, and 1 simulated free fall! Don't forget to take a ride on the famous Smoky Mountain Wheel before you leave. It towers 200 feet above the park and gives you unparalleled views of the downtown area and the Smokies! The Island is located right on the Parkway with these other great attractions!
3. MagiQuest
You and your family could easily spend an entire afternoon exploring all that MagiQuest has to offer! Upstairs, you'll find an interactive scavenger hunt type game in which you use the magic wand given to you to collect items and complete quests. On the main level, there's a pirate themed, blacklight golf course where you can work your way through 18 holes of fun. You can also compete for the quickest time in The Vault, a laser beam challenge room! Right outside The Vault is the entrance to one of the world's largest mirror mazes, the Odyssey. You'll come face to face with yourself over and over again as you try to navigate your way through this thrilling maze. There's no particular order in which you have to do these activities. If you don't have time to finish them all during your visit, you can even save your tickets and come back another day!
4. WonderWorks
WonderWorks is a playground for the mind with over 100 hands-on exhibits! Your adventure begins as you enter into the upside down building on the parkway. Realign yourself by passing through the inversion tunnel to the 6 Wonder Zones. Create 3D images of your body on the Wonder Wall, or become a human lightning rod at The Tesla Coil exhibit! The 4D extreme motion simulated thrill ride combines 3D film with special effects and full motion seating that'll make you feel like you're in the movie itself! You can reach new heights on the 4-story glow-in-the-dark ropes course.You'll encounter over 50 different obstacles and activities like swinging steps, lily pads, and a tremor bridge. There's also blacklight laser tag that offers all the latest technology and an amazing arena. The goal is to outshoot and outlast the other players before time runs out!
5. The Comedy Barn
Come and see the funniest show in Pigeon Forge at The Comedy Barn ! This award-winning show features magicians, jugglers, ventriloquists, and comedians. The Comedy Barn Band also performs live country and gospel music every night! You'll also get to see some of the best cloggers in the world. These dancers will amaze you with their entertaining routines and skills. The clean comedy and talented actors make this show fun and relatable for all ages.
Now that you have a better idea of where to visit while you're in town, you're ready to start planning your family getaway! Be sure to take advantage of our Freedom Fun Pass so that you can save on other popular attractions and restaurants in the area!