November 19, 2018
Top 6 Kid-Friendly Smoky Mountain Hikes
If you're trying to pass your love for hiking and the outdoors on to your kids, we have the perfect trails for you to visit with them! The Smokies are full of rich history and beautiful views that will keep the whole family coming back for more. The only problem is trying to decide which trails to visit first! To help you choose which ones are best for your family, here are the top 6 kid-friendly, Smoky Mountain hikes.
1. Sugarlands Valley Nature Trail
If you are just introducing your kids to hiking for the first time, the Sugarlands Valley Nature Trail is a great choice! It is a 0.5-mile loop that's considered easy in difficulty, making it perfect for even the most novice hikers! This Smoky Mountain trail is open year-round and is also great for a number of outdoor activities like birding, trail running, and walking. It is also partially paved making it wheelchair and stroller accessible. This allows people of all ages and abilities to enjoy it.
2. Kephart Prong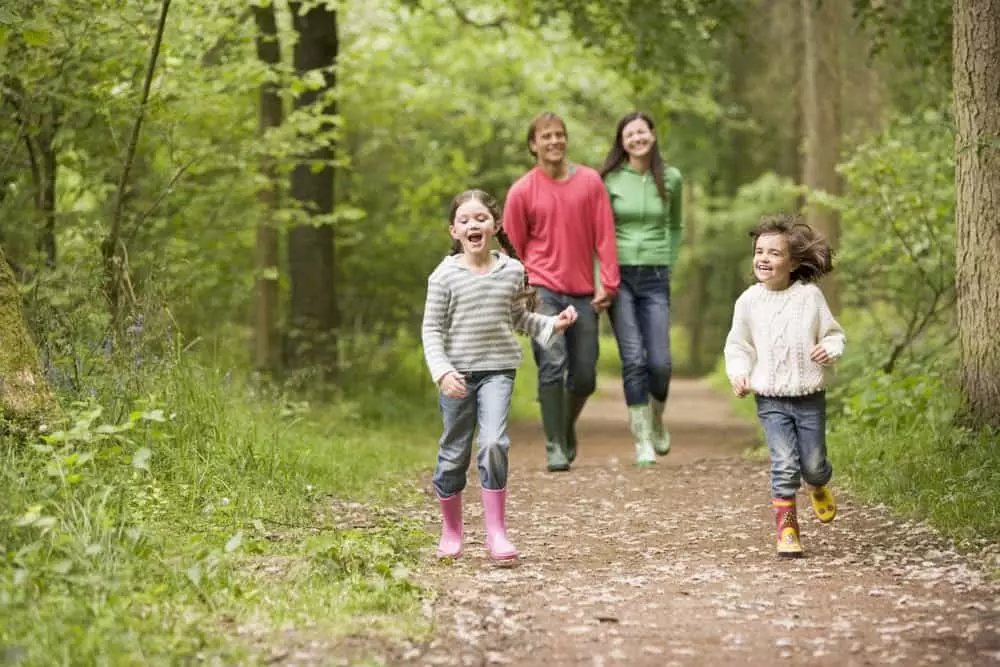 The Kephart Prong is an out and back trail that's just under 4 miles long. It's ideal for kids that are elementary age and up. You and your family can learn about some Smoky Mountain history as you discover remnants of the logging era and the Civilian Conservation Corps camp that was located here from 1933 to 1942. Around 0.7 miles, you may spot evidence of the fish hatchery that was built in 1936. These relics from the past will pique the curiosity of your kids and keep them wanting to learn more! They might also spot some native wildlife, like the salamanders that can sometimes be found along the stream.
3. The Gatlinburg Trail
The Gatlinburg Trail is one of two trails in the national park on which visitors can walk dogs and bicycle. It travels 1.9 miles one-way to the outskirts of Gatlinburg from the Sugarlands Visitor Center. This trail is relatively flat, making it a popular choice among joggers, walkers, and bicyclists. It offers beautiful views of the surrounding wooded area as well as the Little Pigeon River. You can even cross the river at one point on the pedestrian footbridge. You may also spot foundations and chimneys of several old home sites along the way. The best part about this trail is that it's pet-friendly! You and your pup can explore it together and then come back and relax in one of our pet-friendly cabins.
4. Porters Creek
This Smoky Mountain trail is 7 miles long with an out-and-back route. Porters Creek offers a variety of activity options like backpacking, birding, horseback riding, trail running, and of course, hiking. It is open year-round, so you and your family can enjoy it in any season! At a little past the half-mile point, you'll find remnants of an old settlement including a series of rock walls and old building foundations. When you reach the 1-mile mark, there will be a short trail branching off the main path that will lead you to a historic farm site. Here, you will find John Messer's cantilevered barn, which was built in 1875. Past this, you'll come to the Smoky Mountain Hiking Club Cabin, built from 1934 to 1936. The gravel path will end here and you can choose to turn back or continue on for another mile to the waterfall!
5. Laurel Falls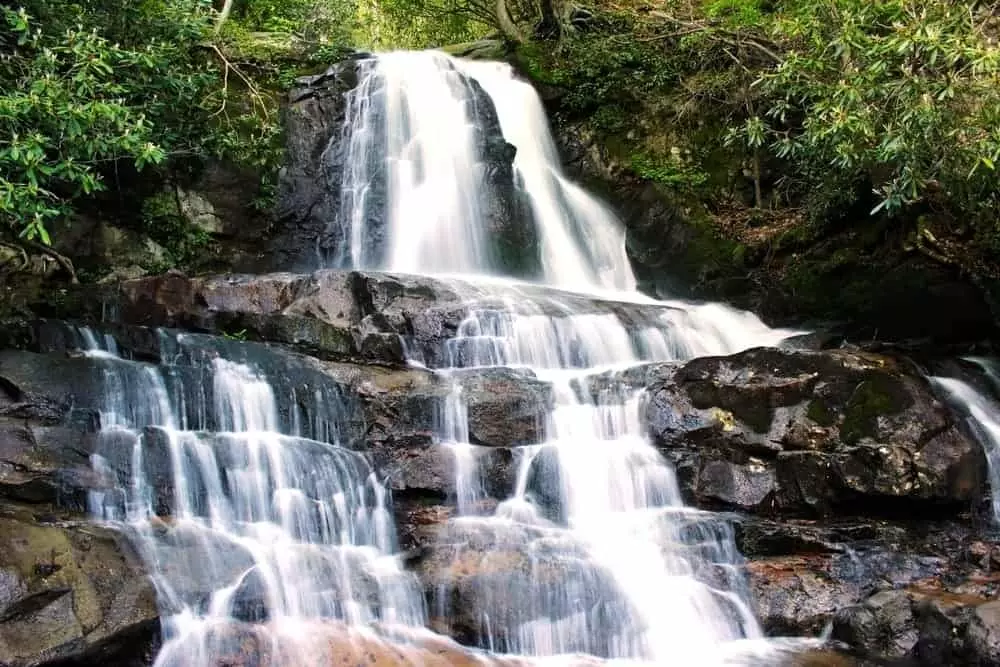 Laurel Falls is one of the most-visited destinations in the national park, and it's no wonder! It's a scenic trail and breathtaking, 80-foot waterfall are guaranteed to amaze! The roundtrip distance to the waterfall is 2.6 miles, and it takes about 2 hours to hike there and back. This Smoky Mountain trail is paved, making it easier to navigate. However, the pavement is rough and uneven in certain spots, so wheelchairs and strollers are not recommended. At the base of the upper level of the falls, there is a walkway that crosses the stream. The falls provide a gorgeous backdrop for any photos. So, be sure to snap a few so that you can always remember this hike with your family!
6. Alum Cave Trail
The kids will love the scenic views and interesting landmarks along the Alum Cave Trail! At 1.3 miles, you'll come to Arch Rock, a geological wonder which was formed when wind and water eroded away the softer rock. The trail passes right under it, providing a great vantage point for photos! When you reach the 2-mile point, you'll see Inspiration Point, a rocky outcrop with gorgeous views of the valley and surrounding mountains. At 2.3 miles, you'll finally come to the Alum Cave Bluff, the trail's namesake. From here, you can either choose to turn back or continue on a more challenging hike to the summit of Mount LeConte.
When you aren't busy enjoying these Smoky Mountain hikes, we'll be sure to take great care of you! Start planning your next family getaway today and browse our selection of Gatlinburg cabins. We look forward to seeing you at Hearthside Cabin Rentals!