November 19, 2023
8 Free Things to Do in Gatlinburg and the Smoky Mountains During the Holidays
The Smoky Mountains come alive during the holidays. With millions of twinkling lights and decorations all around you, there is no better way to get into the Christmas spirit than a visit to Gatlinburg! Even though the holiday season can get expensive, your vacation to the Smokies doesn't have to be. To help you have a budget-friendly Christmas vacation, we've put together a list of 8 free things to do in Gatlinburg and the Smoky Mountains during the holidays.
1. Take a Driving Tour of the Lights
During the holiday season, the Gatlinburg Parkway is decorated with millions of dazzling light displays. Expect to see some snowmen, dancing fountains, and animals indigenous to the Great Smoky Mountains National Park, like deer, foxes, and rabbits. If you don't feel like driving yourself, you can take the Gatlinburg Trolley for just a small fee and soak up all the sights throughout downtown Gatlinburg and Hwy. 321. You can also drive through Pigeon Forge, where you can see more than 5 million holiday lights. There will be bear, deer, fox, giant ornaments, trees, and so much more.
2. Visit The Island in Pigeon Forge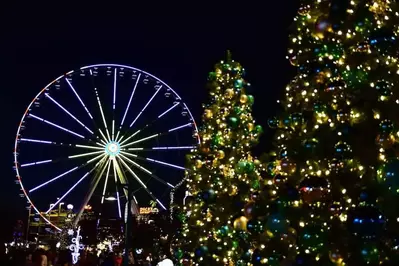 The Island in Pigeon Forge is completely free to enter, which means you don't have to spend a dime to enjoy some holiday cheer! During the holiday season, The Island is decorated in about 40,000 ornaments, half a million lights, and more than 5,000 feet of garland. There is even a 40-foot-tall Christmas tree that guests can walk through! Your favorite Christmas songs will ring through the air, and Santa and Mrs. Claus greet guests at their new workshop. If you don't mind spending a little money, don't miss the opportunity to ride the Great Smoky Mountain Wheel. This 200-foot observation wheel offers a stunning view of the town illuminated with sparkling holiday lights.
3. Walk Through The Village in Gatlinburg
The Village in Gatlinburg is beautiful during the Christmas season. While there is a collection of 27 boutiques, eateries, clothiers, and galleries, you don't have to spend money to take in the gorgeous scenery! Relax by the fountain in an Old World setting and take in the beautifully decorated lights, Christmas trees, garland, and more. You can even catch a glimpse of Santa's sleigh!
4. Gatlinburg Christmas Parade
Nothing says the holidays more than a parade! The Gatlinburg Christmas Parade is held on the first Friday of December and is more commonly known as the Fantasy of Lights Christmas Parade. This celebration is filled with marching bands, large balloons, dancers, and Santa Claus! If you want a good spot, be sure to arrive early. Grab some hot chocolate and get in the holiday spirit as you watch all the incredible floats and decorations that pass by!
5. Browse Christmas Decorations at Santa's Claus-et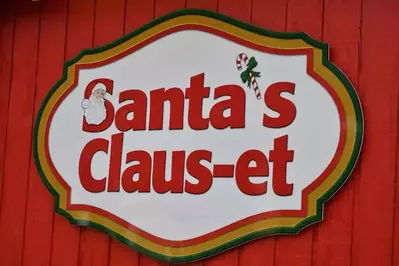 It never hurts to do a little window shopping! To admire some of the best Christmas decorations around, visit Santa's Claus-et, Gatlinburg's largest Christmas store! This store is full of everything from Christmas trees, to fruit spreads, to personalized ornaments. You'll love browsing all the beautiful ornaments — and if you choose to buy one, you can get it personalized for free! When you visit, be on the lookout for Santa Claus, who likes to spend his time in the shop.
6. Go for a Winter Hike
There is something truly magical about the Smoky Mountains during the wintertime. When you go hike in the Great Smoky Mountains National Park during this season, you have the opportunity to see snow-covered mountaintops, frozen waterfalls, and icicles! There are hikes that range from easy to difficult, so everyone in the family can explore the beauty of the mountains. One of the most popular trails to hike during the winter is the Alum Cave Trail, where you can see gorgeous icicles hanging from the bluffs. If you do go hiking, dress in layers and be careful not to slip on any ice patches!
7. Great Smoky Christmas Arts & Crafts Show
The Great Smoky Christmas Arts & Crafts Show is one of the best places to find incredible and unique Christmas decorations and gifts. Admission to the show is free, so you don't have to worry about paying anything to look at the work from talented artisans in Gatlinburg. There will be dozens of booths set up featuring one-of-a-kind handcrafted gifts and more.
8. Spend Time in Your Smoky Mountain Cabin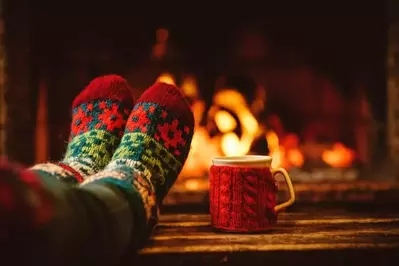 One of the best free things to do in Gatlinburg is to spend time in your Smoky Mountain cabin. After you've seen all the beautiful light displays throughout town, nothing beats curling up in front of the fire with your family as you watch a Christmas movie on TV, or sipping hot chocolate as you admire the snow-covered mountaintops in the distance. With a fully equipped kitchen, you can prepare a holiday meal for everyone to share in the dining room, and you can even put up some decorations together!
Want to find even more savings this holiday season? Check out these free things to do in Gatlinburg and Pigeon Forge.
Start planning an amazing and budget-friendly holiday vacation to try all the free things to do in Gatlinburg and the Smoky Mountains! Browse all our Smoky Mountain cabins and reserve your stay today.