March 19, 2013
Hearthside Provides Budget-friendly Cabin Features
Vacation planning can be tough, especially when you're picking that one special place to celebrate, relax and reconnect with your loved ones this year. Consider the Great Smoky Mountains as the ultimate destination where you'll find something for everyone – from the buzz and excitement of shopping, family attractions and dining in Sevierville, Pigeon Forge and Gatlinburg, to the peaceful, sweeping vistas of the Great Smoky Mountains.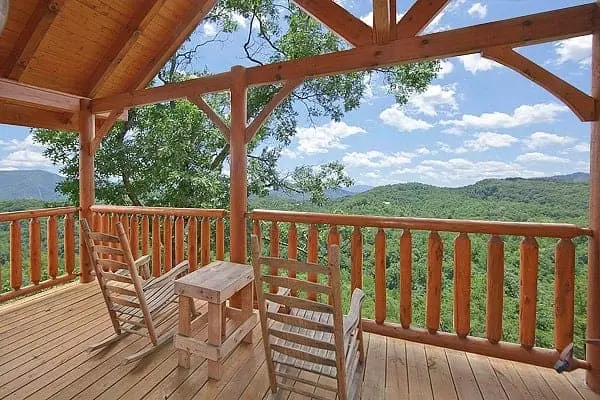 Mountain Splendor 2-Bedroom Cabin by Hearthside Cabin Rentals
Hearthside Cabin Rentals Make Good Cents
There's no shortage of accommodation options in Gatlinburg and Pigeon Forge, and choosing the right place to stay is an important factor in maximizing your time and your budget. And although you may think that the most cost-effective option is an area hotel, be sure to take stock of the money-saving features at Hearthside's budget friendly cabins in Gatlinburg and Pigeon Forge.
Large Cabins For Large Groups
The more the merrier! Flexible floor plans at Hearthside Cabin Rentals allow you to travel comfortably in a group. So whether traveling with a group of friends, a church group, or bringing along the whole family, Hearthside's large group cabins with 10 or more bedrooms are complete with private bedrooms each with a private, en suite master bath. The cabin design allows groups of any size to maximize space without sacrificing privacy.
Luxury Cabins with Spacious Kitchens and Dining Rooms
So beautiful you'll want to stay. One of the biggest expenses on any vacation is dining out, especially for the entire family. Knowing that three meals a day for the average family of four can do a lot of damage to the wallet, Hearthside Cabin Rentals thoughtfully designed each luxury cabin with spacious and well-appointed kitchen that allows for easy and enjoyable meal preparation. The kitchens and dining rooms are so spacious, and the views of the mountains so grand, that staying in for meals together will be more of a treat than a compromise.
Pet-Friendly Cabin Rentals in the Smoky Mountains
I thought you said this was a family vacation! Hearthside Cabin Rentals is dedicated to making your entire family feel welcome, including Fido. With designated pet-friendly cabins, you can avoid the stress and high cost of boarding your family's pet by bringing everyone along on your Smoky Mountain vacation.
Exclusive Gatlinburg and Pigeon Forge Attraction Discounts
It takes one to know one. Hearthside is a family-owned business and they know your don't just need to save money on accommodations – you need to save money on everything you do! And as a local company and established member of the community, Hearthside Cabin Rentals has partnered with area attractions to bring you discounts on all the fun things your family will do while you're here.
The Freedom Fun Pass, exclusive to guests at Hearthside Cabin Rentals, allows your family entry and discounts at Adventure Park Ziplines, Lazer Port Fun Center, Ripley's Aquarium of the Smokies and Ripley's Old McDonald's Farm Mini Golf.
Hearthside Rental Cabins and its partners provide additional coupons and discounts to Dixie Stampede, Lumberjack Feud Dinner & Show, Wonderworks, the Titanic Museum & Experience, Dollywood and Dolly's Splash Country, whitewater rafting, ZORB Smoky Mountains and much more!
The are lots of fun things to do in Gatlinburg and many exciting Pigeon Forge attractions to enjoy during your vacation in the Smoky Mountains. Why not stay in a Gatlinburg cabin rental and save money on these great attractions? Call Hearthside Cabins today at 1-888-993-7655 or contact us online to book your Smoky Mountain cabin vacation. And don't forget to check out our monthly cabin specials!