April 19, 2023
Together Forever: 10 of the Best Places to Propose in Gatlinburg & Pigeon Forge
There's no more picture-perfect place to propose to the love of your life than the Smoky Mountains! This sprawling natural masterpiece is filled with gorgeous scenery that looks like it's straight out of a movie! Both indoors and outdoors, you'll find incredible places where you can celebrate the love you have for one another with some romantic activities. The look on her face when you finally pop the question in the Smokies will say it all! Here are 10 of the best places to propose in Gatlinburg and Pigeon Forge:
1. Cades Cove
Cades Cove is one of the most popular places in the Great Smoky Mountains National Park thanks to its natural beauty! This valley surrounded by mountains makes the perfect backdrop for you to pop the question! You'll also enjoy exploring old cabins, historical structures and even waterfalls in Cades Cove.
2. A Smoky Mountain Waterfall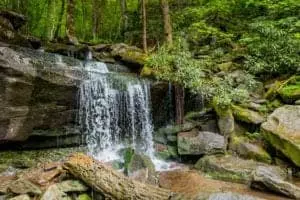 Imagine a photo of you down on 1 knee as you propose in front of a massive waterfall! It doesn't get any better than that! The national park is home to several waterfalls, including the 80-foot tall Rainbow Falls and the 100-foot tall Ramsey Cascades! Smoky mountain waterfalls are some of the best places to propose thanks to their stunning natural beauty.
3. The Island in Pigeon Forge
The Island in Pigeon Forge has plenty of attractions and romantic things to do that you'll love exploring! The Island offers special proposal packages to help you plan your special moment. Take a ride on The Great Smoky Mountain Wheel where you can propose 200 feet in the air while overlooking gorgeous Gatlinburg! Sit hand-in-hand on a bench as you watch the incredible Island Show Fountains after popping the question.
4. Gatlinburg Space Needle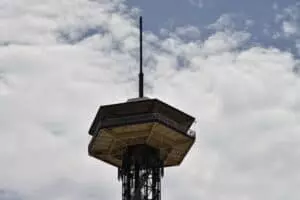 You can't beat the views at the Gatlinburg Space Needle! Towering 407 feet above Gatlinburg is the Gatlinburg Space Needle Observation Tower where the very best breathtaking views of the city and surrounding mountains await! Propose at night high above Gatlinburg as it glows from twinkling lights. If the views don't take her breath away first, this proposal sure will!
5. A Carriage Ride
A Smoky Mountain carriage ride is straight out of a fairytale!
Heritage Carriage Rides of Pigeon Forge provides romantic horse drawn buggy and carriage rides through the city! View some of the very best Pigeon Forge has to offer as you cuddle up alongside one another. Consider purchasing a romance package that includes a 30-minute carriage ride, a dozen roses and a CD of pictures of your proposal.
6. Ripley's Aquarium of the Smokies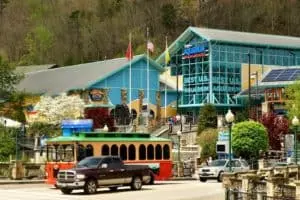 If your girlfriend is an animal lover, she won't be able to get enough of Ripley's Aquarium of the Smokies! Proposal packages here ensure a romantic experience that she'll never forget! Following a scheduled dive show, the aquarium will reveal a proposal sign in the water for all to see! You'll get to take home the sign, a picture of the proposal and a Ripley's gift to take home.
7. Gatlinburg SkyLift Park
Gatlinburg SkyLift Park is yet another one of the best places to propose in Gatlinburg! Hold hands on a chairlift that sits 1,800 feet in the air to the top of Crockett Mountain where you'll enjoy stunning views of the Smoky Mountains! The park includes the Gatlinburg SkyBridge, the longest pedestrian cable bridge in North America. Drop to one knee while walking across the bridge and she'll never see it coming!
8. Ober Mountain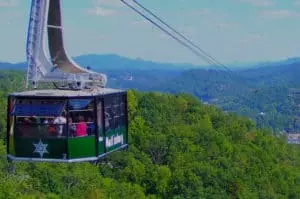 Ober Mountain is a year-round family amusement park and winter ski resort! Visit during winter to spend a day skiing or snowboarding on the slopes before popping the question as gorgeous natural snow falls! You'll find numerous perfect opportunities to propose like on top of the mountain, on a scenic chairlift or during a tasty meal at the Seasons of Ober restaurant.
9. Dollywood
Dollywood, the award-winning family theme park in Pigeon Forge, is one of the best places to propose in the Smoky Mountains! Spend the day enjoying exhilarating rides, eating delicious food and watching shows before you propose. No matter how you decide to propose, we're sure she'll love a Dollywood engagement!
10. Anakeesta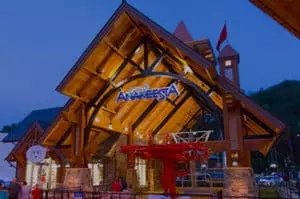 Anakeesta, the mountaintop adventure park in Gatlinburg, provides a magical experience for guests of all ages! Vista Gardens overlooks the stunning Smokies and is an arboretum retreat full of gorgeous flowers, garden chimes and the sounds of birds and cascading waterfalls! Drop to one knee in front of the iconic heart twigloo or go to the top of AnaVista Tower where you'll love the 360-degree views of the national park and downtown Gatlinburg. Your soon-to-be bride will love it if you pop the question at one of these best places to propose in Gatlinburg and Pigeon Forge! If you love the Smokies, consider getting married here too! Hearthside Cabin Rentals offers a traditional wedding chapel where you can tie the knot!