July 29, 2014
Top 5 Benefits of Staying at Our Large Cabins in Pigeon Forge
Are you planning a business trip, church retreat, family reunion, or another large gathering in the Smokies? If you're searching for the perfect group lodging, look no further than our large cabins in Pigeon Forge! Hearthside Cabin Rentals has a wonderful collection of deluxe cabins with over 11 bedrooms. Read on to learn about some of the benefits your group will enjoy at one of our huge Smoky Mountain cabin rentals.
1. Everyone Under One Roof
When groups stay at a hotel it can be hard to really spend time together, with everyone in separate rooms. At our large cabin rentals, guests will have plenty of common areas to chat, play games, and just enjoy each other's company. Most of our deluxe rentals have space for 50 – 60 people, and the enormous Big Moose Lodge sleeps a whopping 74 guests!
2. Endless Entertainment
Our oversized cabins are absolutely packed with entertainment that will keep your group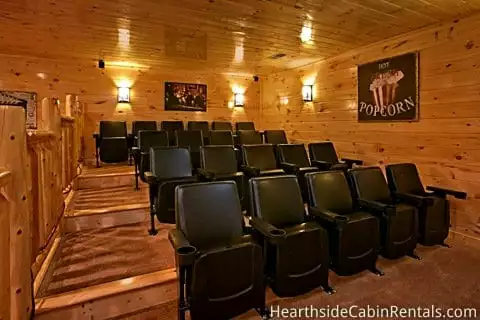 occupied throughout your vacation. Guests will enjoy multiple big screen televisions, premium satellite stations, DVD players, home theater rooms, and awesome game rooms. Nothing is more fun for large groups than a friendly billiards, air hockey, or foosball tournament. Mountain Top Retreat even has an indoor mini golf course that kids absolutely love!
3. Private Swimming Pool Access
All of our 11 + bedroom cabins come with access to a gorgeous swimming pool. There's no better way to cool off after taking a hike in the Great Smoky Mountains National Park than a dip in the pool. This recently opened swimming pool and pavilion is for Hearthside guests only, so you'll never have to worry about crowds. Our large cabins also feature soothing hot tubs overlooking the mountains. The scenic views are spectacular!
4. Oversized Kitchens
Large cabins in Pigeon Forge let you enjoy a group meal in style. We know that cooking for upwards of 50 people is no easy task, so we've equipped our kitchens with everything you need to whip up a gigantic supper. You'll find two stoves, two refrigerators, two dishwashers, and
plenty of appliances. Our spacious kitchens are perfect for multiple chefs, so guests can have fun making dinner together. Big cabins also have generous dining areas where every member of your group will have a seat at the table.
5. Great Location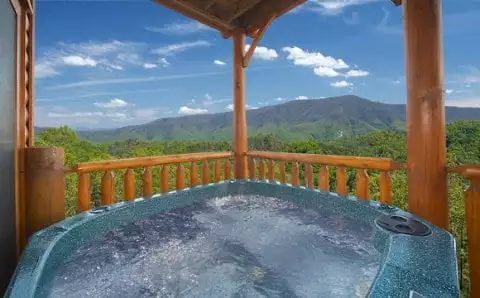 Our deluxe cabins are in the ideal spot for groups who want to make the most of their vacation in Pigeon Forge. Located in the foothills of the Great Smoky Mountains, Hearthside's large cabins offer incredibly scenic views, but are still easily accessible by tour bus or church van.
Dream View Manor, Mountain Breeze Manor, and Morning View Manor are all located at the Preserve. This private resort area includes an 850 square foot indoor conference room, a state of the art workout facility, a 700 square foot outdoor pavilion, and a scenic white chapel. These cabins are ideal for a business retreat or a mountain wedding.
To start planning your group trip in the Smokies, give our vacation specialists a call at 1-888-993-7655