September 07, 2018
8 Luxuries You'll Love About Our Large Smoky Mountain Cabins
When you visit the Smoky Mountains with a group, there is no better place to stay than with Hearthside Cabin Rentals. No matter the size of your group, we have a variety of cabin rentals available that can accommodate everyone. Whether you're in an 8 bedroom cabin or an 18 bedroom cabin, you will have access to a variety of different amenities that make your stay extra special. Here are 8 luxuries you are sure to love about our large Smoky Mountain cabins:
1. Theater Rooms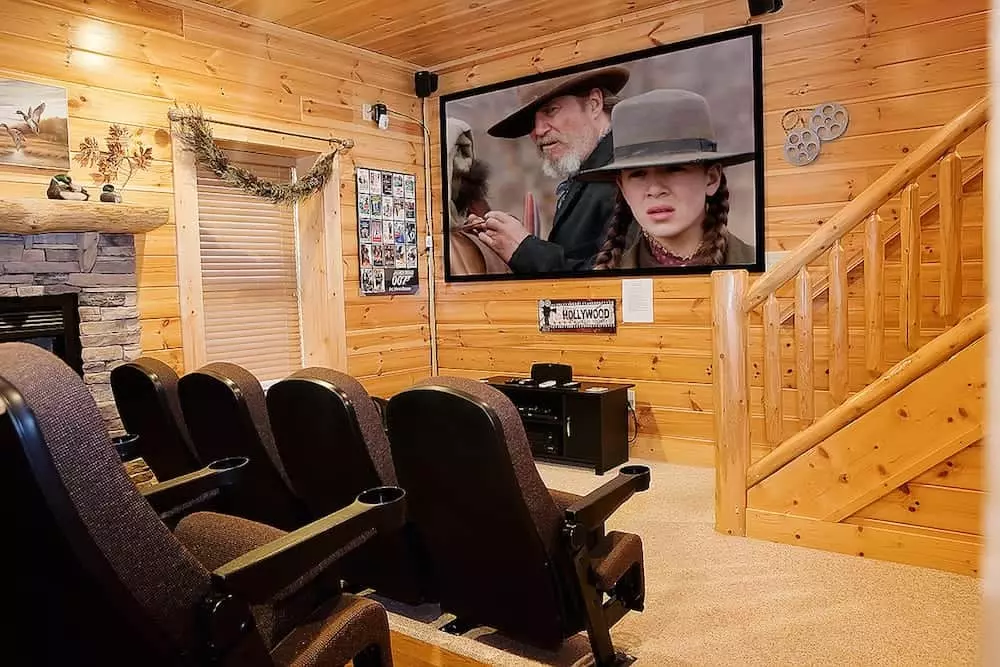 When you stay in a large group cabin, one luxury you will love to have is your very own home theater! Guests love being able to kick back and relax in cinema-style seating while watching their favorite movie on the big screen. If you are a big sports fan, this is also a great place to watch your favorite team play. Seeing the game in the theater room is almost as good as being there in person! All you have to do is pop some popcorn or make some snacks in the kitchen to enjoy during the movie or sporting event.
2. Game Rooms
Another luxury you can find in many of our large cabins is a game room. There is nothing like some friendly competition to make your stay more exciting. Our game rooms come with things like pool tables, foosball tables, air hockey, arcade games and more. You can spend hours locked in the game room battling each other! You will also love that even if there is bad weather keeping you from exploring the town, you can still have fun in the comfort of your cabin!
3. Swimming Pools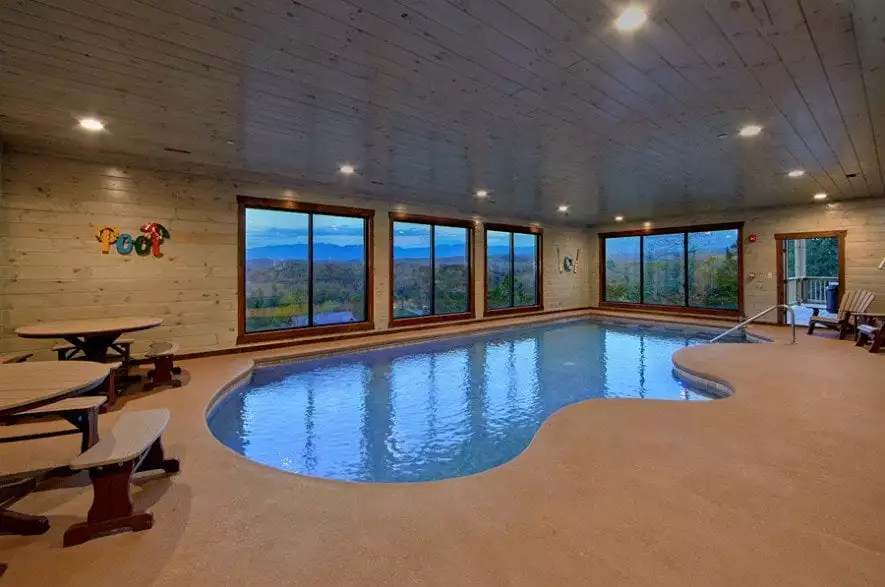 Splash around no matter what when you stay in a cabin with your very own swimming pool! We have cabins with private indoor pools so you don't have to worry about it ever being overcrowded and can swim whenever you'd like. We also have cabins with access to resort pools, some indoor and some outdoor. On a hot summer's day, nothing feels better than diving into the refreshing water of the pool after soaking up the sun.
4. Spectacular Views
You are sure to love the views that all of our cabins offer. When you stay in our cabins with mountain views, you will be surrounded by stunning scenery. Whether you are relaxing on your cabin's deck or staring out the large glass windows, you can admire the stunning views of the Smokies in the distance. Catch the sunset as you soak in your bubbling outdoor hot tub, or wake up to the sunrise in the morning. The view also provides the perfect backdrop for photos! Grab your friends and family and pose for a group shot on the deck of your cabin.
5. Golf Course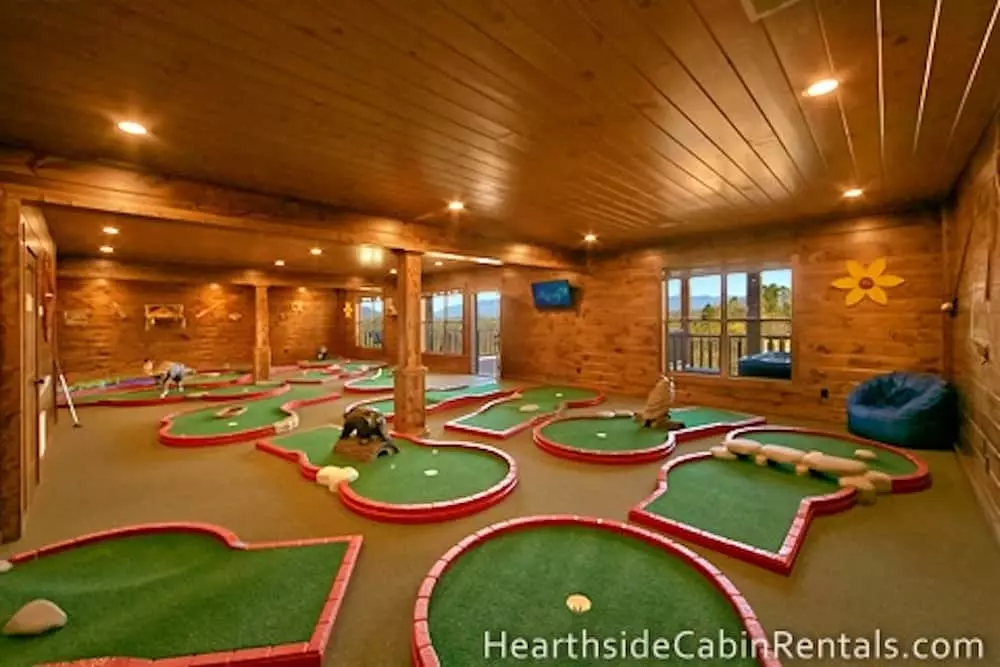 Some of our large Smoky Mountain cabins even come with their own mini-golf courses! You can play 18 holes of mini golf for no extra fees, just extra fun. This is the perfect way to stay entertained, whether you're visiting with a group of friends or family. It also saves you money since you don't have to pay for an attraction to get your fill of mini-golf fun! Stay in Mountain Top Retreat for an 18-hole themed indoor putt-putt course!
6. Location
One of the best things about all of our cabins at Hearthside is their location. You can choose the location that best fits your vacation style. If you want peace and quiet tucked away in the mountains, choose a secluded cabin with a wooded view. If you want to be minutes away from all the action, stay in one of our cabins that has easy access to Pigeon Forge or Gatlinburg! No matter where you decide to stay, you can enjoy the privacy of being in the heart of the Smokies while still being just a short drive away from the hustle and bustle in town.
7. Multiple Levels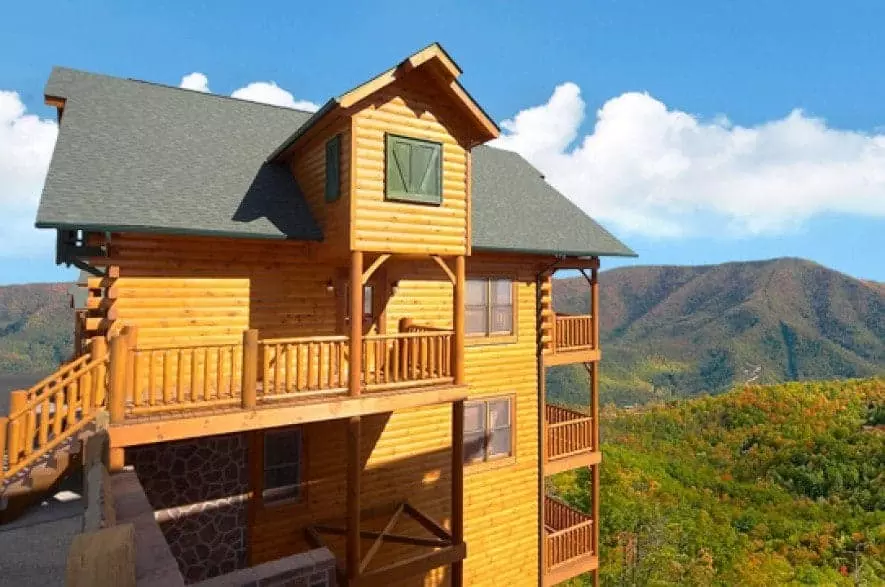 Another luxury about our large cabins is that they have multiple levels, giving everyone more space to spread out! You won't ever have to worry about your group feeling too cramped or not having enough room to sleep. There is plenty of space in the common areas for everyone to be comfortable while spending time with each other!
8. Free Attraction Tickets
As a thank you to all of our guests for staying with us at Hearthside Cabin Rentals, we reward each cabin with one freedom fun pass. This pass gets you free attraction tickets to some of the most popular things to do in the area! You can laugh the night away while enjoying a delicious homestyle feast at the Hatfield & McCoy Dinner Feud or burn off some energy at the TopJump Trampoline & Extreme Arena! One of the best things to do with a group is go tubing or whitewater rafting, and you can do both with your free tickets to River Rat. To learn more about what attractions your freedom fun pass will get you into, read our blog, "6 Pigeon Forge Attractions You Can Enjoy for Free When You Stay in Our Cabins."
Now that you know about all of the luxuries our large Smoky Mountain cabins have to offer, we bet you can't wait to visit! Browse all of our cabins in the Smoky Mountains and find the perfect one for your group.