May 10, 2023
The Ultimate Guide To Skyland Ranch In Sevierville
SkyLand Ranch in Sevierville is a must-visit destination the next time you make a trip to the Smoky Mountains! This new attraction in the Smokies opened in late 2022 and has become a place families in particular love to visit for all the great fun they find. Relaxation awaits as you enjoy all the great things you love the most about the Smoky Mountains in one incredible entertainment venue! Special family memories that will last a lifetime are waiting to be made at SkyLand Ranch. Here is our ultimate guide to SkyLand Ranch in Sevierville:
What is SkyLand Ranch?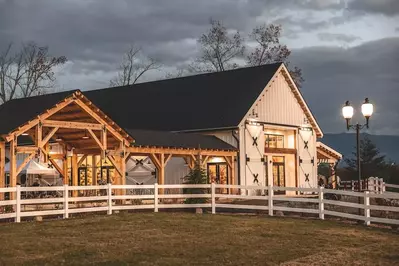 What isn't SkyLand Ranch is the better question! This one-of-a-kind Sevierville attraction is a family friendly entertainment venue the Smoky Mountains have never seen before! Get ready to experience incredible mountain views, thrilling rides, shops and eateries, live entertainment and even some cute miniature animals.
SkyLand Ranch is set on a 100 acre farm in the heart of Sevierville and just minutes away from restaurants, lodging and one of the largest outlet centers in the South! Kick back and relax as you enjoy the perfect balance of peacefulness and entertainment while being surrounded by the natural beauty of the Smoky Mountains!
What To Do
You'll find a little bit of something for everyone in your family when you visit SkyLand Ranch in Sevierville! Here are a few fun attractions you'll want to experience at SkyLand Ranch:
The Wild Stallion
The Wild Stallion is the longest mountain coaster in the Southeast, checking in at 1.25 miles and lasting more than 8 minutes in duration! Jump on The Wild Stallion during the day to take in scenic views of the Smokies or ride at night to see sparkling city lights as you travel on this thrilling ride. You'll feel a sense of freedom and excitement as you fly through twists and turns!
Horizon Skyride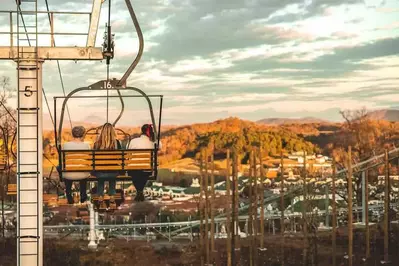 The Horizon Skyride is a scenic chair lift that takes you to the top of Skyland Ranch! Hop on the Horizon Skyride and enjoy all the beauty you'll fly over when making your way to the top. If you don't like heights, don't worry! SkyLand Ranch offers shuttles to the top for those who prefer not to ride the Horizon Skyride.
Daily Entertainment
If you haven't heard of him yet, you'll quickly fall in love with Gary "Biscuit" Davis! Biscuit is a world-class musician and banjo expert who played for Dolly Parton for more than 20 years before now routinely performing at SkyLand Ranch! Other entertainment includes presentations that feature miniature animals, wild west, magic shows and even appearances from mascots.
Legacy Lookout
The views from Legacy Lookout are unmatched! Legacy Lookout is a scenic walkway standing more than 350 feet above the Parkway featuring 360-degree views of the Smoky Mountains. You and your sweetheart can have a romantic time together enjoying the views from Legacy Lookout!
Miniature Animals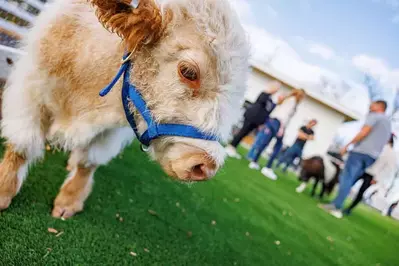 Our 4-legged furry friends love meeting visitors at SkyLand Ranch! Fun miniature animal encounters are what many kids love the most about visiting this Sevierville attraction. They'll love meeting miniature horses, miniature donkeys, miniature cows, goats and sheep!
Williford Mercantile
Williford Mercantile is SkyLand Ranch's retail barn full of special and unique finds! Grab a special souvenir to commemorate your family experience at SkyLand Ranch. Kids love all the toys they can find at Williford Mercantile! These shops include a boutique, western wear and Christmas and home decor.
What To Eat
At some point during all the hours of fun you'll spend at SkyLand Ranch, you'll probably want to grab some food. SkyLand Ranch offers these great food options for you to refuel during your experience:
You'll find several great food trucks in The Backyard at SkyLand Ranch! Grab some tasty BBQ and roasted corn from Buckn' BBQ or enjoy some tasty chicken and burgers from The Chuckwagon! Sweet Darlin's Dessert Truck is a must-visit to get your sugar fix!
SkyLand Cafe & Bakery
SkyLand Cafe & Bakery has all the solutions for your biggest cravings! This food barn features a sandwich shop, soups and salads, a homemade candy shop, a bakery, a coffee shop and some delicious made-from-scratch pizzas. No matter what you're in the mood for, you'll find it here at SkyLand Cafe & Bakery!
You're all caught up on all things SkyLand Ranch before you visit! Now it's time to start planning your trip. Check out our free attraction tickets to see how you can save when you stay in a cabin from Hearthside Cabin Rentals!