April 06, 2023
7 Activities Families Commonly Enjoy in Our Pigeon Forge Cabin Rentals
Some of the very best family fun in the Smoky Mountains can be found in our Pigeon Forge cabin rentals! Why leave your home away from home when you don't have to?! Our Pigeon Forge cabin rentals are packed with amenities that will leave you with an endless list of entertaining things to do for the entire family. These family activities provide incredible memories that will leave a big smile plastered on everyone's faces! Here are 7 activities families commonly enjoy in our Pigeon Forge cabin rentals:
1. Family Game Night
You'll find plenty of entertaining games to play in many of our Pigeon Forge cabin rentals! Start a family billiards tournament and place family bragging rights on the line or spend hours together playing arcade style games! See which one of your kids randomly has legit foosball skills! Children in particular love spending time playing gaming consoles like Playstation and XBOX. Air hockey tables provide hours of competitive fun for each member of the family.
2. Movies By the Fireplace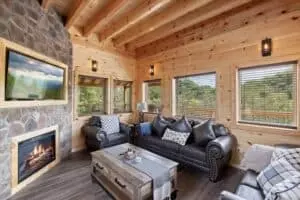 Pick a night during your vacation to all stay in and enjoy a family movie night together! Cuddle up together on a comfy couch that you melt into, grab some soft blankets and pick a movie to enjoy! Our Pigeon Forge cabin rentals are decked out with televisions, cable and even streaming services so you'll have an incredible selection of movies to choose from. Make sure to turn on the fireplace during those colder months to fully take advantage of your family time together.
3. Family Dinner
There's a reason people have gathered for regular family meals for generations! There's no better bonding experience than cooking and then enjoying a meal together as a family! Our Pigeon Forge cabin rentals come with fully equipped kitchens so you'll have every pot, pan and utensil you need to whip up your favorite meal. Perhaps you have a favorite meal that everyone in your family loves or you could even try to make a special meal you've never tried before! Enjoy your meal from the dining room, or better yet, take it out on the porch and eat your meal while looking at gorgeous mountain views!
4. A Relaxing Dip in the Water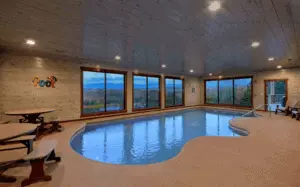 Take full advantage of warmer weather in the summer months by booking one of our Pigeon Forge cabin rentals with a pool! Time will fly by as you and the family enjoy cooling off in a pool! We even have several cabins with indoor pools so you can take a dip any time of the year! Play classic pool games like Marco Polo or have a competition to see who can swim the fastest laps. When the weather cools off, our hot tubs are a popular amenity in our cabins. Warm up in your hot tub as you enjoy mountain views straight out of a movie!
5. Take In Gorgeous Mountain Views
Beautiful expansive porches are a common feature of our Pigeon Forge cabin rentals! Many of these porches include plenty of outdoor seating options like porch swings, rocking chairs, tables and more! Gather your family on the back porch and enjoy a sunrise over the Smoky Mountains before you start your day. Grab your favorite bottle of wine for the adults and watch the sunset as you chat about all the fun you've had in the Smoky Mountains!
6. S'mores Under the Stars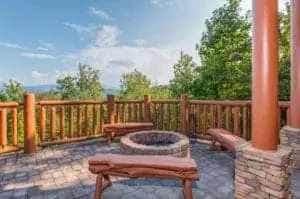 A fire pit is exactly what you need for family fun under the Smoky Mountain stars! Not only are fire pits a great way to stay warm when out in nature, they provide plenty of fun involving snacks! Open up a bag of marshmallows, roast them over the fire and combine them with chocolate and graham crackers for delicious s'mores! Spend your time together sharing ghost stories or just reminiscing about all the fun times you've had together.
7. Fun With the Pups
Folks loving bringing along man's best friend in our pet-friendly cabins! Why spend a fortune on sending your dog to the kennel when instead you can bring him or her along?! Your dog can't wait to explore the Smoky Mountains just like you! Spend time tossing toys or take your dog for a scenic walk through the neighborhood of your cabin rental. Bring your dog out back where he'll have a field day in the massive back yard.
We know every member of your family is going to enjoy these fun activities in our Pigeon Forge cabin rentals! Browse all of our Pigeon Forge cabin rentals today to find the one that's perfect for you and your family!