January 06, 2021
Top 8 Places to Eat in Gatlinburg TN on the Strip
When you visit downtown Gatlinburg, you want to experience exciting attractions, browse through shops, and enjoy delicious food. There are several places to eat in Gatlinburg TN on the Strip. You'll find a huge selection of cuisines to choose from. Here are the top 8 places to eat in Gatlinburg TN on the Strip:
1. Crawdaddy's Restaurant & Oyster Bar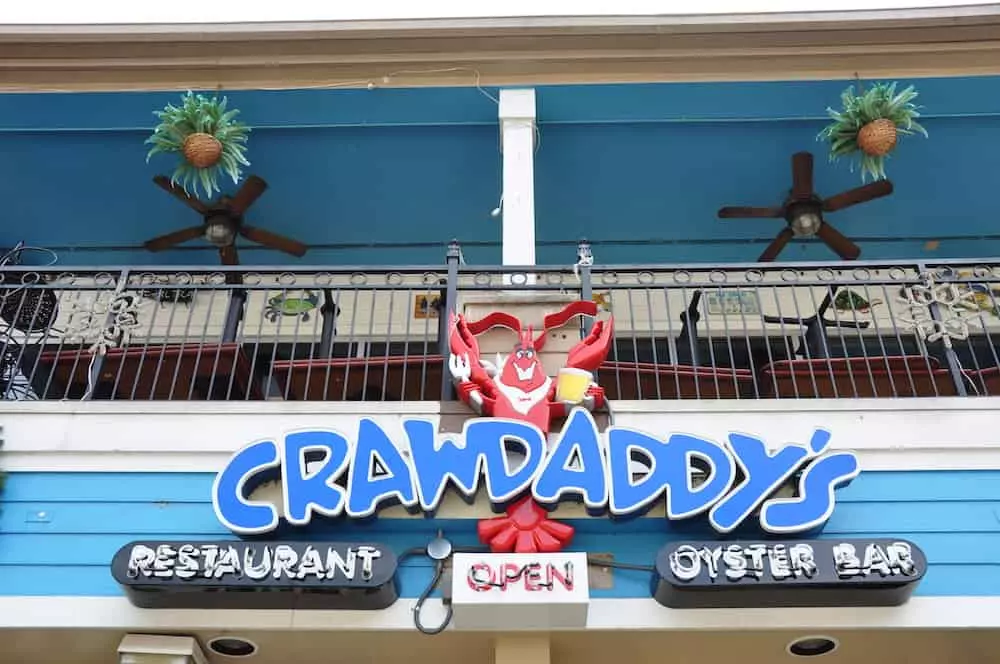 If you want seafood, a great place to go is Crawdaddy's Restaurant & Oyster Bar. They have almost any dish you could want, including a raw oyster bar. For something light, you can get gumbo or lobster bisque. There are crab cake sandwiches, shrimp and oyster po boy sandwiches, and pastas. If you love cajun low boils, you can have one with your choice of seafood. There's grilled shrimp, fried shrimp, crab cakes, fish and chips, and many other entrees to choose from. Kids can try mac and cheese, fried shrimp, fish sticks, or chicken tenders.
2. Smith & Son Corner Kitchen
A great place to eat in Gatlinburg TN on the Strip is Smith & Son Corner Kitchen . If you can't decide what you're in the mood for, this restaurant has a little bit of everything. Start out with fried okra, street tacos, nachos, or border chips. There's salad, chicken tenders, fried chicken, and pasta. Smith & Son is known for their burgers and sandwiches. You can get all different kinds of toppings on your burgers. Some of their sandwiches include a reuben, beef brisket, and hot chicken. Entrees you can get include a BBQ platter, fried catfish, fried shrimp, chopped steak, and more.
3. Best Italian on the Parkway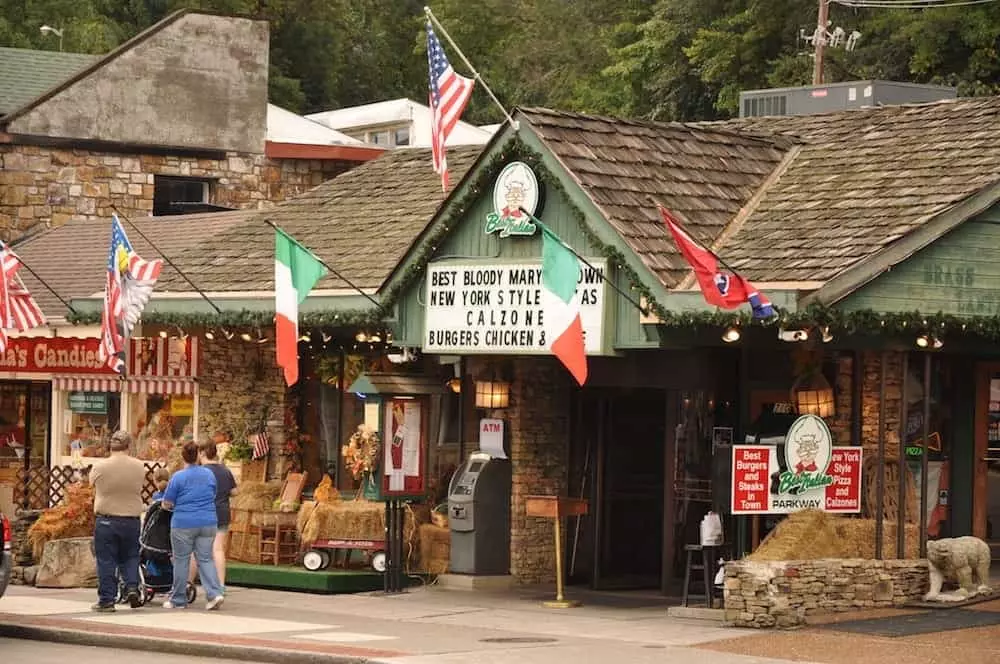 Best Italian on the Parkway is a great place to go when you want Italian food. You can get all kinds of pasta, from primavera to fettuccine. Other classics on the menu include spaghetti and meatballs and lasagna. Some entrees you can try include veal florentine, chicken marsala, or the seafood medley. Best Italian also has pizza and calzones, or you can create your own. Kids have a huge variety of their menu, from pizza to spaghetti.
4. Loco Burro Fresh Mex Cantina
Another place to eat in Gatlinburg TN on the Strip is Loco Burro Fresh Mex Cantina . This is the only restaurant on the Strip that has a rooftop patio where you can enjoy your food outside. Loco Burro has all your Tex Mex favorites. You can get chips and queso, fajitas with peppers and onions, quesadillas, and burritos. With enchiladas, you get to choose what kind of sauce goes on top. Plus, there are several house specialities you'll want to try.
5. Cherokee Grill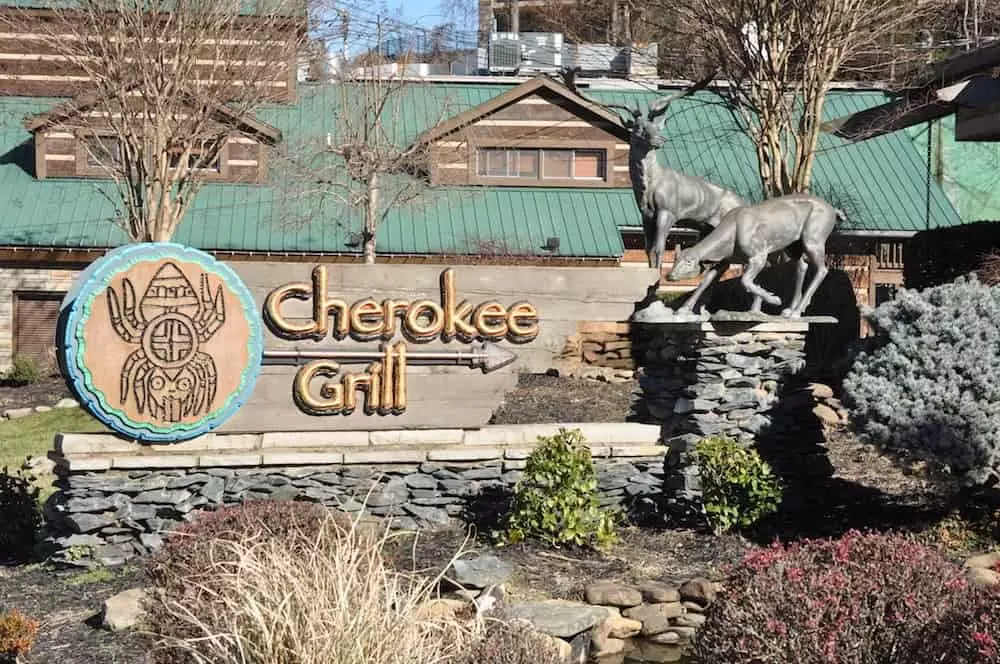 If you're looking for a nice steakhouse for a sit-down dinner, Cherokee Grill is a great option. It's right on the Strip, making it easy to find. For steak, you can get a New York strip, ribeye, sirloin, filet mignon, and prime rib. Other entrees include fried chicken, pork chops, crab cakes, herb crusted trout, and roasted chicken. Your kids get to choose from a grilled cheese sandwich, burger, steak, chicken, and ribs.
6. Calhoun's
Calhoun's is a local chain that serves southern barbeque and steak. You can get the Calhoun's Trio, which includes baby back ribs, pulled pork, and chicken tenders with your choice of side. Steak Calhoun's is covered in their house barbeque sauce, but you can't go wrong with the Ale Steak or Pork Chops. Calhoun's also has grilled chicken, fried chicken, salads, and more. Plus, with a fully stocked bar and signature cocktails, you'll love eating here!
7. Luigi's Pizza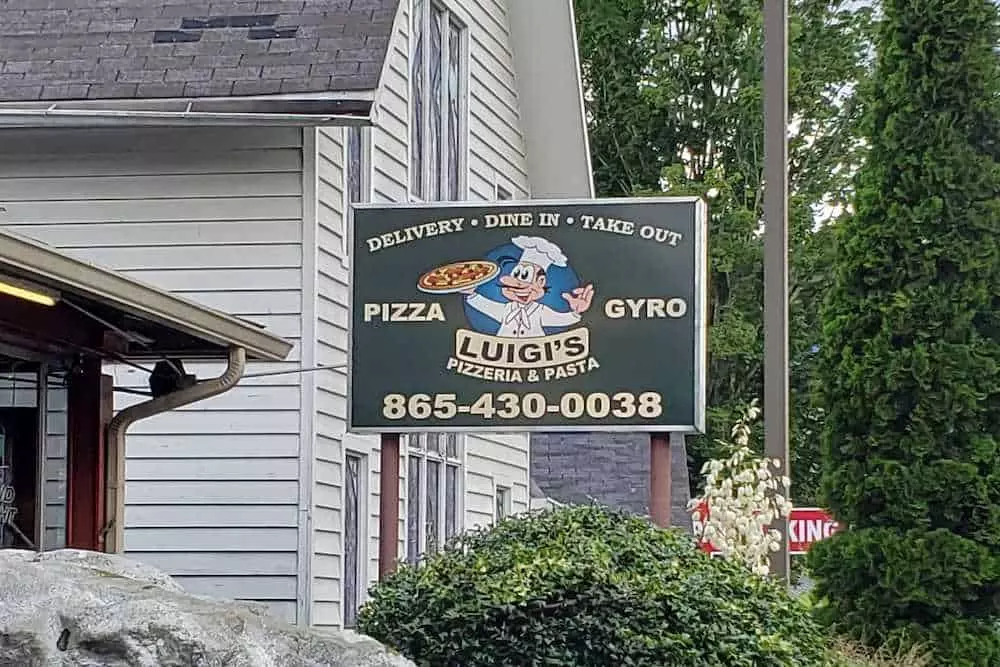 A casual place to eat in Gatlinburg TN on the Strip is Luigi's Pizza. They have antipasto, greek, and other kinds of salads. You can get a pizza sub, Italian sub, or a meatball sub. Some of the speciality pizzas Luigi's has includes a philly steak, a gyro, eggplant parmesan, and buffalo chicken. If you don't see a pizza you like, you can always create your own! This restaurant also serves eggplant parmesan, lasagna, spaghetti and meatballs, and other dinners.
8. Hot Diggity Dawg
Another casual restaurant on the Strip is Hot Diggity Dawg . They have all beef and all turkey hot dogs. You can get it topped any way you want, with mustard, onions, relish, peppers, ketchup, and so much more. This restaurant also has street tacos, pork nachos, queso and chips, and so much more. Your whole family will enjoy eating at this casual restaurant.
These places to eat in Gatlinburg TN on the Strip are just some of the restaurants you can enjoy while you're in town. Browse through our Freedom Fun Pass to see what kind of deals you can get on local restaurants and attractions when you book one of our cabins!