July 02, 2017
Anakeesta: The New Gatlinburg Attraction and What You Need to Know About It!
You want to experience new and exciting things when you go on vacation. It's boring to do the same things at your vacation destination that you can do at home, right? You want to see new attractions and try out something different that wasn't here the last time you came. Well, that's exactly what Anakeesta can do for you. It's an amazing Gatlinburg attraction with all kinds of fun things for the entire family!
Anakeesta is a brand new attraction that will be opening soon for you to explore. Grab your friends and family to come visit Gatlinburg to see what all the talk is about! We've got answers to some of the most important questions you may have.
What is it?
Anakeesta is a treehouse themed attraction that offers wholesome family fun. This brand new Gatlinburg attraction offers shopping, dining and adventure! Located on top of Anakeesta Mountain, this attraction gives you the opportunity to ride zip lines, a mountain coaster and shopping and dining opportunities in Firefly Village.
This attraction will quickly become your one-stop-shop for adventures, shopping and dining for a fun day filled with beautiful views and thrilling adventures! You won't want to leave after you have had a day in the trees!
Where is it?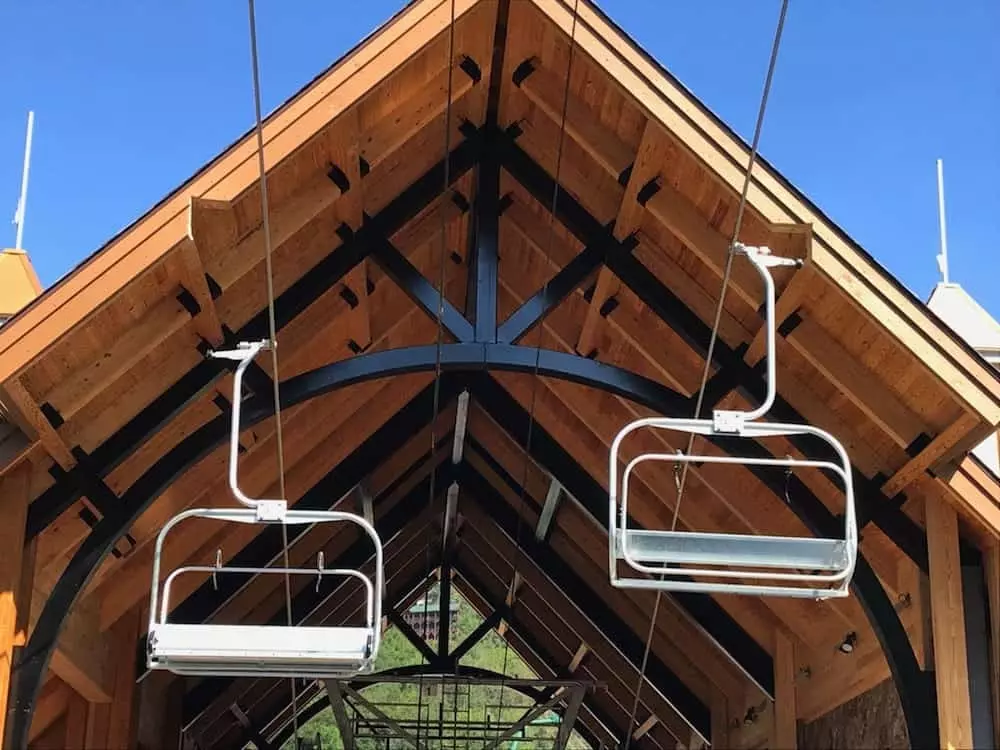 The base part of Anakeesta is located right across from Ripley's Aquarium of the Smokies on the parkway in Gatlinburg. There is a parking lot available for guests to use. To get to the top of the mountain, you hop into the chondola, which holds four, or you can ride in the enclosed gondola, which carries six. You'll get to enjoy beautiful views of the mountains and Gatlinburg as you ascend the mountain.
The location is easy to remember because it's right as you get into downtown Gatlinburg. The aquarium will be a good landmark to look for. Once you see it, just look across from it to find Anakeesta!
What can I do at Anakeesta?
What can't you do? You can grab a bite to eat at Firefly Village and wander through the stores there, which consists of souvenir shops, shops with handmade candies, clothing, jewelry and local crafts. You can also go on a unique zip line and other fun activities while on the mountain top!
The zip line is unique in that two people go at once, side-by-side! Race your friends to the end with speeds up to 45 miles per hour among the treetops! Not only will you get a fun, high-speed thrill but you will also get to see some amazing mountain views!
The mountain coaster has twists and turns that will give any roller coaster fan the perfect fix. You'll zip and zoom down the mountain and through the trees on the mountain coaster at this new Gatlinburg attraction. And, once the ride is over, you'll get to enjoy the ride back up and see the views you may have flown past earlier.
There's also a tree canopy walk that you can enjoy. The suspension bridges are 40 to 60 feet above the ground, and there are nearly 21 of the bridges that let you walk in the tree tops like some kind of forest spirit. These connecting bridges are definitely a must see when you visit.
Firefly Village offers dining options and picnic tables that you can use to enjoy the gorgeous weather on the top of the mountain. There are also stores for you to browse where you can buy handmade candies, like taffy, look at photos of you and your group to buy, and there's also souvenir shops and stalls to buy locally made crafts.
When does it open?
Summer 2017! Anakeesta opens to the public this summer! You can experience the zip lines, mountain coaster, tree canopy walk and Firefly Village this summer on your next visit to the Smokies! You'll enjoy every moment and will tell all your friends to visit it the next time they come!
When you visit Gatlinburg next time, make sure to stop at the brand new Gatlinburg attraction and see what parts of it will become your favorite! Make sure you set a whole day aside to visit. We can't wait for you to come and see this great attraction!
Want to find out how to get free tickets to other Gatlinburg and Pigeon Forge attractions? Click here to find out more!