December 04, 2020
Top 6 Hiking Trails Near Gatlinburg You Should Explore
Want to get out into the Great Smoky Mountains National Park? There are so many incredible hiking trails near Gatlinburg, so you don't have to go very far if you want to explore! From waterfalls to leisurely walks through the woods, you have plenty of options. Here are the top 6 hiking trails near Gatlinburg you should explore:
1. Gatlinburg Trail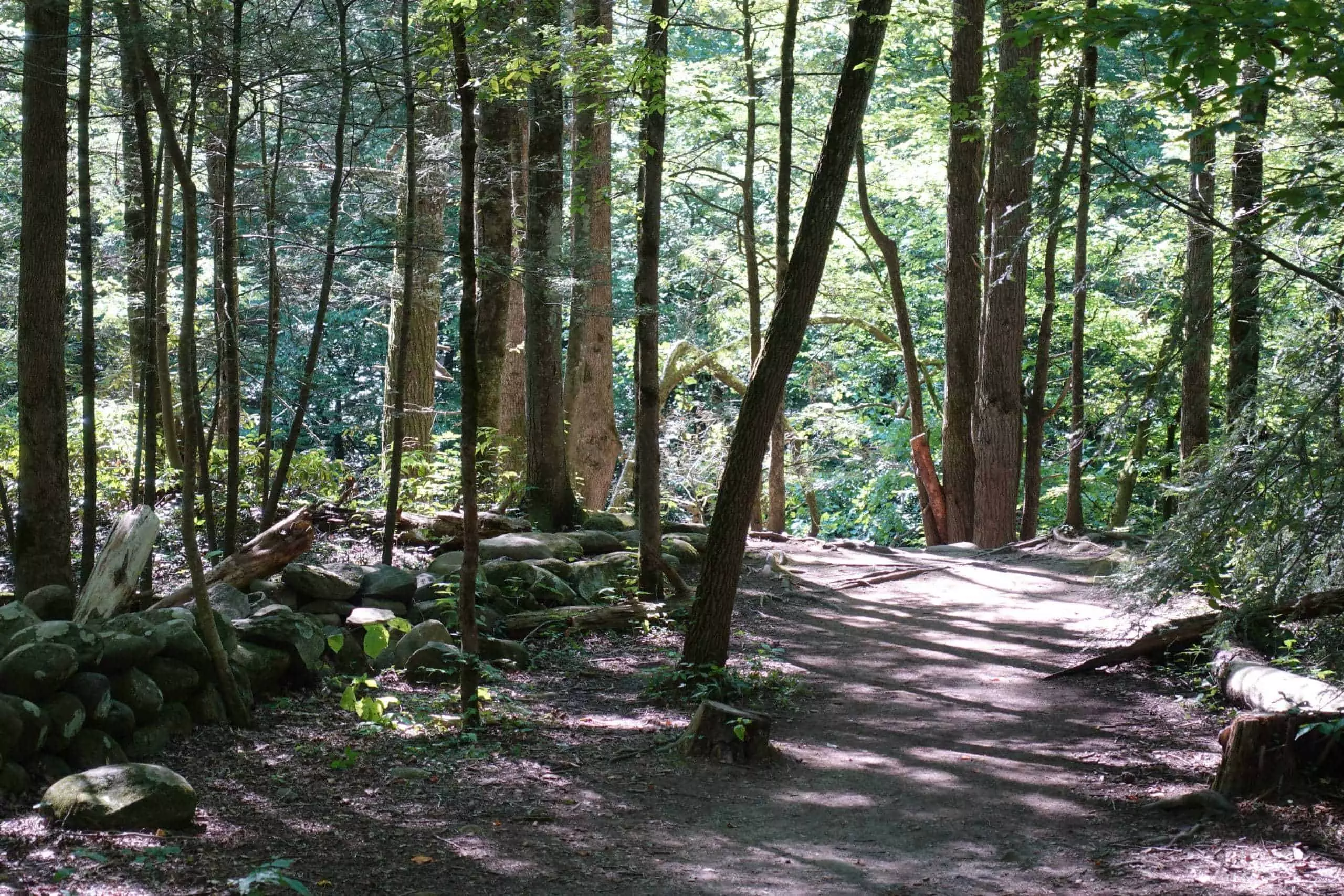 One of the closest trails to Gatlinburg is the Gatlinburg Trail. It's right outside of downtown. This trail is considered easy, and it has a roundtrip length of 3.8 miles. You'll walk through the woods and then cross a bridge over the river. Most of the trail takes you through the woods, making it a great trail to hike when you want to spend some time outside. The Gatlinburg Trail is one of the only dog friendly trails in the national park. When you get closer to the end, you might see some remains of old homesteads.
2. Grotto Falls
A really popular hiking trail near Gatlinburg is Grotto Falls. This trail is 3 miles roundtrip, and it typically takes about 2 to 3 hours to complete. The trail is considered moderate since it has rocks and roots along the trail. You'll follow alongside the creek and through the woods. This is a beautiful trail any time of the year, and you might even spot some llamas along the trail. Llamas are used to take supplies to the top of Mount LeConte, and the Trillium Gap Trail is used, which overlaps with Grotto Falls. Once you reach the waterfall, you'll see it standing at 25 feet tall. Grotto Falls pours into a pool of water, and you should be careful if you get close since rocks will be slippery. This is the only waterfall in the park you can walk behind.
3. Rainbow Falls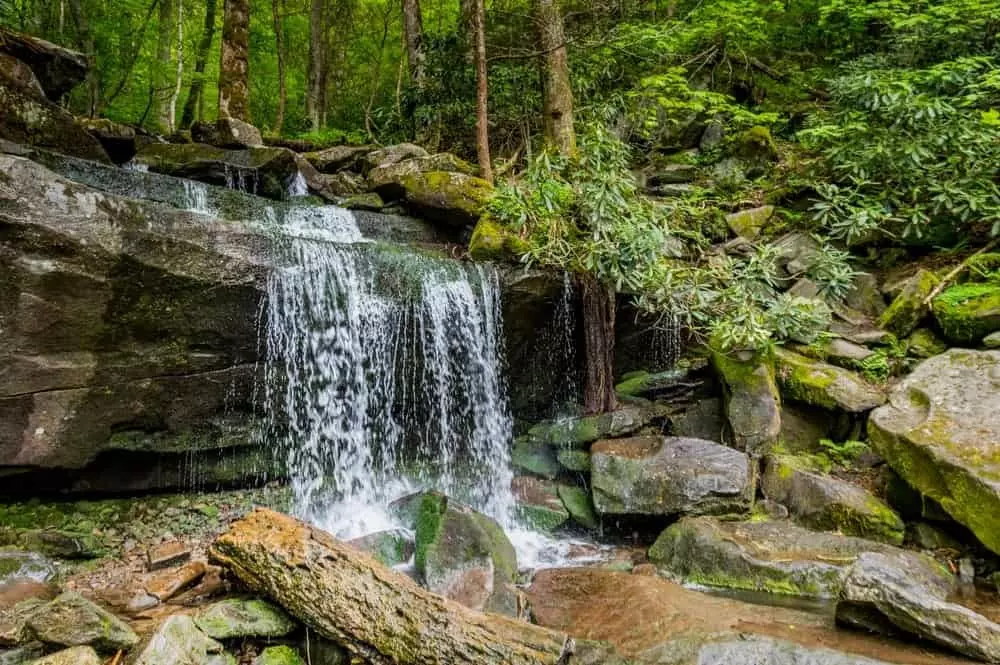 Rainbow Falls is another hiking trail near Gatlinburg people love to explore. This trail is considered moderate and is 5.4 miles roundtrip The trail has a ton of rocks and roots along the way. You'll hike through the woods and beside creeks, and you probably will have to cross some water. Rainbow Falls isn't at the end of the trail because this trail can be used to get to the summit of Mount LeConte. When you reach the falls, you'll be impressed. It stands at 80 feet tall, and it is the tallest single drop waterfall in the park. It gets its name from the rainbow effect the light has on water droplets from the spray during the afternoon.
4. Twin Creeks Trail
A great hiking trail near Gatlinburg that isn't heavily traveled is Twin Creeks Trail. Its difficulty level is easy, and the roundtrip length is 4.5 miles. This trail doesn't have a ton of features, but it's a great trail if you just want to make your way through the woods. However, there is a really cool hidden gem along this trail. To get to this place, you'll pass the Resource Center, and then there's a small trail off the path. Follow along this trail until you reach the House of the Fairies. This is actually an old spring house built by the man who used to own the property. People love visiting this hidden gem.
5. Cataract Falls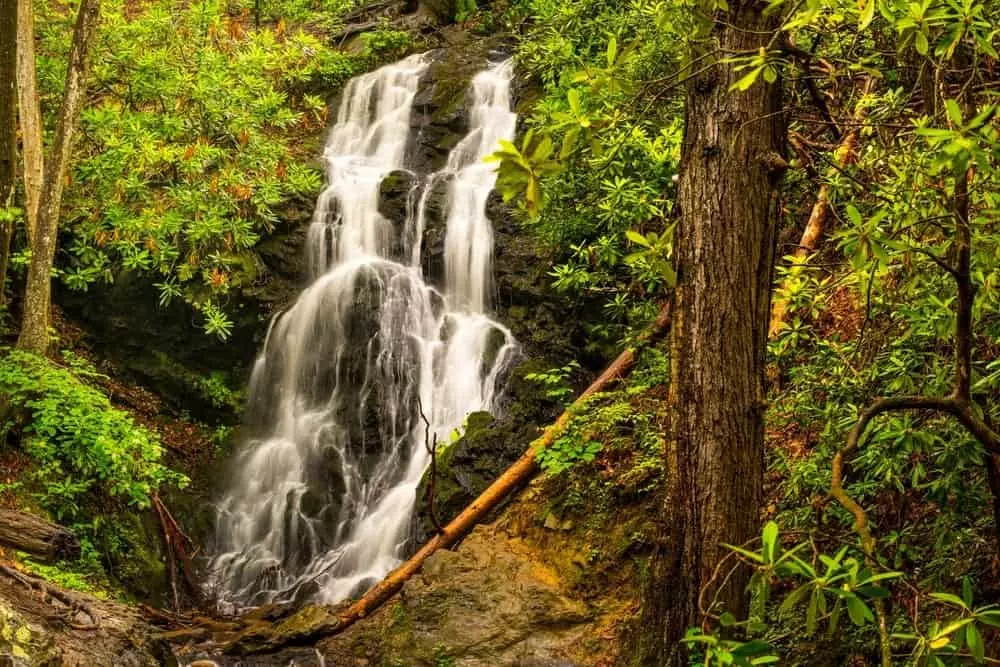 Cataract Falls is a short, easy trail near Gatlinburg that's perfect for just about anyone! If you have small children or older adults who can't handle a longer hike, then this one will be perfect for them. It's nice for anyone to explore, though. The trail is 1.1 miles roundtrip. You'll walk alongside a small creek. The path is easy to follow, and there are long wood planks that line the trail. Your kids will enjoy exploring unique-looking trees and rocks in the area. At the end of the trail, you will see Cataract Falls, a small waterfall; it is most impressive after a heavy rainfall.
6. Baskins Creek Falls
Baskins Creek Falls is another trail that's perfect for people who want to hike but don't want to go on super popular trails. If you just go to the falls, the length is 3 miles roundtrip. The trail is easy to moderate. The trail starts out with a small climb, and then you will be able to see mountain views. You'll be following the creek, and then the trail descends, which is why many people consider this trail to be moderate since you have a fair climb on the way back. However, the view of Baskins Creek Falls is worth it. This waterfall has two tiers and is 40 feet tall. Many consider this waterfall to be one of the most underrated ones in the park.
These hiking trails near Gatlinburg are a great way to see the Great Smoky Mountains National Park. Wondering what else you should do when you stay with us? Look at our Freedom Fun Pass to see what kind of deals you'll get on attractions when you book one of our cabins!