March 07, 2023
6 Ways to Make the Most of Our Cabins With Mountain Views in Tennessee
No visit to the Smoky Mountains is complete without enjoying the picturesque mountains and incredible scenery that East Tennessee offers! There's no better way to do exactly that than by staying in one of our cabins with mountain views in Tennessee! You'll enjoy the very best perks offered by staying in one of these convenient lodging accommodations. Here are 6 ways to make the most of our cabins with mountain views in Tennessee:
1. Coffee and a Sunrise on Your Porch
Start your day off the Smoky Mountain way! It's only right you take full advantage of our cabins with mountain views in Tennessee as soon as you get on your feet! Brew up some of your favorite coffee in our fully equipped kitchens and spend the morning watching the sun rise above the Smoky Mountains. Our cabins include porches in the front, back or both so you can take a load off your feet as you await the orange, yellow and red hues that take over the Smoky Mountain morning skies!
2. Family Dinner Featuring Picturesque Views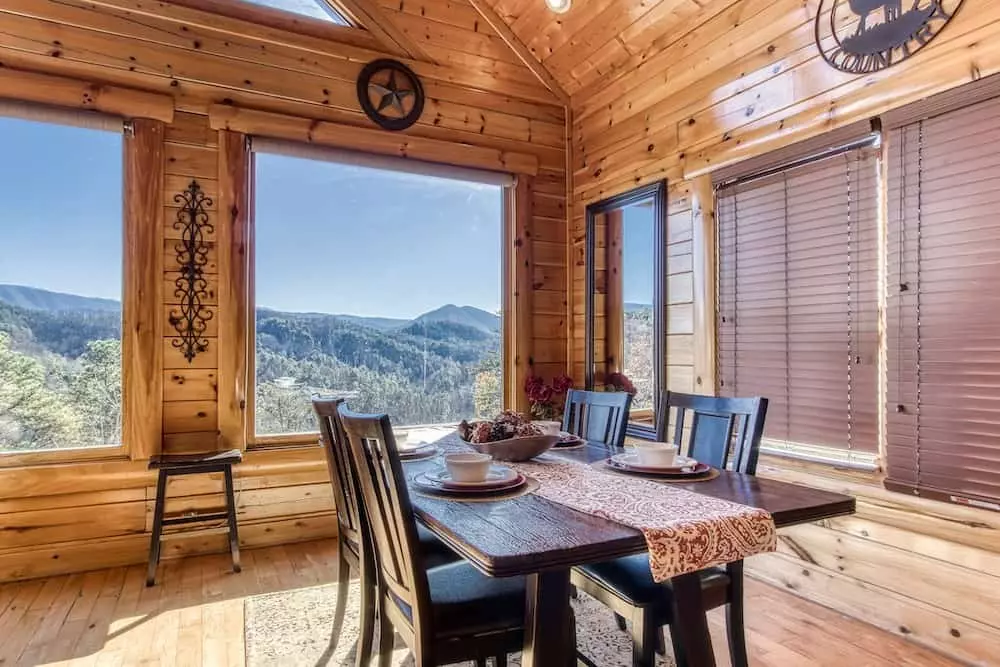 A family dinner bringing everyone together inside our cabins makes for a great bonding experience full of memories! Our cabins feature kitchens that have everything you need to whip up a delicious family dinner. Many of our cabins include outdoor seating areas with tables or massive windows that allow you to enjoy the mountain views from indoors! Plate up your food and take it to the table as you enjoy each other's company over a meal and stunning mountain views!
3. Drinks Shared Over a Sunset
After a long day of exploring the Smoky Mountains, you deserve to have some quality downtime with those you love the most! It's time to enjoy some of your favorite adult beverages from the comfort of your cabin rental! Our cabins with mountain views in Tennessee mean you'll have the perfect place to enjoy some drinks while viewing the incredible natural scenery that surrounds you and your cabin. Perhaps grab some beverages on a chilly night and sit around the fire pit at your cabin rental!
4. Get Exploring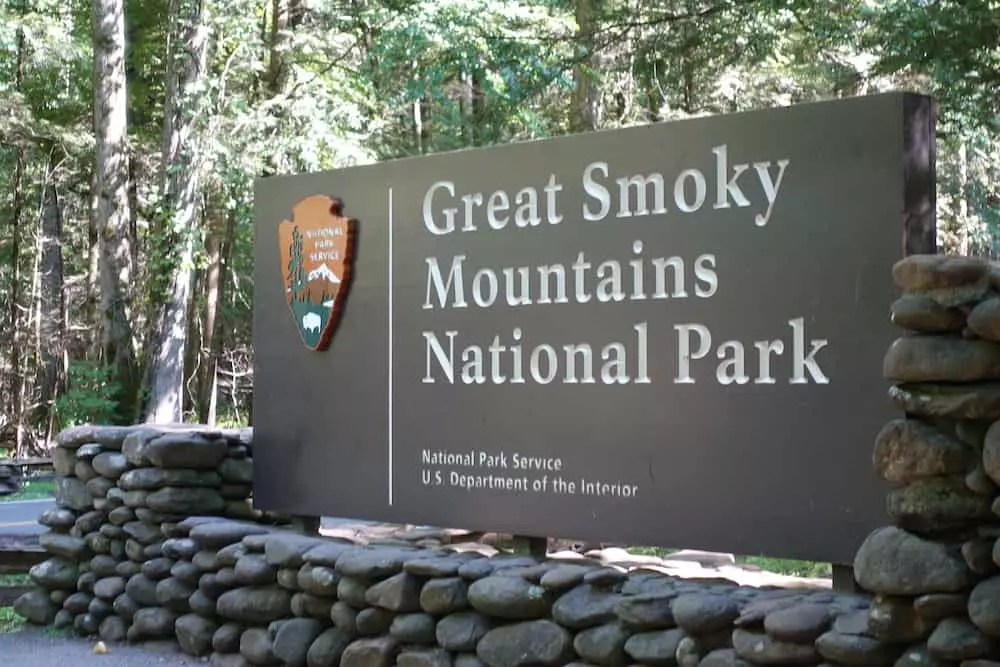 You can do more than just look at this incredible Smoky Mountain scenery! We highly recommend immersing yourself in it to get that true East Tennessee experience! Take some time to enjoy your cabin's yard, whether it be by using a fire pit or some incredible fishing opportunities! See what kind of wildlife, flora and fauna you might see when you venture out into the woods surrounding your cabin! Additionally, our Gatlinburg cabins are conveniently located near the Great Smoky Mountains National Park, where plenty of fun awaits!
5. Reading on the Porch
Are you a big reader? If so, there's no more relaxing place to enjoy a great book than on the porch of our cabins with mountain views in Tennessee! Put on some comfortable clothes, grab your favorite book and sit down on your cabin porch as you soak in the incredible nature of the Smoky Mountains. Just be careful, if you sit in a rocking chair as you read, there's a chance you might fall asleep from all the peace and quiet!
6. A Dip in the Hot Tub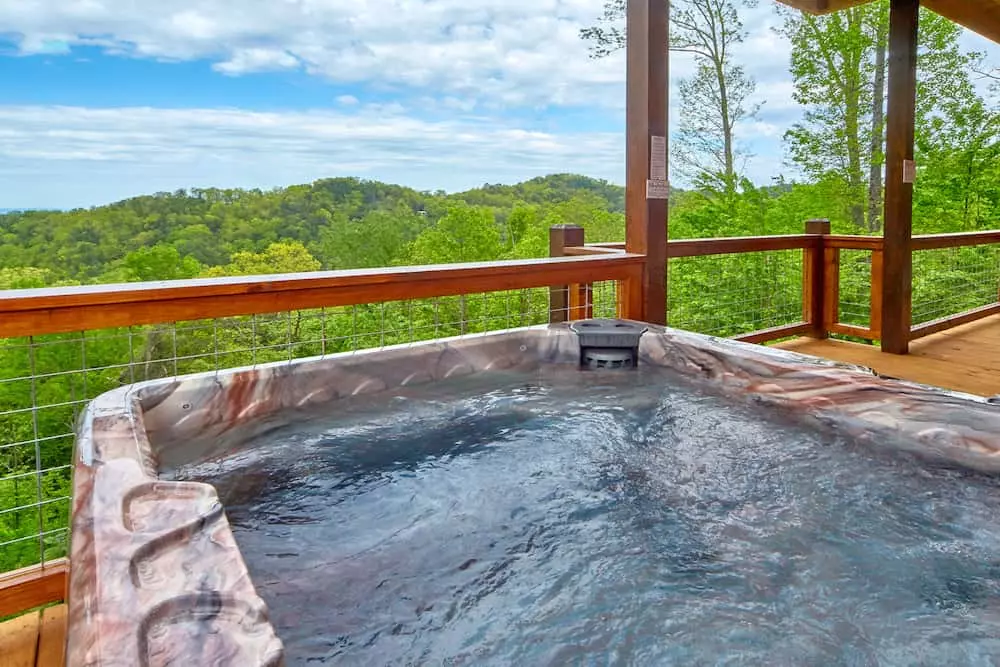 You'll notice one perk that seems to go hand in hand with our cabins with mountain views in Tennessee: hot tubs! Many of these cabins featuring incredible views come with a private hot tub, conveniently placed on the porch or deck so you can enjoy that warm, relaxing water while taking in the gorgeous mountains! Nothing will put your mind at ease and provide the relaxation you're craving quite like a hot tub!
Other Great Amenities from Hearthside Cabin Rentals
Cabins with mountain views in Tennessee aren't the only great perks you'll find in our incredible lineup of cabins!
If you're looking for a place on the river, where perhaps you'll be able to do some quality fishing, make sure to explore our cabins on the river! Many of our Smoky Mountain cabins include private pools or access to community pools! Choose between cabins that include outdoor pools, indoor pools and resort pools.
If you have a man's best friend you wish to bring along, check out our pet-friendly cabins!
Our cabins range from 1 bedrooms up to 21 bedrooms so you're sure to find one that will comfortably fit your entire family.
Explore Our Cabins With Mountain Views in Tennessee
You'll never run out of fun when you stay in our cabins with mountain views in Tennessee! Make sure to explore these great cabins and find the one that's perfect for you and your family!