May 17, 2016
Top 5 Smoky Mountain Cabins with Theater Rooms
The Smoky Mountains have everything your family needs for a perfect vacation. Beautiful views, delicious restaurants, lots of hiking options and fun attractions…the Smokies have it all! But what about the down time during vacation? When your family is tired from a long day of East Tennessee fun, nothing could be more relaxing than coming back to a gorgeous cabin with lots of comfortable places to lounge with large TVs and surround sound. Keep reading to learn all about our top 5 Smoky Mountain cabins with theater rooms!
1. Cold Creek Camp
Cold Creek Camp is the perfect cabin for families of all sizes. With 3 bedrooms and 3 bathrooms, this classic cabin will comfortably sleep up to 10 people! Decorated in the style of a true log cabin, this home will give you the ultimate Smoky Mountain experience. Cold Creek Camp is located close to downtown Pigeon Forge, which means you'll also have dozens of choices when it comes to dining and entertainment!
2. Black Bear Ridge
When browsing through our cabins with theater rooms, don't miss Black Bear Ridge! This cabin has 5 bedrooms and 4 bathrooms, making it perfect for a vacation with another family or a group of friends. The theater in this cabin has it all! Blu-ray player, HBO and Starz, all the best cable networks and even "cabin shaking" surround sound! Black Bear Ridge is guaranteed to make all your home theater dreams come true!
3. Majestic View Lodge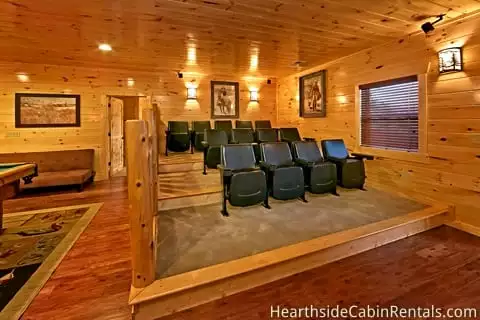 If you're looking at Smoky Mountain cabins with theater rooms for your family reunion or group retreat, look no further than Majestic View Lodge.This gigantic home in the mountains has 13 bedrooms, 12 bathrooms and sleeps up to 58 people! Instead of everyone in your group having to stay in separate locations, enjoy a getaway all under the same roof! With foosball, pool, air hockey, a large hot tub and majestic mountain views, this cabin will keep everyone in the group entertained from age 1 to 101!
4. Stix-N-Stones
Stix-N-Stones is the ideal cabin for several families traveling to the mountains together. This cabin boasts 3 separate 'family suites', which is a very unique and convenient detail! Each family suite has a king bed, a full bathroom and a room with twin bunk-beds. This gives parents privacy while still being close to the kids. When the families want to spend time all together, there are many large rooms to gather including a living room, den, game room and of course a comfortable and spacious theater room!
5. The Big Elk Lodge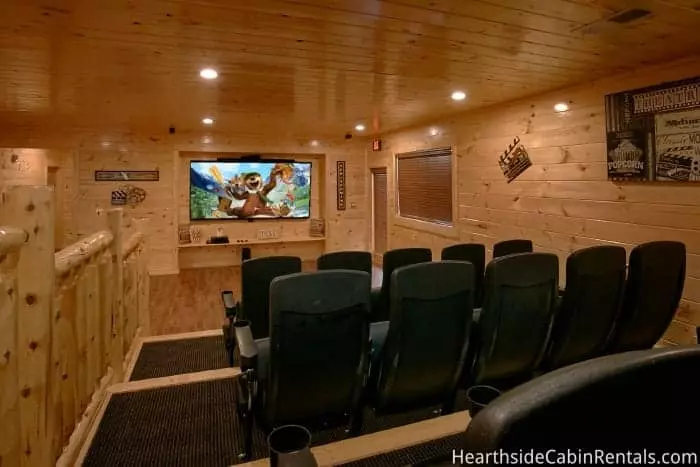 If you're looking for the biggest, most spacious option in Smoky Mountain cabins with theater rooms, The Big Elk Lodge is definitely what you've been searching for! This massive mountain home has 16 bedrooms, 17 bathrooms and sleeps an amazing 74 people! Along with all those bedrooms and bathrooms, this cabin also offers 2 kitchens, 2 large hot tubs, a 21-person home theater and a large patio with breathtaking views of both the mountains and the city! This house is so full of amenities that you'll never want to leave!
Now that you're ready to book one of our Smoky Mountain cabins with theater rooms, make sure to check out all the specials and savings we are currently offering!