December 18, 2015
3 Reasons to Book One of Our Great Smoky Mountain Cabin Rentals This Winter
Everyone has one, a bucket list of all the places they want to visit during their lifetime. As you read this you are probably pondering over which places around the world make your cut. There is one place on this Earth that definitely needs to be on your list, and that place is the Great Smoky Mountains. The Great Smoky Mountains cover over 500,000 acres on the Eastern border of Tennessee and the Western border of North Carolina. What makes this location so amazing is the beautiful views, the amazing culture, and the spectacular Great Smoky Mountain cabin rentals for you to call home during your stay.
The Great Smoky Mountains are highly visited during the warmer seasons of the year, however, what many people don't realize is that during the winter the Great Smoky Mountains becomes alive with many great winter activities. If this hasn't already sold you, here are reasons why you should book one of our Great Smoky Mountain cabin rentals this winter.
1. Near All the Great Winter Activities
One of the biggest perks of staying in Great Smoky Mountain cabin rentals is the opportunity to experience all the great Smoky Mountain winter activities.
Hiking
Hiking is one of the most popular Great Smoky Mountain activities. No matter what time of the year it is, there are always great hiking trails open for you to explore. However, the winter holds new secrets along the hiking trails that you wouldn't normally get to experience during the warmer months. Some of the best winter hiking trails include Alum Cave Bluff, Rainbow Falls, and various other trails located in Cades Cove. These hiking trails feature everything from frozen waterfalls, beautiful snow covered mountain views and frozen icicles, making for unbelievable sights.
Winter Drives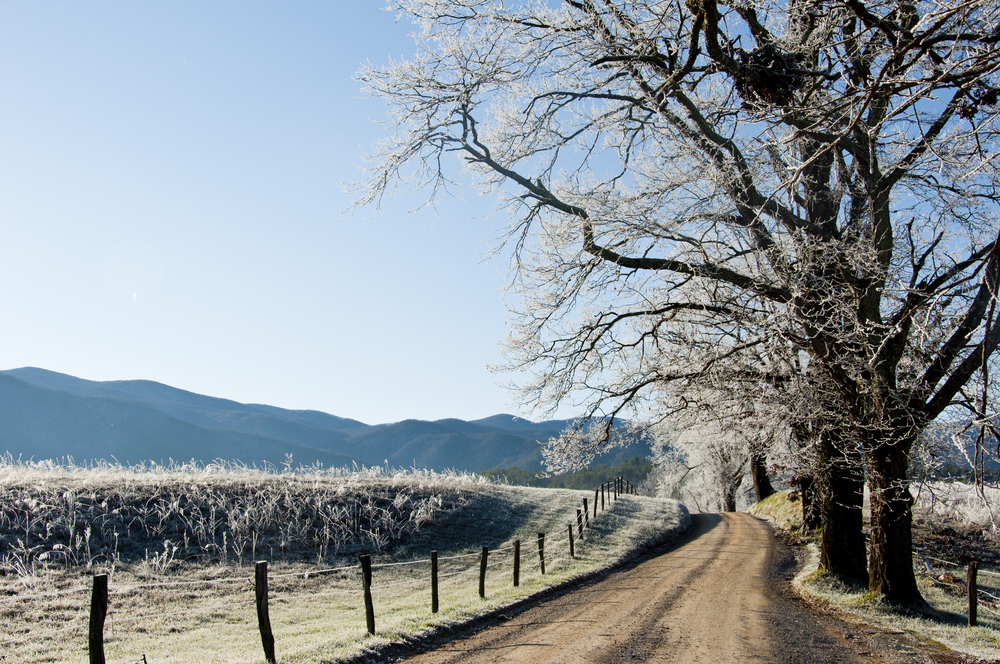 Maybe you are looking for a warmer winter activity, well one of the best ways to see all the great winter sites of the Great Smoky Mountains is by taking a winter drive through the park. During the winter, many of the higher elevation roads do close due to snow and ice, however, many of the larger more frequented roads remain open throughout the year. Two roads, in particular, that you need to check out this winter are Newfound Gap Road and the Cades Cove Loop Road. These roads will only close under extreme conditions and will provide you with a wonderful winter experience. Along Newfound Gap Road, you can view some of the best winter views in the park while along Cades Cove Road Loop you can explore multiple hiking trails, historic sites and view wildlife in their natural habitat.
Cross-Country Skiing
When snow begins to accumulate on the ground in the Great Smoky Mountains one of the best winter activities to try out this year is cross-country skiing. The best place to cross-country ski in the Great Smoky Mountains is along Newfound Gap Road on Clingmans Dome Road, which is closed to motorized vehicles during the winter months.
2. A Great Family Getaway
Taking a winter getaway with your family is a great way to enjoy time together away from the hustle and bustle of everyday life. By taking a family getaway in one of our Great Smoky Mountain cabin rentals, you will get to bond together as a family while enjoying all of the great winter activities in the area and relaxing in your cabin rental together.
After a busy day of exploring all that the Great Smoky Mountains has to offer you are going to want to sit around a fireplace together sipping hot chocolate and just relaxing. You can do just that in one of our Great Smoky Mountain cabin rentals this winter season. Our cabin rentals offer many great amenities that will ensure a comfortable and relaxing stay in the area. From hot tubs, fireplaces and plenty of room for the whole family, you are guaranteed to have the perfect winter getaway.
Winter in the Smoky Mountains is one of the most amazing times of the year with great winter activities and ways for you to spend time together with your family. To help you have an even more amazing winter getaway check out our Smoky Mountain cabin rental specials that will help you save money on your magical winter trip.