August 12, 2021
4 Things You Didn't Know About Our Pigeon Forge and Gatlinburg Cabins
People look to enjoy a few quiet and relaxing days on vacation in the Smoky Mountains, and there's no better place to stay than in a cabin! Our cabins are the best you will find in the area! Of course, you probably know we offer incredible amenities and great deals, but we want to share more about our cabins with you. Check out these 4 things you didn't know about our Pigeon Forge and Gatlinburg cabins:
1. Custom-Built Luxury
To set our Gatlinburg cabin rentals apart, we have worked closely with a well-known developer to help create some of the most unique cabin rentals in Pigeon Forge and Gatlinburg. Some of the unique designs include third-story ramp access, and there's even a cabin we had custom built with a mini golf course inside! You'll find all kinds of unique luxuries in our cabin rentals!
2. Home to the Largest Rental Cabin in America
Group vacations to the Smoky Mountains are exciting. That is why we helped build the largest rental cabin in America, The Big Moose Lodge. Inside this large cabin, guests will find a spacious double kitchen, private movie theater room, in-cabin laundry facility, open living room area, and a fully-ADA compliant master room. Outside, guests staying at The Big Moose Lodge will enjoy exclusive access to the resort's seasonal outdoor pool, private barbecue area, two outdoor hot tubs, three levels of private decks, and much more.
For an inside look at The Big Moose Lodge during construction, click play on the video below.
3. Free Attraction Tickets With Every Stay
On top of helping our guests find the perfect Pigeon Forge or Gatlinburg cabin rental, we also help them experience their favorite Smoky Mountain attraction while also saving a few bucks with our Smoky Mountain attraction discount program, The Freedom Fun Pass. There are several popular area attractions and restaurants listed on this pass, and guests are provided with one free ticket or discount for each paid night of their stay. Learn more about our Freedom Fun Pass.
4. Guests Are More Than Just A Reservation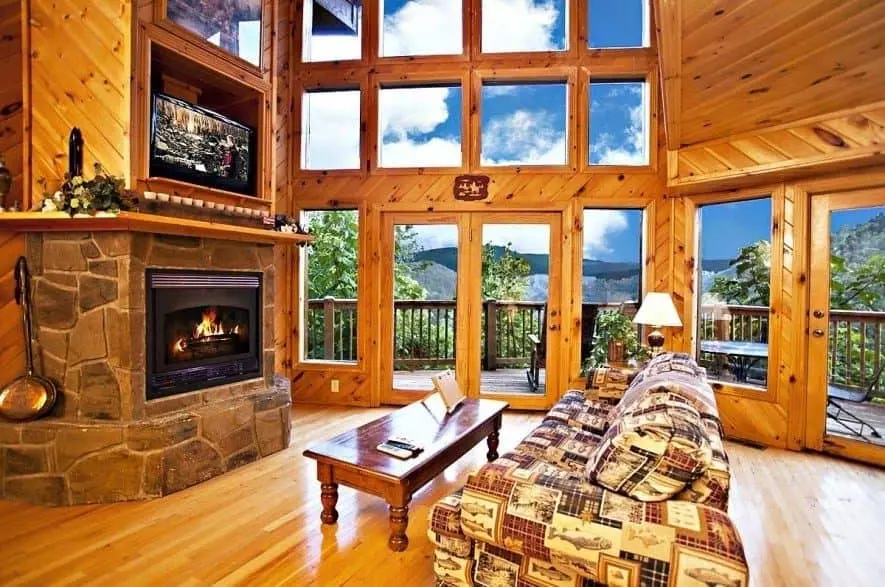 One of the biggest differences guests will notice when reserving a Pigeon Forge or Gatlinburg cabin rental through us is that we are a family owned and operated company. We work especially hard to make our guests feel as if they are part of our family. For us, our guests are not just another reservation number in the system. We understand that each of our guests and groups have a different story behind them, and we make it a point to work hand-in-hand with our guests to make sure that their Smoky Mountain vacation is as memorable as possible. Whether this means helping to find tickets to their favorite Pigeon Forge show, or find out the hours of a new Gatlinburg restaurant, we are there to help you.
Where We Are Located
To help better serve all of our guests, we have made sure to keep our office as centrally located as possible. You can find us just a short drive off the Parkway in Pigeon Forge on Wears Valley Road, near the popular Pigeon Forge attractions the Wear Farm City Park, Goats on the Roof, and the Smoky Mountain Alpine Coaster.
For driving directions to our office, be sure to use the map below.
Now you know a little more about our Smoky Mountain cabin rentals! Are ready to begin planning your family's next vacation in the Smoky Mountains? Look through our Pigeon Forge or Gatlinburg cabin rentals today, and book one for your upcoming trip!