June 23, 2014
What To Expect At The Margaritaville Pigeon Forge Restaurant
After much anticipation, we at HearthSide Cabin Rentals are proud to announce that the brand new Margaritaville Pigeon Forge is finally open! and just in case you haven't had the chance to experience the new Pigeon Forge restaurant for yourself, we have decided to give our visitors an inside peek of what to expect.
Atmosphere & Decor
One of the things we love about all of the Margaritaville restaurants is that they have a way of making guests feel as if they are on a vacation within a vacation. The beach-themed decor and accents throughout the dining area are sure to help guests feel as if they are truly on the beach somewhere.
Adding to the relaxing atmosphere is the upbeat music and videos that can be seen and heard throughout the Pigeon Forge restaurant.
Not to mention, the attentive staff is very accommodating, and they are eager to make sure that each guest has the best dining experience possible. This is much like the vacation specialists we have at HearthSide Cabin Rentals that are always there to help our guests throughout their vacation.
Dining Area
Jimmy Buffett's Margaritaville in Pigeon Forge has a two story dining area. At first glance, you may feel as if this means that you will feel cramped during your meal, but that is not the case. The tables are spread out enough that you are never bothered by a pesky table neighbor.
Another perk to this much dining space is that often times you do not have to wait very long for a table. However, if you do have to wait, the Pigeon Forge restaurant has provided several chair and sitting areas for guests to relax in.
Menu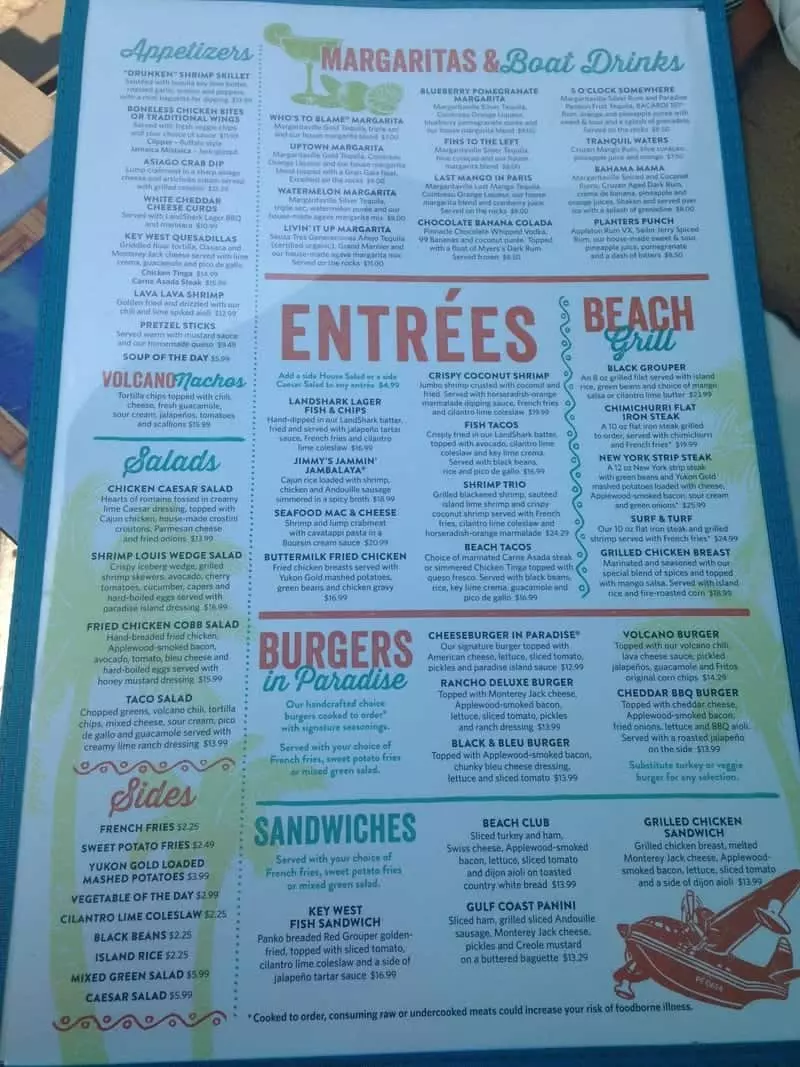 The menu at the Jimmy Buffett's Margaritaville in Pigeon Forge showcases many of the delicious options that fans of the chain have come to know and love. This includes the towering Volcano Nachos appetizer and the Cheeseburger in Paradise.
If you are in the mood for something a little lighter, we suggest trying the Lava Lava Shrimp off of the appetizer menu. The lightly breaded shrimp is served over a bed of shredded lettuce, and it is all covered with the restaurant's special chili and lime aioli sauce.
More adventurous diners will enjoy the Pigeon Forge restaurant's Seafood Mac and Cheese that includes chunks of shrimp and fresh lobster in a Boursin cream sauce.
Entree prices range between $16.99 and $25.99, depending on what you order. Appetizers begin at $5.99.
Kitchen hours are 11 a.m.- 2 a.m., daily.
Expert tip: You can receive a free appetizer at the Margaritaville Pigeon Forge by joining their Fins Up Club. (https://www.margaritavillepigeonforge.com/finsupclub)
Patio
For guests wanting to combine their experience at the new Margaritaville Pigeon Forge with spending some time outside during their Smoky Mountain vacation, we highly recommend you request a patio table during your visit. Each table has it's own umbrella covering, so you aren't sitting directly in the sun.
The patio comes equipped with speakers and its own outdoor bar so you don't feel as if you are missing any of the excitement inside.
In addition, the patio at the Margaritaville Pigeon Forge is the perfect spot if you enjoy people watching. Not only can you watch as people come and go from The Island, but on hot summer days you may even spot a couple people floating down the river that outlines the Pigeon Forge attraction.
Retail Area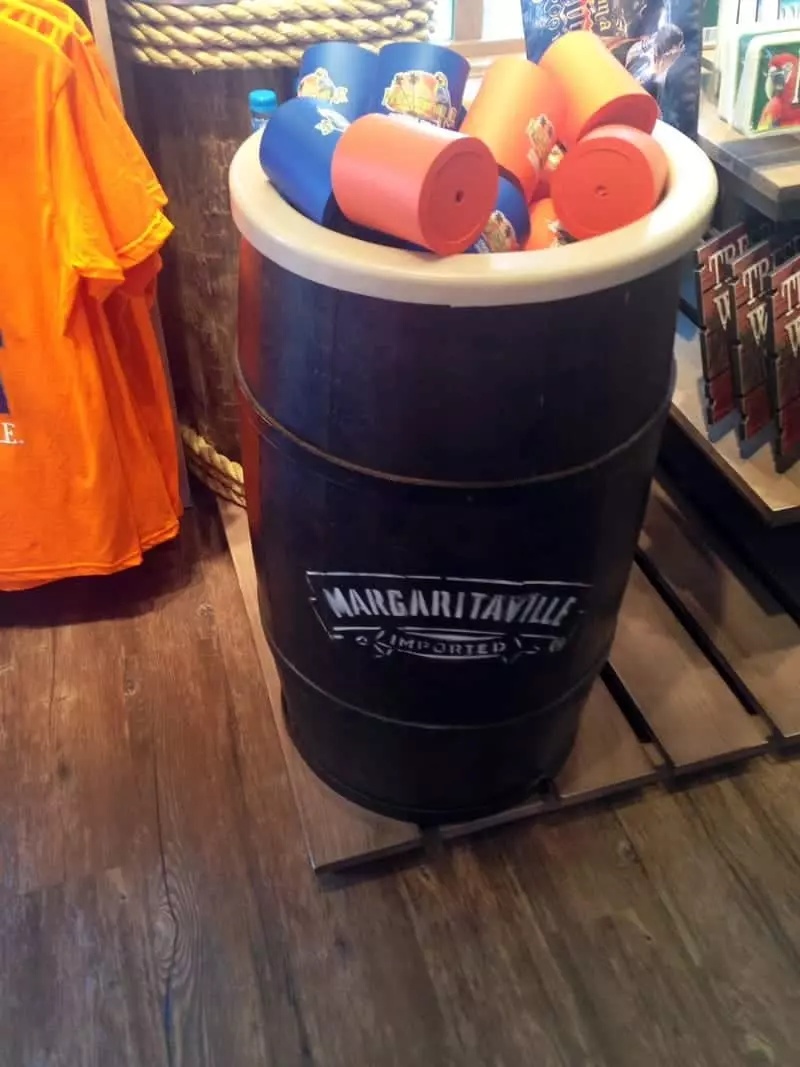 For guests wanting to take home a reminder or two to remember their experience at the Margaritaville Pigeon Forge restaurant, be sure to swing by the restaurant's large retail area on your way out.
Located directly across from the host stand indoors, the retail shop has tshirts, beverage holders, blenders, license plates, Jimmy Buffett cds, and everything else you could imagine to bring home as a souvenir.
Hours for the Margaritaville Pigeon Forge retail shop are 10 a.m.- 1 a.m., daily.
The Island in Pigeon Forge
The new Margaritaville Pigeon Forge restaurant is located at The Island in Pigeon Forge. One of the fastest growing attractions in Pigeon Forge, The Island is home to several great restaurants, shops and things to do.
To learn more about the attraction, read our recent blog post on 9 unique things that can only be found at The Island in Pigeon Forge.
Parking
As we have mentioned before, one of the things we really like about The Island in Pigeon Forge is that they offer free parking and trolley services to all of their guests. The way it works is that guests park their car in the parking lot that is off to the right of The Island, and a trolley shuttle will take them directly to the front entrance of the Pigeon Forge attraction.
This helps guests avoid walking in the summer heat.
If you choose to walk, there is also a paved sidewalk that runs from the parking lot to the attraction.
Experience It Yourself
The best way to get the full experience of the new Margaritaville in Pigeon Forge is to go there for yourself. To begin planning your next Pigeon Forge vacation today, give us a call at 1-888-993-7655.
We offer a variety of relaxing Pigeon Forge cabin rentals that would be perfect for you and your family to unwind in after an exciting day at The Island in Pigeon Forge.